Medved Running & Walking Outfitters might be two years away from going "over the hill," but the Rochester, NY-based running store is looking younger than ever these days.
The 38-year-old business recently renovated its 6,000-square-foot storefront, its first major facelift in 21 years.
"We have to stay current and reinvent ourselves and this renovation gives something special to our staff, customers and community that is modern and fresh," Medved Running & Walking Outfitters owner Dan Medved says.
The run specialty shop has been in the same Pittsford Colony shopping plaza since Dan Medved's late father, Morris, founded the business in 1984. In 2001, ownership moved the retail store a few doors away into its current storefront. While the store received some "small tweaks here and there" over the years, such as incorporating new shelving and fixtures, and was reconfigured "a time or two," Medved says the shop looked much the same at the start of 2022 as it did in 2001.
"It was time for a change," Medved says. "We're selling high-tech, high-quality product and we needed the store to be reflective of that."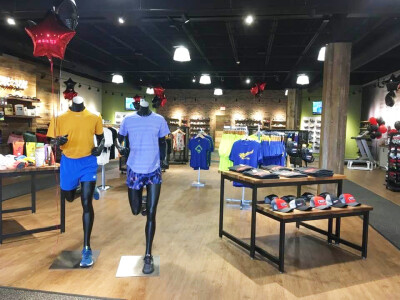 Let The Work Begin
While the COVID-19 pandemic delayed Medved's plans to remodel the store in 2020, he pushed the effort forward late last year after hiring Colorado-based 3 Dots Design to conceptualize a new look for the shop. In early March, then, Medved and his team moved into a temporary space inside Pittsford Colony so renovation work could begin unimpeded in the store's long-time home.
Crews removed the drop ceiling and painted everything above, including the exposed ductwork, black. Flooring crews, meanwhile, removed carpeting in favor of a mixture of hardwood, carpeting and a running track surface, distinct materials used to define areas of the new shop and give the appropriate flooring where necessary in the store.
Those crews also positioned a new cash wrap desk, smaller than its predecessor, closer to the front door and topped it with a stone counter while also strategically scattering reclaimed wood around the store as shelving and as a decorative accent to delineate product category areas.
Forever shoehorned onto the showroom floor, the store's foot scanning device and treadmill received new homes, thoughtfully placed in areas enabling easy staff and guest access. Finally, workers installed television monitors, which, powered by MOTOTV, serve up rotating branded content from the store and its vendors.
"Everything feels more open, spacious and thought out now," Medved says.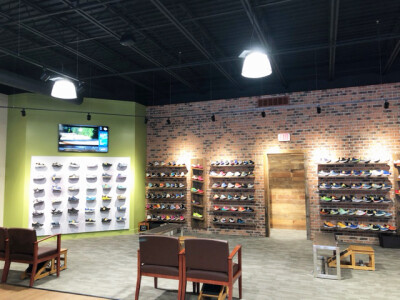 Rooted in Rochester
Eager to showcase Medved Running & Walking's Rochester roots and fitness orientation, the store features photos of the Erie Canal and the High Falls waterfall in downtown Rochester as well as lively visuals from local events and a thought bubble packed with words related to physical activity and the local running scene.
"This sets the mood and ambiance for the store and creates a welcoming setup for our customers," says Medved, who opened the renovated storefront on July 11.
Nineteen days later, on July 30, Medved snipped a red ribbon to commemorate the grand re-opening of his namesake store alongside staff, vendors and customers. He says visitors routinely comment on the store's spacious, welcoming feel.
"This sets our store up for the next 10-15 years," Medved says. "It's a nice refresh and sends the message that we plan on being here for awhile."