Run specialty shops and percussion massage guns are having a moment – and it's a particularly lively one.
Once largely reserved for the likes of physical therapists, elite athlete and chiropractors, percussion massage guns from the likes of Hyperice, TriggerPoint, Theragun and others have found their way into running store showrooms and, increasingly, the hands of average achy Joes and Janes. Buoyed by more accessible price points, word-of-mouth buzz, in-store trial models (albeit a trickier proposition in the COVID era) and some strategic marketing punch, run shops report blossoming interest in the still-nascent category where products run from $150 to upwards of $600.
"If a product works and works well, then customers are willing to spend the money, and that's what we've found with massage guns," says Brendan Barrett, owner of the Sayville Running Company and Smithtown Running Company in Long Island, NY.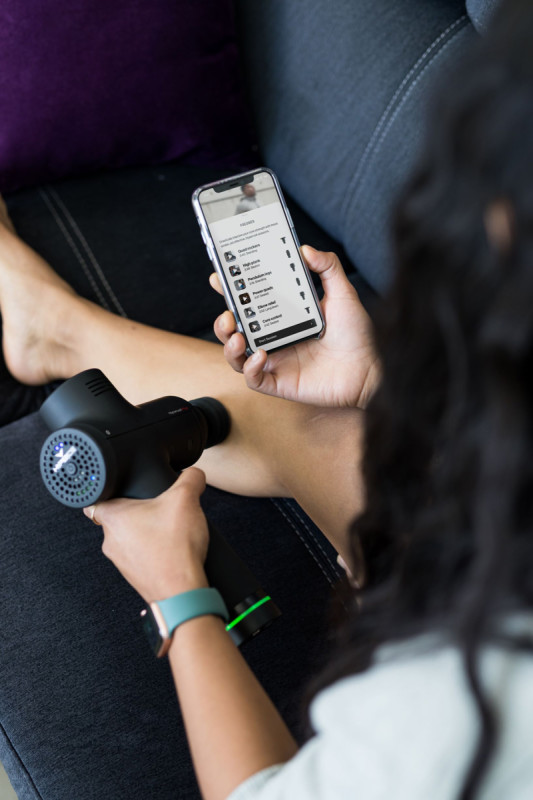 More 'palatable' price points
Hyperice was among the first to enter the run specialty market with its Hypervolt massage gun in 2018 and initially captured mainstream attention on the backs of elite athletes.
"Elites gave us a megaphone," Hyperice VP–endurance and specialty retail Shawn Beitelspacher says.
While the Hypervolt's $349 price point in running stores might have scared off some, others compared the Hypervolt's price tag to the cost of three or four hour-long massages and pulled the trigger on a purchase.
"Our whole thought was to bring products that elites would use to the masses because our company's mission is to help everyone move better," Beitelspacher says.
In the two years since, other massage guns have made inroads in the run specialty space, including numerous models meticulously engineered to hit lower price points.
Theragun, which lists its professional-grade Pro model at $599, dipped under $300 with its "simplified" Prime model ($299) and then went sub-$200 with its ultra-portable Mini ($199).
Last December, meanwhile, TriggerPoint brought its Impact massage gun to market at $199, the result of an intense internal effort to provide an affordable product that would allow both consumers and TriggerPoint's retail partners to "get into the category," according to TriggerPoint product line manager Gordie Taylor
"It was a 100 percent conscious decision to bring a high-quality product into the category [at a more accessible price point]," Taylor says, noting that TriggerPoint maintained high standards for battery life and engine quality while investigating various machines and molds to streamline production costs.
Long intrigued by massage guns, Brad Altevogt, owner of Fort Wayne, IN-based Three Rivers Running Company, hunted for options he might offer his customers, specifically those with a "more palatable price point." When Altevogt saw the Impact at The Running Event last year, he found a product that checked his boxes for performance and price. His initial order of six guns sold out within 10 days and Altevogt has placed consistent re-orders since amid steady sell through.
"Finding the right price point is key to making it work and we wanted to find something within reach for our customers," Altevogt says, adding that a longstanding relationship with TriggerPoint also inspired confidence.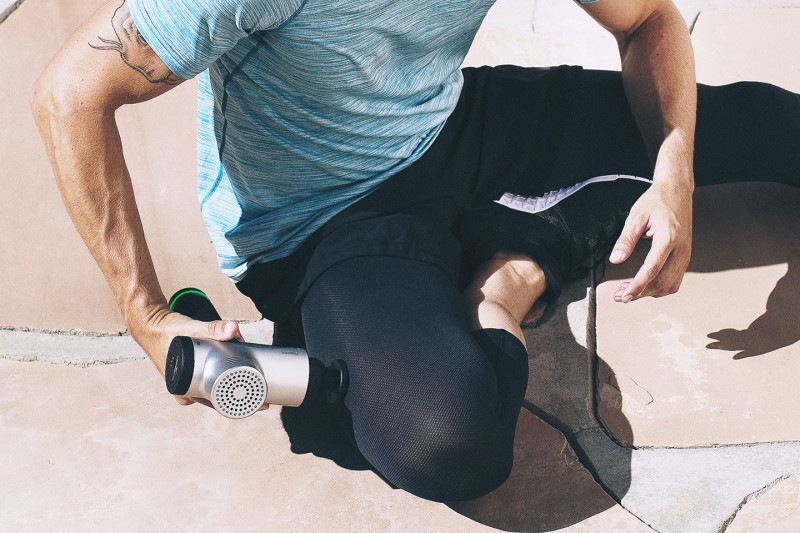 More than price
As massage guns have gained mainstream traction thanks to more accessible price points, word-of-mouth buzz has only intensified their appeal and use, especially given the effectiveness of the products. Compared to foam rollers, TriggerPoint's Taylor says massage guns allow for more control and more direct pressure, while Altevogt describes massage guns as versatile products that can successfully address various muscle groups.
"Our customers trust us to screen products we believe will work for them and this is something we can easily get behind," says Altevogt, who regularly uses his Impact massage gun before and after runs. "We encourage people not to shortchange themselves on having the right tools to improve their health and fitness."
The benefits of percussion massage guns have been further powered by on-the-sales floor demonstrator models – sanitized, of course – that allow customers firsthand trials and spark discussions between staff and customers about product benefits. Hyperice, for instance, has supplied its retail partners – a lengthy list that includes prominent running shops such as Baltimore's Charm City Run, Big Peach Running Co. in Atlanta and Boston-based Marathon Sports – with a POP display that includes a demo gun as well as a video showing use of the product.
"That helps with storytelling," Beitelspacher says.
The COVID-19 pandemic, meanwhile, dropped fuel on the sizzling category.
In discussing surging sales of home fitness equipment in the Sept. 1 issue of Running Insight, The NPD Group's sports industry analyst Dirk Sorenson suggested that the "at-home fitness trend would "create numerous add-on sales opportunities" and urged run shops to "pursue ways to capture their fair share of these add-ons."
To be certain, running stores and manufacturers alike have championed massage guns as a convenient, effective wellness aid on their social media channels throughout the pandemic, a time in which many massage clinics and wellness centers sat closed or had limited capacity.
"COVID has absolutely accelerated at-home usage and interest in the category," Beitelspacher confirms.
As manufacturers continue refining their massage gun offerings – as one example, Hyperice recently launched its AI-powered HyperSmart technology to automatically customize routines for owners – and actively chase market share in a suddenly competitive category, Barrett is among many retailers bullish on massage guns' viability in running stores. While initially nervous to bring Theragun into his shops given the sizable investment, fears calmed by a trusted, long-time sales rep who assured him the products were selling in similar stores, the three Theragun models Barrett carries at his two Long Island shops continue to sell and prompt reorders.
"It's been a pleasant surprise," Barrett says. "There's a definite niche here and product we've been able to move."