There's a new sock brand coming to run specialty retail this fall — and it involves some very well-known names to the run business. The brand is called Jogology (more on that later) and it is the brainchild of industry veterans and Balega founders Bert and Tanya Pictor and Luke Rowe, whose resume includes stints at Brooks, Fleet Feet and CEP. Together they have set out to fulfill their vision for a truly sustainable, performance-driven running sock in partnership with run specialty retailers.
The sock line will hit retail in late September with an MSRP of $16 and in an exclusive interview with Running Insight+ the trio laid out their plans for the introduction, its distribution strategy and, most importantly, why they feel run specialty retailers should put Jogology socks on their shelves.
One of the first things the founders emphasize is that Jogology will only be sold at run specialty retail. Indeed, its marketing brochure puts that right up front: "We want Jogology to be as much a success for us as for the stores who commit to stocking our brand. That's why we promise to help our retail partners grow their businesses. Our goal is to be additive."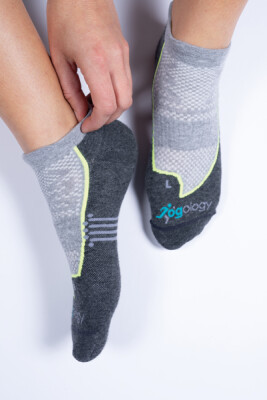 Rowe doubles down on that goal to become a category leader and to be an addition to a retailer's sock business. "We feel very strongly that it is the responsibility of a brand leader to grow that category," he explains, adding that he believes the right sock can expand the category by as much as 20 percent if done properly.
Answering the question as to whether run specialty needs another sock brand, Bert Pictor points to the simplicity and clearness of the Jogology message and technology. "There is a plethora of products and it is very difficult for a customer to know what he needs and for a store to communicate what he needs. This is a story of simplicity for the store and the consumer."
Ultimately, the Jogology line will succeed on its performance and that's where Tanya Pictor believes lies its real opportunity for retailers. "It is hugely important to deliver products with different features and benefits and to be able to tell that story — ours is of ultimate comfort and performance," she says.
Rowe explains "a controlled rollout" of the line is planned, with almost two dozen stores in the Fall launch with a goal of being able to service 500-600 stores initially. The socks are manufactured in the EU and the company's distribution center is in North Carolina.
The Sock Details
Promoted as a sock "made by runners, for runners," the design philosophy mirrors that of shoe designers — it locks in the heel and midfoot to minimize in-shoe movement and leaves toes free to flex. A second-skin fit is provided by arch support massage bands that eliminate excess fabric, creating a moisture management layer between the foot and the shoe.
The socks also feature a soft knit rib band around the ankle area that eliminates pressure marks, along with a protection area covering the large toe to prevent any discomfort.
Jogology socks are produced on 200 needle machines and are made from sustainable, recycled, moisture management re-dri yarn with a soft hand and extra durability. Strategically placed mesh panels offer extra aeration and ventilation during movement and the anatomical shaping of each sock is designed to fit left and right feet. The arrow heel technology provides a snug cradle to cover a full heel, ensuring the socks stay in place.
Topping it all off are three different cushion levels: low, medium, and high to suit all preferences.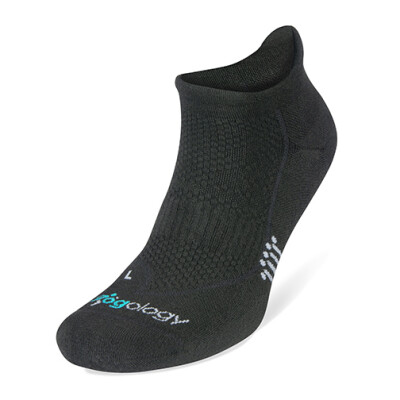 Low Cushion is for those who prefer no bulk in their shoes with a moisture management layer between the foot and the shoe;
Medium Cushion for those mid-distance runners who like some cushioning, but not too much bulk in the shoe;

High Cushion, for those athletes who like full cushioning across the sole of the foot and the toe area.
And there is also an eco-message connected to the socks. Jogology aspires to be a low-carbon business, so it makes every production decision with integrity. That includes utilizing high-performance, recycled yarn blended with grown and sustainably harvested wood pulp; recycled polyamides for plaiting and patterning; post-consumer waste recycled paper for packaging; and no plastic in any packaging other than white-colored products (this is to keep the white socks clean).
Partnering with and supporting organizations within the running community is also a key pillar of this new brand. "Our years running, and the various communities that come with it, have given us more than we could ever have imagined. Now it's our turn to give back," Tanya Pictor notes. "Our aim is that Jogology becomes a vehicle for all runners, each with their own unique social interests, to reach out and connect where it matters to them most."
In addition, through its Reach platform, Jogology will support its community of store ambassadors who are the boots on the ground at retail and who make a daily difference in their local communities working in areas of need.
One final note: One organization that Jogology's Reach cause platform will support is Leader Dogs for the Blind, which provides four-legged running companions for the visually impaired. Understanding the special bond between humans and dogs, and believing that they make the perfect running partners, together they can help bring the joy of running to those who haven't been able to experience it before.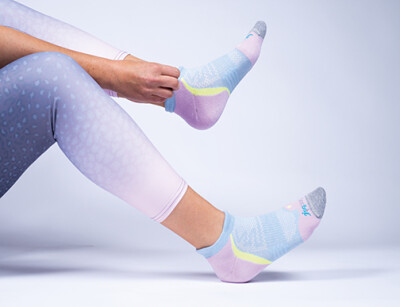 Oh, and about the name. As the company explains it, "we may be venturing out in different countries, and have different cultures, pursuing what makes us happy, but our passion for being active connects us." The word "jog" is proof of this — it means "to run" in more than 30 languages. It's universal and it unites communities.

And, of course, "Ology" is the study of a particular subject. Something the Pictors and Rowe certainly did a lot of to form Jogology.

Contacts:

Luke Rowe: [email protected], 919.357.0160

Tanya Pictor: [email protected], 828.855.8114

Bert Pictor: [email protected], 828.855.8116