Even in the middle of the disruption caused by the pandemic, run specialty retailers continue to create new opportunities for runners in their home markets through unique retail concepts and new stores. One of them is Runner's Edge, based in Farmingdale, Long Island, NY. In March, as spring approached and people sought a return to some sort of normalcy, the retailer opened its second location in nearby Huntington Village, Long Island.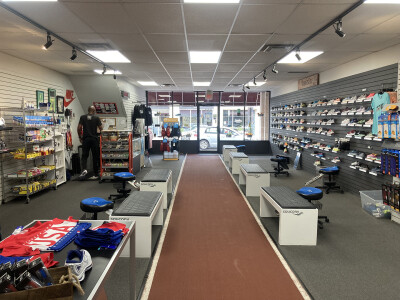 The Runner's Edge story is familiar to many in the running business. Way back in his early 20s, owner Bob Cook began distance running to stay in shape for one of his first loves, surfing. In 1975 he met Gary Muhrcke, owner of Super Runner's Shop, and began working for him. Then in 1985 he opened Runner's Edge, which has since outgrown two locations in Farmingdale. The new Huntington Village store joins the existing larger running and multi-sport headquarters at 242 Main Street in Farmingdale.
Running Insight caught up with the stores' buyer Allison Galante , daughter of owner Bob Cook, to find out about the new location and why and how it all came about.
So, why open a new store now, in the middle of a pandemic?
Galante: An opportunity arose when we discovered there was an established running store in Huntington whose owner, Gary Muhrcke, was retiring after having run the store for decades. We saw it as a great opportunity to come and serve the Huntington area — with a lot of our customers in Farmingdale coming from the area.
What are some of the details of the new?
The new store is located at 355 New York Avenue in Huntington, NY. It is approximately 2400-square feet and the staff is currently half the size of our Farmingdale location since we just opened up about four months ago.
What about the merchandise mix?
The Huntington shop merchandise is 90 percent the same as the Farmingdale headquarters, with the addition of more fashion models and urban products to cater to the more bustling, city-like area.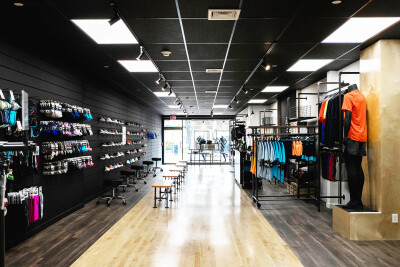 How will the stores complement each other? Same running clubs, events?
We still have all of the same activities outside the store that will complement both. We hope to gain new customers by sponsoring new races and partnering with local high schools and businesses. We partner with several podiatrists, physical therapists and chiropractors and provide coupons they can hand out to their patients.
How else did you reach new runners?
Before the pandemic hit we had several activities taking place, such as coaching a group of approximately 200 beginner runners three times a year with the Runstart, RunSmart and RunSteady programs. Each program is geared towards completing a specific race or group of races. As of now the program is not active, but we hope as things start to open back up that we will resume some of our normal activities for 2021.
Any other local flavor?
We offer informational clinics for several local running groups, local high schools and running camps and we also set up booths at several wellness fairs offering our knowledge and service. We also offer Tuesday night runs year-round and Brewery Runs/Special Event Runs on various evenings, partnering with local businesses. During the winter months we have coffee runs. We also often partner with Orange Theory and various fitness gyms to offer classes that will supplement runners' training.
Tell us about your "team."
The Runner's Edge Running and Triathlon Team consists of more than 150 athletes that we are proud to call teammates. We share camaraderie, love of the sport and, even better, many lasting friendships are formed throughout the running community.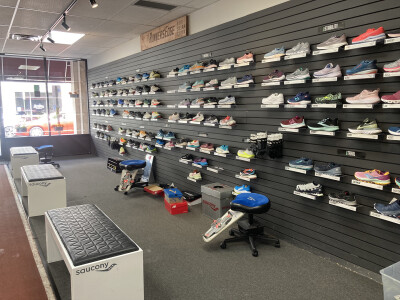 What do you think has made Runner's Edge successful as a run specialty retailer?
We believe our employees and the customer service we offer makes us one of the best. Our knowledgeable employees take their time to engage each and every customer in order to get a proper fit. They are friendly, motivating, extremely patient and go above and beyond to make sure the customer is happy with their experience.
And we see that there is a real family involvement.
Yes, the owner, Bob Cook, and all of his family members, including his wife and two daughters (me) currently work here/or have worked here, making our store have a special family feel. We even have two employees that have been with us since 1985.
How involved with the local community is Runner's Edge?
By coaching and supporting various running programs and sponsoring races we are encouraging people to adopt a healthy and fun lifestyle. We offer discount coupons, gift cards and prizes to local races, running clubs and high schools in order to show our support. The special running events we offer at our store create an inviting atmosphere that runners love to be a part of.
How has the pandemic impacted your business for the past year?
The pandemic was definitely a hit to our small business. We had to shut down for about three months. We did, however, have our online business to keep us afloat and we had to innovate our marketing ways on social media.
How so?
We sent out weekly emails in order to keep in touch with our customers and worked very hard doing a lot of local deliveries/back door pickups. We were very grateful to see the support from our community.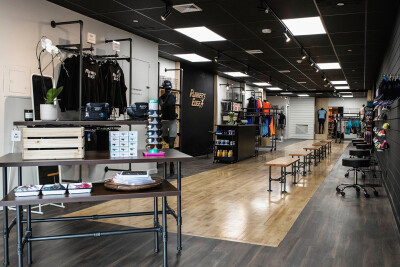 Did you benefit from the trend of more people running during the pandemic?
One plus was certainly that a lot of people took up running, exercising and walking while everything was shut down so we gained some new customers throughout the pandemic, which helped us get through the challenging times.
Where do you go from here?
We hope to keep gaining new customers from our second location and by getting more involved in the community there. We always work on gaining new customers by going to events and races and promoting our store and customer service as much as we can. We are constantly working on expanding our online business having different availability of products than in store in hopes to capture some market share.