Leaving behind one of the most disruptive years in modern American history, the nation's run specialty retailers have hit the opening months of 2021 with an energized stride. Highlighting a flood of new product, delivering inspirational messages and comical memes – both important in these heavy times – and encouraging folks to charge through the elements, running shops continue connecting, motivating and delivering for their communities.
Shoes & Brews' 800m Road Challenge Starts Anew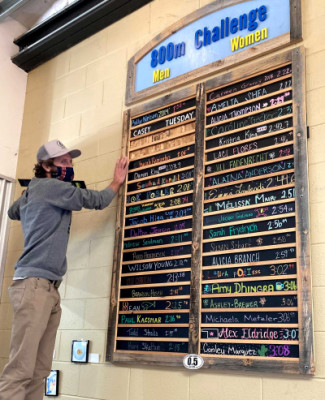 At the start of 2021, Shoes & Brews wiped its in-store 800m Road Challenge chalkboard clean. Within days, the 20-person leaderboard – one column for men and another for women – filled up again as new entrants completed an out and back 800-meter loop in front of the Longmont, CO-based store – enduring a hairpin turn around a keg, no less.
Why the rush? The runner's time represents their price for a pint on the day they complete the challenge (a 3:05 run, for instance, delivers $3.05 pints). Those speedy enough to claim a top 20 time keep their run time-priced pints so long as their name remains on the leaderboard.
"It's almost a rite of passage here at Shoes & Brews that you've taken it on once or twice," co-owner Ashlee Anderson says of the 800m Road Challenge. "We've seen people take it on in jeans, sandals, with their wedding party, with their pets, kids – you name it, we've seen it."
Of note, Billy Nelson's 1:57 from 2014 and Carmen Graves' 2:22 from 2018 remain the 800m Challenge's FKTs for men and women, respectively.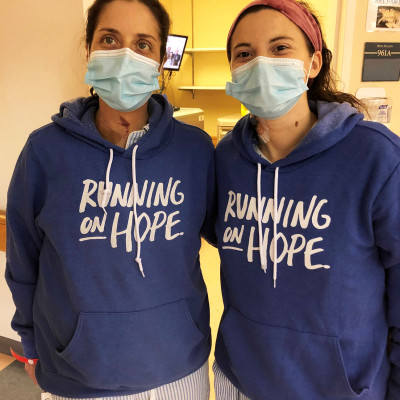 Ridgefield Running's Role As An Organ Matchmaker
Caitlin Balint (left) and Sophie Long share a love of running …. and more.
Facing the final stages of a progressive liver disease, Caitlin Balint needed a liver to survive. So, the 38-year-old nurse from New Fairfield, CT, a longtime runner and customer at Ridgefield Running Company (RRC), turned to social media for an assist.
Balint created a Facebook page last summer called "Cait needs a liver" and RRC owner Megan Searfoss shared the page with the greater RRC community. It would soon become the most shared post in RRC history.
When Balint stopped by RRC in mid-January to tell Searfoss that doctors had found a donor match, Searfoss suspected it was former RRC employee Sophie Long. After confirming that was indeed the case, Searfoss connected the two women over text and they quickly bonded over a shared love of running and their RRC connections.
On Feb. 2, Balint, a married mother of a seven-year-old daughter, received 60 percent of Long's liver. By the end of February, Balint hopes to resume light jogging and she and the 25-year-old Long are even planning races together.
"This truly shows the power and love that the running community has for each other," Searfoss says.
Creative Challenges Continue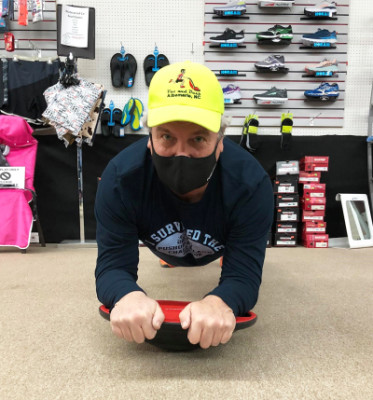 To drive engagement and strengthen connections with customers during the pandemic, many run shops embraced virtual challenges. It continues today as in-person races crawl back to life.
Sayville Running Company's February Challenge immortalizes the names of those who run or walk every day in February with a spot on the back of the Challenge's long-sleeve tech tee.
Meanwhile, Virginia-based RunAbout Sports' January 100 Mile Challenge awarded a special 100 Mile Challenge tee to anyone who logged 100 miles in January.
In Las Cruces, NM, Bluebird Running Company ditched the month in favor of a year-long 1000-mile challenge. For $20, Bluebird promises ongoing support and motivation as well as a T-shirt and sticker at the year-end finish line.
Fleet Feet Hartford's "We Run WEHA" challenge pushes participants to run all 230 miles of West Hartford's streets in 2021. Fleet Feet staffer Tommy O'Gorman is sending a weekly email to participants with a four-to-five mile "route of the week" — complete with some interesting route-specific factoids to boot. Those who traverse each route over the year will, in fact, run every street in West Hartford.
In Albemarle, NC, Vac and Dash veered away from running with a push-up and plank challenge. The 28-day challenge tests participants to build toward 50 push-ups and a three-minute plank throughout February.
Run Away Shoes Offers VIP Treatment
Three-store, Wisconsin-based Run Away Shoes hosted its annual VIP Night on Feb. 6, albeit pivoting to a virtual event in lieu of the typical 500-person gathering at Badger State Brewing. At the free event, Run Away customers interacted with brand reps showcasing current and upcoming product, had a chance to pre-order items at a discount and participated in a virtual happy hour as well as a charity auction.
"It gives the reps some time in front of the customers to show off their product … while also serving as a giant thank you to all of our customers," Run Away Shoes GM Colin McKean says of the annual VIP Night.
ARM, Big River Show Generosity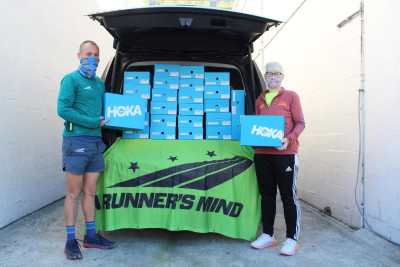 Nick Kovaleski, ARM director of store operations, and ARM general manager Eileen Urtz prepare to delivery Hoka One One footwear to El Camino Health.
In January, San Francisco-based A Runner's Mind teamed with Hoka One One to support local frontline medical workers. For every Hoka purchased at one of ARM's three Bay Area stores, ARM and Hoka donated a pair to staff at El Camino Health in Mountain View, CA. By month's end, the partners sent more than 120 pairs of Hokas to El Camino.
"This pandemic is going on much longer than any of us anticipated," ARM general manager Eileen Urtz says. "As this continues, our frontline medical staff continue fighting a giant battle, and we want to make sure we're doing our part to take care of them."
Big River Running Company also showed its philanthropic side with a $3324 check to Mission: St. Louis, a local community development agency. Whenever customers purchase Big River-logoed gear, the running store directs a portion of the proceeds to area charities.
605 Running Co. Spotlights Locals
Seeing so many pick up running amid the pandemic, 605 Running Company in Sioux Falls, SD, wanted to provide a touch of inspiration to the area's running newbies. The store's "Meet the Local" blog series spotlighted local Joes and Janes sharing their individual journeys into running alongside favorite routes, post-run meals and advice for overcoming challenges in the sport.
"The idea is that everyone starts somewhere in running and we created this to provide some motivation," 605 co-owner Greg Koch says. "After a 2020 in which so much was about survival, we want to make 2021 more about fun."
An Ode to the Front Runner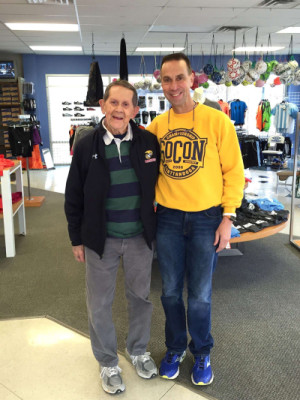 An avid runner, Louis Priddy opened Front Runner Athletics, originally called Running Factory II, in Chattanooga, TN, in 1982. He operated the store for more than two decades, championing wellness and emerging a community hero for his commitment to local youth and nonprofits. The 84-year-old Priddy passed on Jan. 10.
Current Front Runner leadership offered a touching tribute to Priddy on the store's Instagram page: "If you had the pleasure of being fit for shoes by Louis, you'd agree he greeted everyone with a smile and always had time to listen to your story. Louis's legacy will continue to live through Front Runner, serving customers with hospitality and making it a priority to give back to the community."
Fleet Feet Rochester Launches 21 Days of Giveaways
To celebrate 2021, Fleet Feet Rochester and Fleet Feet Buffalo launched 21 Days of Giveaways on Jan. 1. Over the year's opening three weeks, the shops posted new products daily on Instagram — Nuun hydration tablets, Balega socks, TriggerPoint GRID foam rollers and more. By liking the post and leaving a comment, participants gained entry into a giveaway for that product.
Ellen Brenner-Boutillier, who co-owns the stores with her husband, Boots, says the campaign increased the stores' Instagram follower count and produced impressive engagement metrics. Yet more, it allowed the Fleet Feet shops to provide customers a peek into the showroom amid strict COVID-19 restrictions and Mother Nature's frosty wrath in upstate New York.
And, finally, Andy Provides Comic Relief
Even during the continued challenges of a pandemic, run shops like Bethlehem, PA-based Aardvark Sports Shop and mascot Andy have managed to keep it light and fun—watch the video here.
Have a compelling event, project or initiative worthy of consideration for a future Running Spirit column? Contact Running Insight senior writer Daniel P. Smith at [email protected] with details.