Even during a pandemic – maybe especially during a pandemic – kids need to run. Faced with lockdowns, virtual learning, cancelled sports and after-school activities and the overall stress of living in a pandemic world, kids – and their parents – more than ever needed a way to stay active.
Enter the Healthy Kids Running Series (HKRS), a national series of community-organized races for children from as young as two-years old up to middle school age. The local events are run by its Community Coordinators, the women and men who organize the programs in their local communities. They are first responsible for finding the facility to host the races – which range from a 50-yard dash for the littlest runners up to a mile for the middle schoolers, some Series even host a Challenger Division for those that need a little extra support – and then marketing the Series and securing volunteers to help execute the five-week series in the fall and spring.
All registrations go through the national HKRS website which are used to help offset expenses. At the end of the season Coordinators receive half of the net profit and HKRS headquarters receives the other half to invest back in the program in the form of IT solutions, travel to map out courses, medals, trophies, insurance, runner shirts, rental fees and the rest.
The Community Coordinators can grow their Series as big as their facility will allow — most locations can handle 300-400 young runners because races are broken out by distance and gender. Due to the pandemic HKRS has implemented race day guidelines to help ensure the safety of the runners on-site, especially for the larger Series.
All of this effort is directed at the young runners and it all adds up to Healthy Kids Running Series laying claim as the largest co-ed youth running program in the country
Like all race events, HKRS faced a host of COVID-19 challenges, not the least of which was organizing the races themselves and getting local approval to use fields and facilities.
"HKRS had to become creative throughout the pandemic," understates Tamara Conan, national director of HKRS. "We wanted to offer families a way to continue to be active, not just physically but mentally, so we had a mix of in-person and virtual events running fall of 2020."
The Virtual Response
The one good thing that came out of the pandemic is its Virtual World Race run out of its office so they can spread its mission to communities that don't have programming available. It also provides families that are not comfortable with racing the opportunity to still participate in HKRS programming. HKRS' program manager Corrine Logeman, who runs this race, creates an encouraging and inspiring virtual community for the families to be a part of.
Like many other initiatives, the challenges of the pandemic accelerated HKRS ideas and programs that would have taken years to develop otherwise.
"Before the pandemic, we had joked in the office about a virtual HKRS race and never in a million years did we dream that it would be what every child would be doing in our program to stay healthy and active during the pandemic," Conan recalls.
The first step of that virtual process was creating a new guide to train Community Coordinators on running a virtual Series. Some of this contained training on utilizing social media to engage with the families throughout this season by video and social media branded images.
Next, HKRS created a "How To" for families to teach them how to measure a course and how to run the race at home. Each week the families would have their child run their respective distance and log their time into an online Google sheet. Next, HKRS' Coordinators would engage with families through social media with videos to encourage the runners, theme race weeks, swag contests for posting to social media, and weekly emails that contained mindfulness activities such as stretching, yoga and cooking. Each Series has its social media, so it was easy for the Coordinators to direct their content to the families.
Spring 2021 was its first season back to all in-person racing and the response was, to put it mildly, overwhelming — HKRS had 28,000 runners nationally in 212 programs in-person, with the largest event being in West Chester, PA, with 580 runners. Another successful program is the Greater Annapolis (MD) series, with 338 in-person participants this fall.
In total, HKRS now has more than 250 communities participating for Fall 2021.
"Our program exploded registration-wise as so many families were looking forward to being active outside after a long winter," Conan says.
The outreach strategy around HKRS also underwent a revamp during the pandemic. "We have become more creative in our offerings to the families knowing that we want our families to live a healthy lifestyle," Conan says. "We also recognize that mental health is as important as physical health, especially coming out of the pandemic."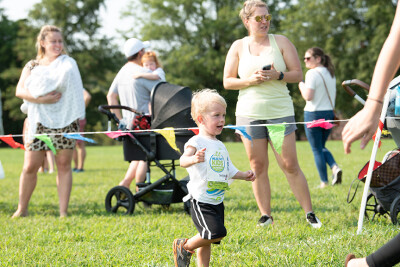 HKRS and Retailers, Sponsors
HKRS attributes its continued growth to its roots as a community-based non-profit organization that brings families with young children together, inspiring them to live an active healthy lifestyle.
"Our races are inclusive and engaging," Conan says, pointing out that members look forward to weekly races and cheering on their children and their neighbors' children. "The importance of being an active, outdoor activity allows for personal connections."
That formula can also benefit local run retailers and other sponsors looking to be a part of the HKRS message. Conan says businesses are more than welcome to join in on the weekly fun.
"We look for retailers who want to build a partnership with us — a connection to families in their communities, who, too, want to be active and healthy," she says. "We look for partners who can help spread our mission, whether in-store, online or on social media, and encourage participation. We also look for retailers who want to be onsite and engage perspective customers at our races."
It already has several national and regional sponsors benefitting from this enviable connection to families and communities. Among them:
Texas Beef sponsors all Texas locations and provides volunteers, HKRS races bibs and swag, along with content for local social media and national about healthy eating and staying active.
Stride Rite has attended races across the country with its contactless Fit Zone, producing an on-the-spot 3D model of any child's foot to ensure all little runners are fit with the correct size shoe. They also sponsor the HKRS Kids Corner on the website.
Youth Runner has provided digital magazines to runners.
RunDoyen has provided inspiring training videos from athletes and competitive runners to our distance runners.
Giant provides gift cards to locations in Pennsylvania to purchase a healthy snack after the week five race and content is provided to national social and national newsletter for healthy eating, recipes and free nutrition classes to the Giant Nutritionist Classes
Lidl, in addition to supporting physical races onsite, Lidl provides inspiring educational opportunities that help keep kids focus on staying healthy year-round, including online health, nutrition and fitness programming for young boys and girls in the I Am A Healthy Kid program guide. Also, the chain provides a healthy snack at the week five race along with coupons to participants.
Among the running stores already involved in various capacities are New Balance, Fleet Feet, Bryn Mawr Running Company, Blue Ox Running, Charm City Run, Foot RX Running Asheville, Haddonfield Running Co., Lucky Road and many, many other local stores. These retailers not only get to help pull off a family-friendly community event, they also get some valuable exposure by hosting race bag pickups for hundreds of runners, are welcome onsite at all five races in each Series, can offer in-week training and have the chance to market any other races they may have scheduled. Some stores actually serve as Community Coordinators to help part-time workers to earn additional income make more money.
Brands, too, are more than welcome to get involved and HKRS is actively recruiting many to be a part of the family. The benefit for both retailers and vendors are that there is much, much more to Healthy Kids Running Series than a bunch of little kids buying their first pair of sneakers.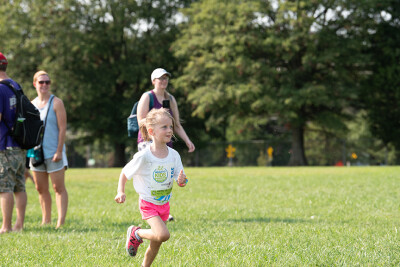 The HKRS Vision for the Future
Conan goal now is to further build its brand and attract national sponsors who want to join it on our mission of getting children to live active healthy lifestyles.
It also wants to partner with national entities that own or manage large housing communities, as it wants to significantly grow participation in affordable and low-income areas next year.