When COVID-19 slammed into the U.S. last spring, it forced changes upon nearly all categories of American life Ñ and running shops certainly couldn't escape the upheaval.
Across the country, many run specialty stores closed their doors as governments issued stay-at-home orders. Fun runs, races and track seasons Ð gasoline to the run specialty engine Ð evaporated. Uncertainty reigned.
True to form, run shops rallied. They touted free local delivery and in-store appointments, embraced digital tools and crafted savvy solutions to service and engage customers.
With vaccines now rolling out, some light is Ð finally, gratefully Ð shining upon this all-consuming pandemic. But don't expect run shops to return to business as usual. In fact, retailers march into the future with a few different pandemic-sharpened tools in their arsenal.
FREE LOCAL DELIVERY
Pre-COVID, Paul Epstein had dabbled in local delivery at his Running Wild shops in Pensacola, FL, and Fairhope, AL, often during the holidays or in cases when people were in a crunch.
"We weren't broadcasting it, though," Epstein says.
In the grips of the pandemic, however, free home delivery took root at Running Wild to accommodate customers hesitant to visit retail shops as well as those consumers hunting convenience. Running Wild used its branded "short bus" to make upwards of 10 deliveries each day.
"People knew they could call us and that free local delivery was an option," Epstein says.
The offering helped Running Wild gain a marketplace advantage and celebrate its "localness," Epstein says, which is why he intends to continue offering the service at both Running Wild outlets.
"Free local delivery shows our commitment to our community, though we will manage it differently to make sure we're being most effective and efficient with our resources," he says. "We'll determine our customers' needs and expectations as well as their location to see if the better path is local delivery or shipping."
APPOINTMENT SHOPPING
While retail appointments inched into the American consciousness pre-pandemic, they largely remained a niche offering until COVID-19 brought them mainstream.
In Fall 2019, Ken Larscheid tested appointments at the Running Lab, his now 10-year-old shop in Brighton, MI. He quickly saw positive results, including average ticket sizes 70 percent greater for customers who booked appointments.
"I was sold on appointments before COVID hit," Larscheid says.
Upon reopening Running Lab in late May following a two-month closure, however, Larscheid amplified external messaging around in-store appointments. He added a "Book Appointment" tab to the store website, advised his medical partners to encourage appointments when referring customers, simplified his pre-visit questionnaire to basic contact information and changed appointment systems to Waitwhile.
"We were filled every day," says Larscheid, who is more committed to appointments than ever before. "Appointments have added a layer of professionalism and customer service and helped us better plan staffing. The only negative is if we're busy and there's a wait because those with appointments jump to the front of the line."
When Larscheid transports Running Lab to a larger 4400-square-foot storefront later this month, in-store appointments will make the move, too.
"They've been working for us, so why go away from them?" he says.
VIRTUAL EVENTS
Prior to COVID's arrival, Brendan Barrett didn't give much thought to virtual events. These days, however, Barrett's Sayville Running Company and Smithtown Running Company on Long Island, NY, offer something virtual every month.
"It went from an afterthought to the standard," Barrett says.
Last April, with the two running stores closed and the company's race timing and management business in limbo, Barrett's team launched Run Around the World: A (Social) Distance Project on Strava. More than 600 individuals participated in the $30 virtual event, which challenged the collective group to circle the world to earn a $30 store gift card.
As the pandemic wore on, Barrett's stores continued rolling out clever, out-of-the-box virtual events. There was a summertime challenge to run between the Sayville and Smithtown stores, a test that involved strategy, as well as the 12Ks of Christmas, in which about 200 participants ran one additional kilometer each day over a 12-day window.
Though Barrett acknowledges virtual fatigue and increased competition in the virtual event space, he nevertheless sees a continued place for differentiated virtual events thoughtfully spread across the calendar. Mileage or consistency-based efforts, in particular, can spur engagement and accountability in training as in-person racing returns.
"My guess is that virtual events will level off and find their appropriate watermark, but there's definitely a continued place for creativity here," Barrett says.
GIFT BUNDLES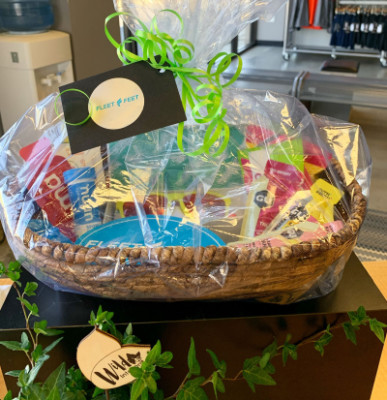 In 2020, Fleet Feet Wichita began assembling "bundles" to engage customers, create compelling value and move inventory.
"Spring Bundles" were largely built around nutrition, pairing items such as GU energy gels and Nuun Sport tablets alongside universal items like Body Glide, stickers and goodr sunglasses. During the holidays, Fleet Feet Wichita unveiled three gift bundles in decorative holiday boxes. The $20 Treat Yo Elf bundle, for instance, included Probar Energy Chews, Run Gum, a Fleet Feet Boco Gear Face Mask and a Foot Rubz Massage Ball.
"The bundles did well, allowing customers to get a feel for what they would like because they knew they weren't or couldn't come into the stores as frequently," Fleet Feet Wichita operating partner Bree O'Connell says. "We also saw customers buy these as gifts for their running buddies as well."
And O'Connell plans to continue developing bundles at Fleet Feet Wichita, albeit introducing kits more strategically throughout the year. She's considering gift bundles for Valentine's Day or Easter as well as those targeted toward training program participants, perhaps a "congratulatory" bundle that family or friends might purchase for their favorite runner.
"We can utilize the bundles so customers have something special to pick up for themselves or a friend," O'Connor says.
BOPIS
Despite the ubiquitous availability of free delivery, some consumers still desire Ð or need Ð more instant gratification following their online purchase. That continues spurring the rise of Buy Online, Pickup in Store (BOPIS) as well as its cousin, curbside pickup.
According to the Omnichannel Retail Index, three-quarters of U.S. retailers now offer BOPIS, while 53 percent of respondents to a January 2021 Convey survey said they used BOPIS or curbside pickup for their holiday season purchases.
Amid the pandemic, Dick Pond Athletics, which has five stores in suburban Chicago, added a BOPIS option to its online ordering page alongside traditional shipping and free home delivery for local customers.
"And it's here to stay," Chris Wilhite, manager of the Dick Pond store in Park Ridge, IL, says of BOPIS.
BOPIS helps running shops like Dick Pond increase profitability by dodging delivery fees. Yet more, it provides stores a chance to enhance the customer experience, getting product into customers' hands sooner and bypassing any potential shipping delays, which often reflect (unfairly so) on the retail shop. BOPIS also invites additional sales when customers visit the store for pickup.
"The benefits are there for our customers and our business," Wilhite says.