125
Saucony
The present-day Saucony is actually a blend of two century-old companies.
The first: The Saucony Shoe Manufacturing Company, which debuted in 1898, two years after the first Olympic marathon and one year after the inaugural Boston Marathon. The Pennsylvania-based company launched its first track spike, a lightweight option made of kangaroo leather, in 1958 and was producing running shoes by the late 1960s.
Around the same time of Saucony's 19th century founding, a Russian immigrant cobbler named Abraham Hyde opened a shoe store in Cambridge, MA, manufacturing and selling "carpet slippers" made from rug remnants. By 1940, Hyde's footwear line had grown to include baseball shoes, roller boots and bowling shoes. During the 1960s, Hyde's company also produced footwear for NASA astronauts on the Apollo 7 mission, the first manned flight in NASA's Apollo program.
In 1968, Hyde acquired the Saucony Shoe Manufacturing Company and relocated the footwear brand to Cambridge. A decade later, on the heels of America's first running boom spurred by Frank Shorter's marathon gold at the 1972 Olympics, Saucony began building its reputation as a leading footwear brand.
The 1980s saw Saucony release the first slip-lasted running shoe (the Trainer 80), introduce the Jazz (a highly technical model that endures today as the centerpiece of the Saucony Originals Collection) and earn international credibility when New Zealand's Rod Dixon won the 1983 New York City Marathon wearing Saucony kicks.
The 1991 release of GRID (Ground Reaction Inertia Device technology) – a system that combined crisscrossing strings of DuPont-sourced Hytrel with a concave TPU sphere for cushioning and stability – accelerated Saucony's momentum. GRID, a visible technology akin to a tennis racket, became the foundation of Saucony's product line. (It is also the inspiration for the PWRGRID+ cushioning systems blanketing the brand's contemporary footwear lineup.)
In the first years of the 21st century, Saucony solidified its performance run lineup with now-ubiquitous model names like the Hurricane, Triumph, Ride, Guide and Omni. The innovations kept coming with heralded models like the Kinvara and Peregrine and, more recently, the boundary-pushing Endorphin Collection.
Saucony chief marketing officer Kathryn Pratt describes Saucony's 125th anniversary as a "unique opportunity to reflect on the achievements of the past and to celebrate our relentless dedication to inspiring and enabling people to live a better life."
"We have a strong product offering, a passionate team and an unrivaled commitment to the transformational power of running," Pratt says.
Saucony Fast Fact: The Saucony name comes from the Saucony (now Sacony) Creek located near the company's original Kutztown, PA, home. The company's logo, meanwhile, represents water flowing around three distinct boulders symbolizing the brand's core pillars: heritage, innovation and design.
#100
Lowa
To mark its centenarian birthday, German-born outdoor brand Lowa reached beyond its significant foothold in traditional hiking and backpacking boots and embraced an entirely new footwear category – trail running – with the unveiling of its All Terrain Running collection earlier this year. The three-shoe lineup features the jack-of-all-trades Amplux, the performance-oriented Citux and the long distance-oriented Fortux.
"Our new trail running segment incor­porates our decades of experience in the design of grippy outsoles, perfect rolling prop­erties and the best form of comfort into a new usage area," Lowa CEO Alexander Nicolai says. "Now, it's time to run!"
#95
La Sportiva
Italian Narciso Delladio started La Sportiva in 1928 manufacturing leather boots and wooden clogs for farmers and lumberjacks. After later establishing itself as a prominent brand in mountaineering footwear and climbing shoes, La Sportiva was a natural early entrant into the trail running category as athletes sought products capable of helping them move faster in the mountains.
Still owned by the Delladio family, La Sportiva continues handcrafting many of its shoes in Italy. The brand, however, has global reach and claims distribution in more than 75 countries around the world.
La Sportiva Fast Fact: Last March, La Sportiva athlete John Kelly became only the third person in history to complete the famed Barkley Marathons – the so-called "race that eats its young" – twice.
#75
Wrightsock
Wrightsock didn't become the Wrightsock we know today overnight. Not at all.
In fact, the North Carolina-based operation founded in 1948 by Aileen and E.B. Wrightenberry spent its first two decades reselling irregulars before moving into finishing for larger mills.
In 1988, Joey Wrightenberry, grandson of the founders and Wrightsock's current president, joined the family business and suggested the company purchase knitting machines so it could become a complete producer.
"We had people coming to us who couldn't get the production they needed," Wrightenberry says. "It was scary to make this investment, but entrepreneurship is about taking chances, isn't it?"
By the mid-1990s, Wrightsock's most novel creation, a thoughtfully crafted double-layer sock, boasted patents and growing energy in the run specialty marketplace with its "Anti-Blister System" addressing friction, moisture and heat.
"The double-layer sock became our calling card in run specialty, which helped to make Wrightsock its own brand," Wrightenberry says.
As competition in the athletic sock landscape has intensified this century, Wrightsock has answered the bell. The company moved to a larger facility in Burlington, NC, in 2000 and also upgraded its knitting machines. More recently, Wrightsock introduced a buttery soft single-layer sock line called Run Luxe in 2022 to kick off its development of single-layer styles.
The company, which is currently weaving in a fourth generation of Wrightenberry family members, constructs its entire made-in-the-USA product line from Repreve, a sustainable polyester crafted out of recycled plastic bottles.
"We like having control of what we produce and the ability to be a fast mover for the market and our customers," Wrightenberry says.
#65
Reebok
In 1958, Jeff and Joe Foster, the grandsons of track spike pioneer J.W. Foster, set out to build upon their grandfather's legacy by launching their own footwear business.
Two decades later, Reebok running shoes made an immediate splash in the U.S. market with multiple five-star ratings from Runner's World and the 1979 creation of the Reebok Racing Club, which gave runners discounted shoes in return for wearing the brand's red, white and blue singlet during races. When Brit Steve Jones shattered the world record at the 1984 Chicago Marathon wearing Reeboks, it further heightened the brand's running cred.
Reebok loomed large in the running space well into the 1990s, including serving as the official sponsor of the 1996 Summer Olympics in Atlanta. After a brief hiatus from the sport in the early 2010s, Reebok returned to run specialty stores in 2017 with the award-winning Floatride Run.
Reebok Fast Fact: The name Reebok honors the Rhebok, a small South African gazelle known for its speed and agility.
#50
Movin' Shoes
Roger Eischens and Herb Kimpel started Madison, WI-based Movin' Shoes in 1973 with $500, a cramped space in the basement of the Wisconsin Student Association building, a pegboard showing three running shoe models and no idea their entrepreneurial brainchild would mature into one of the patriarchs of run specialty retail.
And to be frank, Movin' Shoes earliest years did not forecast long-term success. The store, initially open a grand total of four hours each week, later moved its operations into a Chevy Nova station wagon before settling into another basement space below a hair salon. The business would see Kimpel's exit, a sale to employee Karl Harter and swing-and-miss inventory trials ranging from basketball shoes to rollerblades.
Today, though, Movin' Shoes is all running, all the time in Madison. The shop carries about 125 different running footwear SKUs and largely eschews sales floor technology in favor of a "throwback approach to selling shoes" inside its 2000-square-foot home near the University of Wisconsin's flagship campus.
"We've been 99 percent effective by watching someone walk down our carpet," says veteran employee Tim "Buddy" Gold, who, at age 75, is the elder statesman of the 15-member Movin' Shoes team.
Under the ownership of former ASICS rep Jim Van Boxtel since 2016, Movin' Shoes has continued to honor the history and legacy of Movin' Shoes while forging ahead with a contemporary focus. Van Boxtel has encouraged store leadership, which includes his daughter Vanessa Meinke, to pursue fresh ideas and new products while strengthening business operations.
"He pushes us to be extra thoughtful about what we're doing," Meinke says of her father.
Movin' Shoes' leans heavily into the lively running culture in Madison, often named among the nation's top running cities despite its harsh winters. The city hosts large high school programs, an active racing scene and well-trafficked running spots like the UW Arboretum.
"Madison's a community excited about running, so that's certainly contributed to our success," says longtime Movin' Shoes employee Tom "TK" Kaufman, a local high school coach himself.
Throughout 2023, Movin' Shoes has been celebrating its 50th year with a monthly staff party, including bowling, mini golf and a trivia night. On July 28, the day after the popular Karl Harter Full Moon 5K honoring the shop's former owner, Movin' Shoes is planning a massive party for former staff members and business associates.
#50
FootWorks
On May 14, 1973, Sheldon Boehm, a Danish yoga instructor, got the rights to open an earth shoe store franchise in south Florida. When earth went out of business in 1976, Boehm alongside his daughter and son-in-law, Laurie and Hans Huseby, quickly re-imagined their upstart retail shop as a run specialty store called FootWorks.
Here in 2023, FootWorks lives on in the same location under the direction of the 72-year-old Laurie Huseby, who continues working the floor three or four days each week.
"I love coming to work and fitting people and being at the training programs on the weekends," Huseby says. "It's satisfying when you can be a part of people's health journey and watch them transform into a happier, healthier person."
FootWorks' early footwear inventory consisted of Pony, Etonic and Brooks, while Hans, a sub-3 marathoner, also re-soled shoes. He purchased sheets of Vibram outsole rubber from New Balance before cutting, gluing and repairing footwear in the back of the store.
"That allowed a runner to get another couple hundred miles on their shoes," Huseby says of the now-extinct practice.
In 1977, Laurie and Hans Huseby helped launch the Miami Runners Club. Two years later, the couple began putting on races around South Florida. The store, the club and races brought attention to a sport clamoring for mainstream attention.
"The definition of a runner was only beginning to evolve from the serious competitor to the recreational athletes all about completing the distance," Huseby says.
And FootWorks helped drive that shift. The store introduced Jeff Galloway's run-walk training programs and put on a corporate 5K race that attracted 20,000 participants. As running participation grew, so, too, did FootWorks' store footprint to 2000-square feet.
"The continued growth and success of our business came from events complementing our retail business," Huseby says.
Today, FootWorks applies much the same formula with a new Huseby, Laurie, and Hans' middle son, JP, managing the store and helping to oversee races. Team FootWorks, the store's non-profit arm, hosts about eight races each year while its training programs prepare about 300 people annually for 5K, half marathon and marathon distance races.
This September, the store plans to celebrate its 50th anniversary following the final race in its Twilight Trilogy series of 5K evening races.
"It's been a fun ride here and it's wonderful to think about all the people who have been a part of our journey," Huseby says.
#50
Phidippides
Most magazines don't like to do stories about Phidippides Running Centers because, well, the name is just too difficult to spell. But Running Insight certainly makes an exception when 2023 marks the 50th anniversary of one of the run specialty industry's iconic individuals and earliest stores.
The history of Phidippides Running Centers parallels the history of the running boom of the 1970's. In 1972 Jeff Galloway realized his life's dream of participating in the Munich Olympics and also held the American 10-mile record. He spent his summers traveling and competing on the racing circuit while completing college degrees in history and social studies. After a year of teaching he missed running and came up with a plan to open a running store stocked with the best gear.
The idea seemed timely. Jeff scraped together enough money to open a small store in Tallahassee, calling it Phidippides after the Greek messenger that was credited with running the distance that is now known as the modern day marathon. One of the few running companies that would sell products to Galloway was a then-new unknown company called Nike. After a year-and-a-half, he moved the store back to his native Atlanta.
By 1978 the running boom was in full stride and Galloway had established more than 35 Phidippides franchise stores nationwide. After this success he decided to focus on writing and teaching the benefits of running through his clinics, fitness vacations and his nationally recognized Galloway Training Programs.
Galloway continues to oversee the two Atlanta stores, with a history of dedicated expert employees, some with over 30 years of experience — distinguishing his stores as among the most experienced run/walk specialty store staffs in the country.
In addition to his own special anniversary year, 2023 marks the 40th anniversary Kaiser Permanente Corporate Run, Walk & Roll Fitness Program, which, as the longest-running 5K in Atlanta, maintains its goals to get metro-Atlanta workers moving. The annual event allows participants to train under an Olympic runner and thrive with their co-workers at Atlanta's largest office party. Participants can run, walk or roll utilizing a wheelchair.
Galloway believes a health journey does not have to be boring. "Amp up your fitness with coworkers, family and friends by your side," he says. "This is the perfect way to foster teamwork, camaraderie and health while enjoying the great outdoors."
This year, there's a new app to help with training called the Jeff Galloway app. This free resource has a built-in run and walk timer, Galloway's audio coaching telling participants when to walk and when to run and is customizable. There are even meal plans and drills. Anybody who registers for the event gets free training.
#50
Dave's Running
Dave Mason – the Dave in Dave's Running – wasn't even a runner. At least not initially.
In fact, Mason was involved in drag racing and operated his own automotive shop. When a doctor told the 5'6" and 200-pound Mason he had to start exercising, he obliged. There was, however, a problem: Mason couldn't find size 7.5 running shoes anywhere.
Mason responded by opening accounts and selling shoes himself. Each weekend, he visited races within 200 miles of his Ohio home to peddle New Balance, Nike, Puma and Lydiard shoes from his car. He also founded his own race, the aptly named Dave's 10 Miler.
In 1976, Mason opened his first physical storefront – a "200-square-foot hallway" in Delta, OH, featuring running shoes, nylon shorts, singlets and cotton sweatsuits.
"Very primitive," assures James Mason, Dave's son.
From those early roots, the Masons became active players in northwest Ohio's running scene. There were retail stores in Toledo and Sylvania, OH, an early Nike shoe tester in Cleveland giving the Masons a beat on compelling models from the fledgling brand out of Oregon and a swelling mail order business. Dave Mason also began offering marathon and 5K training programs at the store and invested in TV commercials detailing the shop's personalized fitting process.
In 2008, James Mason, who had purchased the Toledo store from his parents in 1986, acquired the Delta store from his parents as well. That same year, he also opened a store in Perrysburg, OH. A store in Finlay, OH, followed four years later.
Dave's now sponsors and supports about 250 races around northwest Ohio and remains a vital cog in the local racing scene with its timing services and screenprinting operations. The store also has six branded finish line arches it loans to local races, fully wrapped vans and branded tents at races.
"You'd be hard-pressed to go to a local race today and not see a Dave's logo," says Matt Mason, James's son and the third Mason generation involved in the family business alongside his sister, Melissa.
The Masons marked the company's fifth decade with a new TV commercial, a Free Shoes for Life campaign and the creation of Dave's Golden Miles Strawberry Blonde Ale in collaboration with the craft beverages program at nearby Lourdes University. Some 300 people turned out for a taste of Golden Miles at the kickoff of the annual Dave's Brew Series on May 11.
#45
1st Place Sports
True entrepreneurs, Doug and Jane Alred weren't afraid to try new things and take chances. It's what led them to open Jacksonville, FL-based 1st Place Sports in 1978 and the mindset that has fueled their evolution across the last 45 years. They created races to promote their retail store and invested in timing equipment; hatched the idea of weekly charity 5K runs; formalized their 5-Step Fit Process to enhance customer service; and embraced technological developments like foot-measuring 3D laser systems.
The risks have added up to longevity, success and notoriety. In 2020, 1st Place Sports was named the Best Running Store in America.
Though 45 years in, the Alreds are not slowing down. They are currently scouting a sixth Jacksonville area location.
"There's plenty of room for us to spread our wings," Doug Alred says.
#45
Kelley's Pace
Just outside the entrance to Kelley's Pace in Mystic, CT, stands a statue of John Kelley and one of his many training partners, a Golden Retriever mix named Brutus. Kelley was a New England running legend: a prep phenom who set the national record in the mile, a two-time Olympian (1956 and 1960), the 1957 Boston Marathon champ, a coach to accomplished runners like Amby Burfoot and, later in life, a pioneer in run specialty retail when he opened Kelley's Pace in 1978.
While Kelley passed in 2011, his namesake shop endures under the ownership of Jeff Anderson. A former advertising executive, Anderson purchased the store in 2014, expanded and remodeled in 2020 and earned a Best Running Store in America nod in 2022.
#45
Runner's Roost
Over its 45 years in business, Buffalo-based Runner's Roost has sharpened ice skates, sold JanSport backpacks and peddled seasonal footwear from the likes of UGG, Teva and OluKai. From founder Joe Freeman to second owner Dave Borodzik to current owners Michelle and Robert Fox, however, running has remained the core business at Runner's Roost, which should not be confused with the Colorado-based running store chain of the same name.
Since taking over in 2017, the Foxes have incorporated modern business tools like a cloud POS system, an e-commerce website and a Volumental scanner for the sales floor. The couple also opened a second store in nearby East Amherst, NY.
#45
Runner's Den
When Rob Wallack moved from the Midwest to Phoenix and opened the Runner's Den in 1978, he had no business plan, a sliver of retail experience and hopes of selling 10 shoes a day (at an average price of $29.95) to keep the doors open.
"I was really naïve about the whole process," Wallack admits.
Fast forward to 2023 and Wallack is still slinging shoes at the Runner's Den, a Best Running Stores in America honoree. Now, Wallack says, it's others' turn to lead the operation, namely his son, Nate, and longtime Runner's Den manager, Ron French.
"I'll be leaving it to them to keep the lights on and the public well served," Wallack says.
#40
Nike Pegasus
The Pegasus is synonymous with Nike Running. Though revised and reimagined over the last four decades, the Pegasus has nevertheless been a constant in the Nike performance run line since its 1983 release – save a two-year hiatus when Nike dropped the line (1998-2000).
The Pegasus was the Swoosh's first mid-priced running shoe featuring pressurized Air technology. That game-changing creation demonstrated Nike's innovative chops and set an ambitious pace for the brand.
On a few colorways of the Pegasus 40 released earlier this year, Nike celebrated the model's historic place in the Nike lineup by featuring Swoosh logos pulled from the original Pegasus as well as editions 24, 35 and 38.
#40
Leadville 100
Created to bring attention to Leadville, CO, after the closure of the Climax Mine left much of the town unemployed, the Life Time-owned Leadville Trail 100 has become a global attraction since its 1983 debut and spawned a multi-race series that now includes the Leadville Trail Marathon, the Leadville Silver Rush 50, the Leadville Trail 10K and the Leadville Trail 100 Mountain Bike Race.
"It's truly awe inspiring to see how this race series has grown from its humble beginnings into an iconic symbol of endurance and camaraderie," Leadville Race Series marketing manager Ryan Cross says.
#40
Athletic Annex
After meeting at the 1980 New York City Marathon, a pair of Indianapolis runners, attorney Bob Weddle and marketing manager Nelson Steele, became running buddies bantering about the idea of opening a running store on Indianapolis's North Side.
After one post-run breakfast at IHOP, Weddle and Steele decided to turn talk into action despite the fact neither had any retail experience. The partners purchased an Athletic Annex franchise, signed a lease for a retail space on the corner of 86th and Ditch and welcomed their first customers in September 1983.
While the original franchisor floundered and soon declared bankruptcy, Weddle secured the rights to the Athletic Annex name and the Indianapolis running store survived, though not without turmoil. Amid mounting invoices, dwindling inventory and friction with their full-time jobs, Weddle and Steele convinced runner-turned-Athlete's Foot manager Thom Burleson to join Athletic Annex in 1985 as a co-owner. The group then raised capital to cover outstanding bills and operational expenses by selling shares of the company to a few friends.
Burleson's presence and more stable financial footing pushed Athletic Annex to a run of annual sales and profit increases. Over the next 14 years, the store expanded three times.
In 2014, former Olympian Bob Kennedy, owner of the multi-location BlueMile running store based in Indianapolis, joined Athletic Annex to drive its continued growth.
"Buckle Up … we're going to hit the gas pedal hard!" Kennedy told the Athletic Annex team, which would come to include his BlueMile colleagues Justin Porter and Gareth Wilford following the 2019 retirements of Weddle and Burleson.
Athletic Annex relocated its flagship Indianapolis location in 2019 to Nora Plaza, a move that sparked an immediate 30 percent jump in revenue. The company has since added two additional locations: Fishers (2021) and Carmel (2023).
#40
Whirlaway Sport
s
After completing his collegiate career at Southern Illinois University in 1983, Dave Kazanjian returned to his hometown of Methuen, MA, and the family business – a golf driving range and pro shop – with a grand plan to peddle running gear. His brother, Harold, custom built a shoe wall for running footwear inside the golf shop. His brother, Mark, meanwhile, leveraged existing relationships with Etonic and Brooks from the golf side to help Kazanjian build his inventory of running footwear.
Kazanjian's "Try 'em before you buy 'em" appeal paired with his running knowledge and unapologetic enthusiasm generated early momentum for Whirlaway Sports. Toss in a "never be satisfied" attitude, a few daring choices and a sound management team led by Maggi Murray, Adriana Birleanu and Ryan Kowal, all of whom have been with Whirlaway at least 18 years, and you end up with a multi-time Best Running Stores in America honoree carrying more than 1000 footwear SKUs for running, wrestling, field and court sports.
"We've never stopped thinking about how we could take things to the next level," Kazanjian says.
#40
Hughes' ownership of Track Shack
One year after Track Shack opened its doors in 1977, Jon Hughes became manager of the Orlando-based running store and soon after hired Betsy Mackenzie. Five years later, in 1983, Jon and Betsy married and purchased Track Shack from its founding partners. Over the last 40 years, the couple has transformed Track Shack into one of the nation's model run specialty shops.
Chris Hughes, Jon and Betsy's son and now an integral part of Track Shack management, discusses the elements driving Track Shack's success under his parents' leadership:
"While purchasing property is perhaps the most black-and-white business principle I learned from my parents, the long-term, sustained success of Track Shack is due far more to three intangibles: culture, community and continuity. Track Shack and Orlando's running community grew together as one and the positive, supportive culture of that community is what my parents commit to providing at every single event we host as well as inside our store with our staff.
"The key to sustaining this – the continuity – is that my parents have remained deeply, personally involved and active with the business. They live in town, still attend and work at every event they can and jump on the floor to help customers. I could not have asked for better mentors in this great industry and in life."
#35
Implus
When Implus started in 1988 as a mail-order insole company called Impac Plus, its founder would climb a ladder and drop an egg on the company's original insole to demonstrate the product's shock absorption properties. Today, Implus is far more than insoles; it's an international sports powerhouse with 18 brands under its umbrella, including well-established run specialty names like Balega, FuelBelt, TriggerPoint and Yaktrax.
After completing a corporate rebrand last year, the North Carolina-based company is excited to pursue more sustainable products, reduce its environmental impact and support the global growth of its brands.
#30
GU
GU was born after Dr. Bill Vaughn concocted an easy-to-absorb gel providing energy and muscle support to help his ultramarathon-running daughter, Laura, nab second place at the Western States Endurance Run in 1992. Still a family-owned company, GU has sharpened its proprietary manufacturing processes and flavor-focused formulas to provide various nutritional, energy-packed solutions for endurance athletes, including gels, chews, drinks and waffles.
GU's prosperity extends beyond its products. The Berkeley, CA-based company is pursuing B-Corp certification and its GU Gives program supports approximately 100 organizations each year promoting fitness, health, environment, education, youth sports and more.
#30
Chamois Butt'r
Steve Mathews spearheaded the development of Chamois Butt'r to create an anti-chafing product specifically designed for the demands of endurance sports. Initially targeting cyclists, Chamois Butt'r has branched into other fitness realms, including running and hiking, with line extensions like the solid Chamois Butt'r GoStik.
Chamois Butt'r rejects paraben, phthalates, gluten and artificial fragrances. Chamois Butt'r Coconut, meanwhile, is one of the only chamois creams on the market using Certified Organic Coconut Oil and Shea Butter, which moisturize the skin, reduce friction and soothe already chafed skin.
#30
ASICS Kayano
ASICS introduced the GEL-Kayano in 1993 – then under the "Kayano Trainer" name – as a do-it-all, cross trainer-like shoe rather than a performance-oriented running shoe. In time, though, the Kayano became the brand's pinnacle stability running shoe and among the globe's most revered – and popular – running shoe franchises.
The 30th edition of the Kayano launched earlier this month and included the man himself – original GEL-Kayano designer Toshikazu Kayano – visiting run specialty stores across the U.S. to celebrate this milestone Kayano's release.
ASICS GEL-Kayano Fun Fact: According to ASICS, Ohio-based Second Sole has carried every iteration of the GEL-Kayano since its 1993 debut.
#25
ASICS GEL-Nimbus and GEL-Cumulus
To springboard the launch of the GEL-Nimbus 25, ASICS created a "Mystery Shoe" campaign, unveiling an unbranded and unmarked version of the shoe at The Running Event last year. The savvy play built buzz for one of the running market's trailblazing shoe franchises.
Designed to help athletes feel as if they were running on clouds (hence, the model's meteorological-themed name), the GEL-Nimbus has evolved mightily since its late 1990s birth with dramatic shifts to its upper, underfoot feel and aesthetics — a reality evident in the striking look and lightweight, bouncy feel of the Nimbus 25 released earlier this year.
Not to be overlooked, the Nimbus's sister shoe in the neutral category, the Cumulus, also celebrated the launch of its 25th edition earlier this year as well.
#25
Rock 'n' Roll Running Series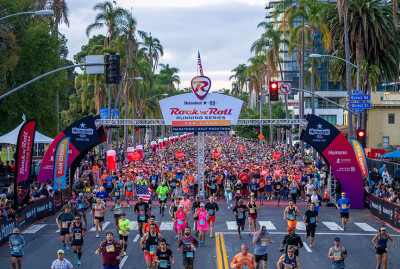 The Rock 'n' Roll Running Series took flight in 1998 when nearly 20,000 participants toed the starting line in San Diego. The international series, now owned by The Ironman Group, has since set its start line in 47 cities across 12 countries.
That inaugural event in San Diego transformed the idea of road races by packing the event with live bands, cheer teams and entertaining water stations. It injected undeniable freshness into the nation's race scene, spawning a range of imitators and ushering in an era of creativity that propelled steady growth in race participation numbers.
#25
Amphipod
Necessity is the mother of invention, right? Tell that to Amphipod founders June Angus and Keith Willows, who concocted the Micropak LandSport Lock-On Pouch after being frustrated they had nowhere to put their keys while running around their Seattle neighborhood.
After creating their flagship product – a tidy pouch that clipped onto a runner's waistband – the partners visited local running stores with a handmade maple display rack and a request: would you like to order a dozen pouches? Super Jock 'n Jill was the first retail shop to bite. Many more came on board and Amphipod gained valuable momentum as the run specialty industry surged.
The Seattle-based company followed with additional savvy creations, such as the AirFlow Lite WaistPack, a minimalist fanny pack for runners, and the Full-Tilt, the first-ever horizontal hydration pack. Amphipod now holds 113 patents, 85 product styles and – to Angus's delight – deep relationships with run specialty stores from coast to coast.
"There's always been such a fundamental synergy with the running store community and we're inspired by their hunger for and embrace of new innovation in the category," Angus says.
#20
Tifosi Optics
Though Joe and Elizabeth Earley launched Tifosi Optics in 2003 with just 24 SKUs, their eyewear gained an immediate following. The couple opened 500 retailers within the first nine months and added 1000 more in year two. Today, more than 35,000 retailers across 35 countries carry Tifosi products, including many U.S. running stores.
"Run specialty has always been one of the core markets for our wholesale distribution," Joe Earley says. "The exciting thing for Tifosi is that we see this as one of our major growth opportunities still today with the emergence of the lifestyle products and the increased focus on the [optical] category."
Tifosi Optics Fast Fact: Tifosi means "super fan" in Italian.
#20
Balega
Balega – the Zulu word for "To Move with Speed" – began on the back of napkin in a small South African town. The vision was bold and daring: to create the best performance sock on the planet and to do so with a philanthropic bent.
From its first two products, the Enduro and the Hidden Comfort, Balega now features nine sock models varying in thickness, cushioning and design elements to meet runners' demanding needs.
On the charitable front, Balega helps the Ethembeni School in KwaZulu Natal, South Africa, providing funding for annual student scholarships, a wheelchair friendly school bus, a therapy playpark and swimming pool. In addition, the company's Grit & Grace collection supports the work of Breast Cancer Prevention Partners, while every sale of its Enduro Physical Training Crew sock generates a 50-cent contribution to Homes for Our Troops.
#20
inov-8
UK-based inov-8 has made significant gains in the running marketplace since its 2003 debut, especially among the world's trail runners. The company captured significant attention with its introduction of Graphene – an insanely strong, yet lightweight, thin, flexible and grippy material – into the outsoles and midsoles of key trail running models like the Trailfly G 270 and the Trailfly Ultra G 300 Max.
Now operating in more than 50 countries – and gaining swelling attention in the U.S. market, in particular – inov-8 and its 100 percent vegan footwear has been favored by the likes of Bear Grylls and Superman himself, Henry Cavill.
#20
H2O Audio
H2O Audio began as Kristian Rauhala's graduate student project at San Diego State University. An enthusiastic mountain biker, surfer and Ironman triathlete, Rauhala developed waterproof headphones he could use while training. After obtaining his first patents in 2002, he founded H2O Audio the following year.
Over the last two decades, H2O products have been used by the likes of Michael Phelps and surfing pioneer Laird Hamilton, who has actively contributed to product development as an H2O board member. The family-owned, California-based company's bone conduction headphones have also earned acclaim from the likes of Runner's World and TIME.
#20
Brooks sponsorship of Hansons Original Distance Project
Having transitioned to a performance running brand in the early 2000s, Brooks explored different ways to build its identity in a competitive market. Enter the upstart, Michigan-based Hansons running team and its mission to rejuvenate American distance running. Brooks signed on as a sponsor, and the partners have flourished together over the last 20 years, celebrating national championships and cultivating Olympic marathoners like Brian Sell and Des Linden.
"It was a huge leap of faith for [Keith and Kevin Hanson] to put their trust in us and believe in our ability to deliver what they needed to be successful as America's original distance project," Brooks head of sports marketing Garrett Heath says.
Brooks Hansons ODP Fast Fact: The popular Brooks Launch is named after the boat launch that serves as the starting point for one of the Hansons's tried-and-true training routes.
#20
Garmin Forerunner
Twenty years ago, Garmin introduced the Forerunner 201, the world's first GPS running watch. The revolutionary product triggered a wave of new innovations for runners to track their mileage and other key data points, from pace to steps to heart rate. While the original Forerunner was a bulky, flip phone-sized personal computer sitting on one's wrist, today's Forerunners are sleek, tech-packed smartwatches with vibrant displays and premium materials.
Garmin Forerunner Fast Fact: Over the first 20 years, Garmin users have run nearly 19 billion collective miles – the equivalent of 40,000 trips to the moon and back.
#20
Running Zone
From founders Don and Denise Piercy to current owners Pete Vaughn and John Carr, Running Zone remains a central hub for running and fitness in Florida's Brevard County. Initially accomplishing its mission through expert shoe fittings and posting fliers for upcoming races in its store, Running Zone's enterprising work now includes e-commerce options and its own events from which more than 20 local beneficiaries receive support each year.
"The evolution from a mom-and-pop little shop to the level of business we're conducting today is remarkable," Vaughn says.
#20
Run In
THE COVER MODELS FROM Run In, which has locations in Greenville and Simpsonville, SC, marked their 20th birthday earlier this year with a lively bash featuring gourmet doughnuts, eye-catching offers and a packed house that saw long checkout lines of Run In supporters.
"I was blown away by the support," says Dane Simmons, who purchased Run In two years ago.
During the celebration, Run In popped the champagne and also invited customers to sign a commemorative poster. Both the cork and poster have been framed to memorialize the event.
#20
On the Run
With two stores in metro Houston – a flagship store located in the shadow of NASA's Johnson Space Center and a sister store in nearby Beaumont, TX – On the Run has become a referral-driven destination run specialty shop for anyone on the move in the Space City.
"Our typical customer has definitely changed over the years," On the Run assistant manager Josh Rake says. "We don't just cater to runners, but anybody in need of a pair of shoes that fits their lifestyle, being running, walking or everyday use."
#20
Fleet Feet Greensboro
What began in 2003 as Off'n Running with three employees and a 1500-square-foot leased retail space is now Fleet Feet Greensboro: an operation of 25-plus employees inhabiting its own 4000-square-foot building. Owner John Dewey, a licensed physical therapist and athletic trainer, was the first independent run shop to convert to the Fleet Feet banner while maintaining ownership.
Dewey has since added a sister store in High Point, NC. He and his team celebrated Fleet Feet Greensboro's 20th with a throwback community run on July 20 as well as its annual Pickle Run, a 16-mile run between the two stores, on July 22.
#20
Santa Barbara Running
Before she became one half of the founding force behind running apparel brand rabbit, Monica DeVreese was first a running retailer. DeVreese and her husband, Joe, opened Santa Barbara Running in 2003.
The California store hits its 20-year milestone fueled by knowledgeable staff touting the transformative power of running; a community-first ethos evident in its youth running club (The Coyotes) and its sponsorship of local races, non-profits and schools; and a dedicated focus on its digital presence, which includes sharing running tips, product updates and other relevant content on its website and social media channels.
"These digital initiatives have allowed us to reach a wider audience, connect with runners beyond our local community and attract customers from different regions," DeVreese says.
#20
=PR= Run & Walk
A lot is behind Potomac River Running's growth into a 10-store powerhouse in northern Virginia over the last two decades: the passion and purpose of owners Ray and Cathy Pugsley; a talented crop of managers who take ownership of their respective areas of responsibility; a warehouse that functions as a centralized hub for the entire business; and a risk-taking mindset that has informed marketing strategies, product assortment and technological adoption.
To that latter point, leadership used the store's 20th anniversary to initiate a rebrand. The Potomac River Running name has been retired in favor of =PR= Run & Walk.
"As active people evolve the way they see themselves fitting into the athletic landscape, we need to evolve as well," Ray Pugsley says. "We want to present a company name which is more inclusive and welcoming to the full complement of people who would benefit from a good pair of athletic shoes for whatever moves them."
#20
New England Running Company and Trail
In the opening month of New England Running Company and Trail's existence, Dave Menosky remembers one particular day in which he sold but one pair of shorts. The next day, he added a single pair of shoes to the ledger. Suffice it to say, things have turned in a more fruitful direction for Menosky and his store in Beverly, MA.
"Twenty years later, I'm shocked our business is still growing," says Menosky, who first got into running in 1973 and fills his store with running memorabilia, including T-shirts, posters and archival footwear.
To celebrate the shop's 20th Anniversary, Menosky took the store's management staff and their significant others to Cancun before a day-long celebration at the store on July 10.
#20
Fleet Feet Tulsa
Fleet Feet Tulsa oversees three lively retail locations and owns and operates 19 local races, an impressive feat co-owner Tim Dreiling attributes to assembling a great team over the last two decades. He calls learning "you can't do everything yourself" an essential lesson for the running retailer aiming to create a successful, sustainable business.
"When first open, it's necessary to do all things, all the time and push yourself incredibly hard. But as the business grows, it becomes impossible to do it yourself and the need for a great team becomes greater as the owner ages and the business grows," Dreiling says. "It's a lesson we are still learning every day and it's hard to not revert to the do-it-yourself mentality that got you all the success in the first place. But that mentality is not sustainable and not particularly healthy for anyone in the business."
#20
Fleet Feet Roanoke
Fleet Feet in Roanoke, VA, hits its 20-year milestone in 2023 with a new owner. Late last year, GM Matt Thompson purchased the shop from its founders, Blaine and Robin Lewis. Thompson intends to follow the example his former bosses set, including charitable efforts, "extreme ownership" and promoting a culture of "doing things right versus doing things fast."
"With so many areas of the business established, I'm able to pour fuel on the fire," Thompson says.
#15
Swiftwick
Swiftwick hit the market in 2008 with custom cycling socks, but the brand and its made-in-the-USA socks have become a notable presence across the run specialty landscape led by its all-time top seller, the Aspire. This year, Swiftwick, whose socks have been worn in the Tour de France, the Olympics, The Masters and the Western States 100, celebrated its goal of integrating recycled, renewable or responsible fibers across its entire product line.
#15
Bull City Running Co.
Durham, NC-based Bull City Running Co. opened its flagship store during the nation's greatest economic collapse since the Great Depression. It then launched a second store amid a global pandemic. Reaching its 15th year stands a testament to Bull City Running's resilience, flexibility and prioritizing interactions over transactions.
"The run specialty space is truly special," owner Kim Chapman says. "It's hard to imagine another industry that allows you to impact and be impacted by the entirety of the human experience. Lucky us."
#15
Manhattan Running Company
When Trey Vernon and Ben Sigle opened their run shop in Manhattan, KS, they simply hoped to "make a living" doing something they enjoyed. Vernon and Sigle have accomplished that and more: launching a race timing operation, purchasing a stand-alone building they've crafted to fit their precise vision and thriving with premier brands like lululemon.
What's next? Vernon and Sigle hope to hire their first store manager this year.
#15
Rush Running Co.
Launching his namesake running store amid the depths of the Great Recession, Mike Rush held earnest concerns and big dreams. Over the last 15 years, risk has turned into reward at Arkansas-based Rush Running Company. A 2018 Best Running Store in America honoree, Rush Running Company now owns its two commercial buildings, actively engages with local cross-country programs and charities, operates a 90-member racing team and hosts a shoe museum in its Bentonville location that offers a dynamic tour of running footwear's wild evolution over the last century.
"One of the things I always said I wanted to do was support the sport of running in every way possible," Rush says.
#15
Fleet Feet Springfield
Fleet Feet Springfield (MO) has matured from its modest roots as an independent triathlon store into a robust operation that, as of February, added five additional Fleet Feet stores in St. Louis to its charge. Owner Eric Johnson explains one key driver of growth:
"I have a need – my wife would call it pathological – to understand the world better. So, I'm constantly visiting other stores, calling other owners, reading business books and trying new things. This leads to lots of late nights and a real lack of focus at times … but it has allowed us to take an approach of continuous improvement to the business."
#10
RaceJoy
RaceJoy, the race day mobile app now owned by RunSignup, sprouted from an ill-timed bathroom break.
As James Harris competed in an Ironman event in Clermont, FL, his wife, Shelly, and three young daughters cheered for him at different points along the course by estimating his arrival. When the group mistimed James's finishing time, however, they missed his triumphant run across the finish line. That folly ignited a business idea.
RaceJoy emerged as a better way to connect race participants and spectators. Used more than 1.8 million times at races across the U.S. and by spectators around the world, the app provides real-time tracking of participants' position, audio messaging to participants and GPS-based progress alerts.
#10
Deckers ownership of Hoka
One year after taking a minority stake in Hoka, Deckers went all in with Hoka in 2013 when it fully acquired the upstart running shoe brand. Once derided as "clown shoes" for their chunky midsoles and clunky aesthetic, Hoka has become a household name under Deckers's ownership and earned widespread consumer acceptance with popular models like the Bondi and Clifton as well as innovative new offerings like the commuter-oriented Transport and the recently released Mach X.
#10
Black Men Run
Jason Russell and Edward Walton founded Black Men Run after discovering that nearly half of Black men above age 19 have cardiovascular disease. Their antidote: encourage health and wellness among Black men by promoting a culture of running.
Since the group's inaugural run in Atlanta's Grant Park a decade ago, Black Men Run has grown to some 7000 members across 55 chapters spanning four countries and three continents. The organization has established partnerships with the likes of Saucony, Vacation Races and Destination Marathons and created a non-profit arm, the aptly named BMR Foundation, supporting initiatives like children's literacy and men's mental health.
#10
Topo
Topo kicked off its 10-year celebration in 2023 with a series of special-edition launches led by a limited edition, Boston-themed version of the Specter in collaboration with Marathon Sports. Next month, Topo will keep the major marathon city vibes going with the debut of a Chicago-themed Specter.
This happens as the Massachusetts-based brand continues experimenting with materials and pushing boundaries in the eco-friendly design department. Released in June, the Ultraventure 3 ECO represents the special premium offerings of core products that Topo founder Tony Post and his crew look forward to developing in the brand's second decade.
#10
Gnarly
From the onset, Gnarly co-founders Eli Kerr and Shannon O'Grady, a PhD in nutritional physiology, have built their brand on transparency, quality, taste and efficacy. And while growing their presence in the specialty run market, they have continued to evolve their brand in tandem.
Gnarly launched new sustainable steel tin packaging, reformulated its Performance Greens product to include even more vitamins, minerals and nutrients and leveraged the results of a nearly 5000-customer poll to create a Limited Edition Flavor series. Gnarly's first two limited-edition offerings of Hydrate, Salted Margarita and Lemonade, dropped in May.
#10
Xero's appearance on "Shark Tank"
When Steven Sashen and his wife, Lena Phoenix, appeared on ABC's "Shark Tank" in 2013, they had been in business a pinch over two years with their DIY sandal-making kit.
Though Sashen and Phoenix ultimately turned down a $400,000 offer from "Mr. Wonderful" Kevin O'Leary, Sashen says the show had a profound impact on Xero. It spawned a more focused, committed business, including the development of ready-to-wear sandals and closed-toe shoes. The TV appearance also jumpstarted interest from people frustrated by traditional footwear and yearning for a more natural feel. In fact, Xero did about three months' worth of business in the week after its episode aired on February 1, 2013, and has experienced year-over-year revenue growth ever since.
"The show has been a great calling card for us in the last 10 years," Sashen says. "It's given possible investors and business partners a way to get to know us by seeing how we handled the odd, high-pressure world of reality TV."
#10
Brooklyn Running Co.
In a "tastemaker" city, Brooklyn Running Co. has achieved "tastemaker" status over the last decade. Owner Matt Rosetti attributes the success to Brooklyn Running Co.'s authenticity – something personified each August at the lively BKLYN Mile event – as well as the retailer's long-term approach to brand relationships and an "insane" investment in staff training that includes operation manuals, simulated fits, training modules and secondary education.
The next step in Brooklyn Running Co.'s evolution: creating a content-driven digital presence where the customer experience is every bit as enriching as a visit to one of the company's two Brooklyn stores.
"Stay tuned," Rosetti teases.
#10
RUNdetroit
While running across Michigan in the Great Lakes Relay, Justin Craig and Alia Polsgrove hatched the idea for a run specialty store in Detroit. A decade later, RUNdetroit has become a community hub for Detroit runners. The store's weekly runs regularly attract 80-plus participants and RUNdetroit's sales floor is an energetic space where runners swap advice and share their athletic adventures.
The first and still only run specialty shop in the Motor City, Craig and Polsgrove recently corralled a bigger retail storefront in the same neighborhood. The new spot, nearly double the size of RUNdetroit's existing location, features dedicated parking and more room to accommodate RUNdetroit's lively group runs.
#10
Rock City Running
Bill Torrey opened Rock City Running in Little Rock, AR, in 2013 hopeful that he and his team could develop a run specialty shop people could trust to provide comfort and answers to their running and walking questions. A decade later, mission accomplished.
Torrey and his crew now begin their second decade in a new Little Rock location after a tornado ripped through and destroyed their original location on March 31. On June 1, Rock City Running opened the doors to its new storefront. Two days later, they had a day-long celebration marking their 10th anniversary.
#10
Confluence Running
In the New York towns of Binghamton, Corning, Goshen, Lake Placid and Watertown, Confluence Running has emerged a dynamic community resource over its 10-year run. Confluence provides free community-use space in its buildings, offers its expertise to new race directors and packs its website with running-related information ranging from a list of local running coaches and group runs to gift guides.
Now, the Confluence team led by Matt and Jenna Gawors and regional manager Chris Cowden is focused on innovating. The trio is developing a fit certification program for its staff (and other interested running stores) and creating efficient systems and defined staff roles to sharpen operations.
"After 10 years, the passion is still there," Matt Gawors says.
#10
Fleet Feet Fort Wayne
Right before Kevin and Jeanice Croy opened their Fleet Feet store in Fort Wayne, IN, in 2013, a national publication had declared Fort Wayne the fattest city in America. In the decade since, the Croys and their staff have worked to make Fort Wayne an active, healthier community by creating a retail experience tied to each individual's needs and training groups to stimulate physical activity.
The Croys, who opened a second Fleet Feet store on Fort Wayne's North Side last September, will be recognizing their 10-year anniversary with a week-long celebration in August that will include a 26-mile relay from the two stores, a 5K before a minor league baseball game, a Fort Wayne trivia contest and an Associates Alumni Day.
#10
Fleet Feet Mount Pleasant
When Chris and Amy Minkel started their Fleet Feet store in Mount Pleasant, SC, a decade ago – the 100th store in the Fleet Feet enterprise – they couldn't have predicted what awaited. Their flagship store has expanded three times. They added two stores in nearby Summerville, SC – one in 2015 and the second in 2021 – and will incorporate a fourth store into the mix this fall with the opening of a Fleet Feet shop in West Ashley. Best of all, the Minkels achieved it all by developing existing employees into company leaders.
#10
Mill City Running
Since opening on July 6, 2013, Minneapolis-based Mill City Running has expanded to a second door – the aptly named Saint City Running in neighboring Saint Paul – and developed a loyal following behind co-owners Jeff and Bekah Metzdorff and a devoted leadership team led by Chelsea Kipp, Luke Windholz and Drea Haus.
Showcasing its creativity and singular spirit, Mill City marked its 10th Anniversary earlier this year with a special apparel collection featuring inside jokes and nods to its Minnesota roots as well as its Race Team.
#10
Running Soles
When Will Rivera opened the doors to Running Soles in 2013, he brought something to his small Kentucky town (population 29,000) that never existed before. With its mix of specialty products, custom fitting process, weekly group runs and classes, Running Soles has promoted a more active Elizabethtown and changed lives for the better.
"It has exceeded our expectations," Rivera says of owning Running Soles.
Having built a community of ambassadors touting Running Soles, Rivera is now scouting potential locations to open additional stores.
"We are always looking for ways to improve as a business – staying observant and open, taking well-informed risks to expand and grow," Rivera says.
#10
RunWell
As she stared upon empty shelves, a skeleton crew and weak customer traffic, Jen Schaller admits she occasionally questioned her decision to trade in her high-profile yet high-stress corporate accounting career in 2013 to launch RunWell in Edwardsville, IL.
No more, though, as RunWell has flourished in southern Illinois, expanding its physical footprint, filling two stockrooms with products, employing 15 team members and building an expansive tribe of loyal followers. This year, RunWell will be relaunching its Students on the Run Program that trains local high schoolers to complete a half marathon while also enhancing its Where Do You RunWell mobile app with photo-sharing capabilities and rewards.
Additional Anniversaries
Puma: 75th Anniversary
John's Run/Walk Shop (KY): 45th Anniversary
Runners Forum (IN): 45th Anniversary
Sneaker Factory Running Centers (NJ): 45th Anniversary
Frontrunners (British Columbia): 35th Anniversary
Alegria: 30th Anniversary
Toolen's Running Start (IL): 25th Anniversary
West Stride (GA): 15th Anniversary
Milestone Running Shoe Shop (CA): 10th Anniversary