When the spirit of the season strikes, so, too, does the running industry.
In recent weeks, both Brooks and Mizuno embraced St. Patrick's Day with the release of special collections celebrating the Irish spirit this week.
In what has become an annual traditional at Brooks, the brand's Run Lucky Collection boldly embraces some Celtic flair. The collection's headliner includes special editions of the Launch 8 for both men and women that pair a green-and-gold plaid upper with a forest green midsole adorned with gold shamrocks.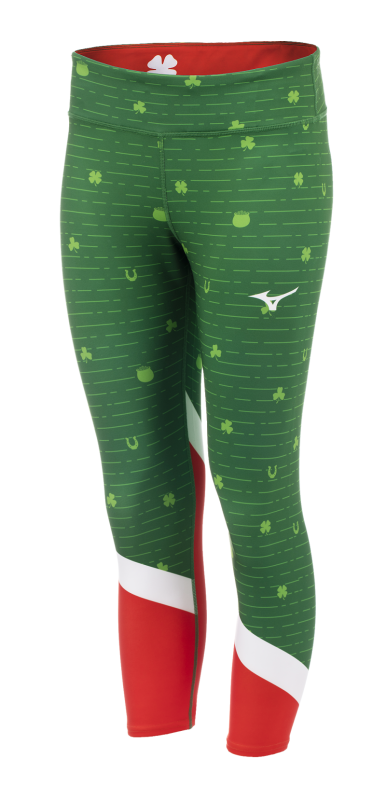 Mizuno, meanwhile, released kelly green apparel with orange and white trim evoking the Ireland flag. The St. Paddy's Collection shorts, tights and tops for both men and women feature shamrock, horseshoe and pot o' gold graphics on technical fabrics.
The Draw of Special collections
Such special collections continue making appearances in the run specialty environment. Brands have released limited-edition footwear and apparel tied to the host cities of major marathons, holidays and even a prominent donut chain.
For many run shops, access to such collections has become a way to help keep run specialty special and bring quirky, differentiated product to customers.
"We generally like to have product people can't get everywhere else," says Marcia Palamara, purchasing manager at Fleet Feet in Syracuse, NY.
Palamara, in fact, recently brought footwear, socks and a women's tee from Brooks' Run Lucky line-up into Fleet Feet Syracuse. The store has also stocked footwear, tops and socks from Brooks' different Christmas-themed collections over the years as well.
"People gravitate to something different to stand out and add some pizzazz to their outfit," Palamara says, adding that participants in the store's training programs have historically been big buyers of the St. Patrick's Day and Christmas collections given that the gear coincides with large local races celebrating the same themes.
Weeks ago, Mike Toolen, the owner of Toolen's Running Start in Shiloh, IL, happily welcomed shorts, singlets and tees from Mizuno's St. Paddy's Collection as well as the footwear, shirts and socks from Brooks Run Lucky Collection into his 22-year-old store.
"Anytime anyone offers St. Patrick's Day stuff, we're taking a hard look at it," says the Irish-blooded Toolen, whose store logo includes three floating shamrocks. "It's something our customers love, so much so that we have people calling in and asking us to save them something."
Having A Plan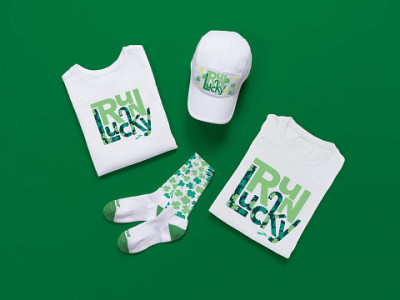 Such customer demand – and a wee bit of bias for the Irish-themed gear – fuels Toolen's interest in the special-edition offerings that were available in advance of St. Patrick's Day. He says socks move best followed by footwear. Apparel can be hit or miss, especially if it carries a higher price point.
"And if it doesn't sell before St. Patrick's Day, we'll offer a little discount and it'll sell," assures Toolen, calling his ambitious annual ordering of the Irish-themed gear "a calculated risk."
While Toolen has been intrigued by other special-edition collections brands have unveiled, including product aligned with Christmas and Independence Day, he has yet to make a big purchase.
"I'm just not sure the demand is there like it is for the St. Patrick's Day items," Toolen says. "And when you're bringing in this extra product, you want to make sure it'll move."
To be certain, the shorter selling season attached to these special collections, particularly those tied to holidays or other seasonal affairs, can be a challenge for run shops. Buyers must be thoughtful about their ordering, careful not to over-purchase, and possess a good eye for what their customers will like.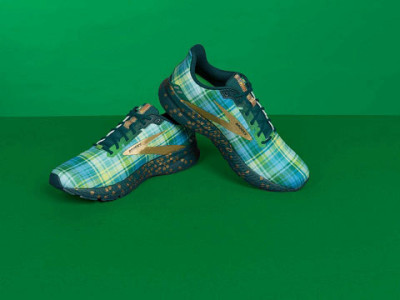 Yet more, there's added urgency to promote and market the offerings on social media and through in-store merchandising. Noting slim quantity levels or a limited window can help spur a sense of urgency among customers. Before the Run Lucky collection's Launch 8 footwear even arrived in store, for example, Fleet Feet Syracuse teased its arrival on social media and encouraged customers to "run lucky" during the upcoming, albeit virtual, Tipperary Hill Shamrock Run.
"We've gotten pretty good at gauging what will resonate, but we still have to drum up interest in these products and let people know they're here," Palamara says.
She adds that special collections, especially on the footwear side, frequently draw people's eyes to the everyday style and help to create compelling in-store displays as well.
"Fortunately, the products stand out and catch people's attention," Palamara says.