Here's an idea I had late last year: I'd love to do an interview-based article featuring female run specialty staffers working for or with various shops — a diverse sampling of women who influence the landscape. I pitched the idea to Running Insight: What do you think?
They accepted my pitch. But after further thought, I wasn't sure this article should be written by me. After all, I represent the long-time cultural focus of our industry — I'm a white male. And though my intentions are good, hasn't my voice (and voices like mine) been heard enough over the last half century or so? I think the answer is, alarmingly, yes.
Still, write it I did. But I committed to do so using a more thoughtful framework. I left my opinions out of it. I didn't impose my two cents or speak to the whole as if they are one. Because they are not. I wrote this article in a way that's similar to how I am trying to live my life — I did it with inclusivity at the forefront of my mind. Sometimes I do this well, while other times I fail miserably.
So I spoke with floor staffers, leadership team members, event coordinators and community partners, anyone willing to share their story and honestly comment on what it means to be a woman in our industry. I wanted to help amplify their voices.
In each request, I asked folks to consider connecting me with women less-represented by the industry as a whole. Why? Because I worried if I wasn't clear about this detail, I'd unintentionally find myself introducing you hereafter to a group of – in plain words – white women. And though I have no doubt the interviews would have been interesting, they wouldn't have represented the diversity the run industry is working hard to more actively include.
I hereby introduce you to Nandi, Victoria, Tricia, Caroline, Sydney and Liza (pronounced Leeza). Please take a few minutes to give a listen to what they have to say.
Nandi Smith
Marketing Director
Run For Your Life
Charlotte, NC
Pronouns: she/her
Nandi Smith says she's one of the few people in Charlotte who was born and raised there. After graduating from North Carolina State in 2021 with a degree in Fashion Textile Management and a Marketing concentration, she wasn't sure what to do. She applied for a job at Run For Your Life with hopes of someday working into a marketing role. Her goal was quickly realized.
"When I entered Run For Your Life, there was already a woman of color in my role, which made my aspiration less intimidating," she says. "It can be nerve-wracking otherwise. But seeing her as my predecessor paved my way."
Nandi believes this is the sort of direct influence we can have on each other — and on our industry.
Nandi's role asks for a lot. No day is ever the same and she enjoys making sure things fall into place. She's driven mostly by the opportunity to create community.
"I love having the opportunity to talk with people. And waking up at 5 a.m. is a lot easier when it's centered around this."
Getting to hear others' stories and building relationships fills her heart, which ultimately makes her feel more complete in her role.
Nandi is passionate about sustainability, both personal and planetary. She's optimistic about the possibility of brands choosing less wasteful practices and this outlook carries over into her personal life. Not only is she a long-time vegan, but she's also a big proponent of self-advocacy.
"Women, especially Black women, have to start with the self. We need to make sure we're serving our needs and be honest when things are taking a toll," she says.
She's gotten good at this over the years, but it helps to be in a supportive environment. "I'm blessed to be in a space where I don't feel left out."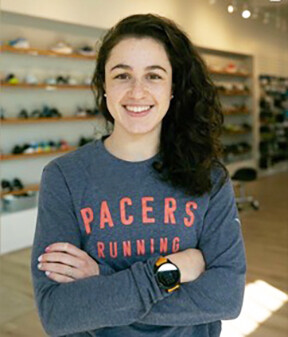 Victoria Sanchez
Store Manager
Pacers Running
Alexandria, VA
Pronouns: she/her
Victoria Sanchez is part of the female majority currently on Pacers Running's leadership team. "There's something about being a woman working alongside other women," she says. "It affords a different sort of inclusivity. It empowers me to more easily speak and be heard."
Victoria appreciates this seat at the table and wants her voice to reach across the board. "Pacers affords me this opportunity and this is exactly what keeps me here."
Victoria's management strategy revolves around teamwork. "There's lot of tag-teaming," she says. "I do my best to lead by example and don't try to do everything."
Victoria makes sure her staff is delegated to and empowered to help accomplish the store's myriad roles and responsibilities, while encouraging people to speak up and let their needs be known.
"Asking for help is okay," she says. "And I take this seriously. I want to make sure everyone knows that their voice matters. It's part of how we'll continue to grow."
It's apparent to her that the run industry is lacking adequate female representation. "The biggest roles are still largely occupied by men. I'm definitely not alone in wondering where all the female race winners are. They sometimes get attention, but it's minor compared to men."
She believes that choosing to give voice and opportunity to women or other less-represented groups may seem like a leap of faith, but she's sure it's worth it. "More women-owned businesses at the forefront, more women athletes in the headlines, more highlights on female staffers. Taking such risks is part of how the industry will live up to its aspiration to be more inclusive."
The COVID bubble has proven that small businesses, especially minority-owned, can thrive in the face of massive adversity, she believes. "There's a lot to learn from success stories outside of the industry's historical norm."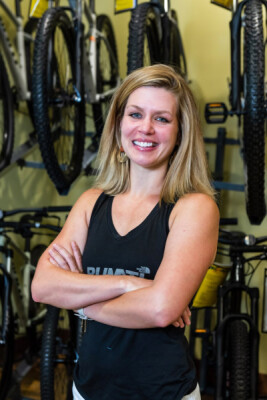 Tricia Beaty
Director of Apparel, Accessories, and Trademarked Goods
Big Peach Running Company
Atlanta, GA
Pronouns: she/her
Tricia Beaty has a background in nursing and nutrition but got into running when a friend recruited her to train for a 5K and then a marathon, during which time the friend dropped more than 100 pounds.
"I was inspired," Tricia says. "And I wanted to inspire others, too." She took a job with Big Peach Running Company and eventually became the first female manager at the retailer.
She is a single mom and like many others during COVID she had issues with daycare that made it hard to be at work as often as she had been. "But our leadership team figured a way for me to work from home and this made a big impact on me," she says.
When she started at Big Peach, it was obvious she had joined a male-centric space. "But things have changed," she says. "I've worked in industries where women were excluded, so I know how that feels. Being included is beautiful. Everyone has the right to feel empowered. And really, it's not hard to do. It's a choice."
She recalls a recent manager's meeting where the leadership team spent time scrutinizing where Big Peach, as an organization, may be inadvertently excluding people. "We spent hours discussing how we can remedy this and be even more inclusive," she says, and one of those solutions was to consciously add more women in the workplace.
"Having women on staff shows other women they can do it, too," Tricia says. "And attracting more females and diversity to the workplace has got to involve more than just good intentions.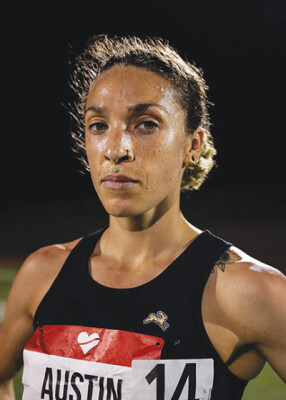 Caroline Austin
P.E. Teacher & Head XC/Track and Field Coach at Catlin Gabel Middle School
Portland, OR
Pronouns: she/they
Caroline Austin has a long history in run specialty, having spent seven years in the Fleet Feet organization, working in both the Seattle and Portland locations. Caroline has also coached collegiate runners at Washington State and Seattle University.
These days, Caroline coaches middle and high school cross-country and track athletes and teaches P.E. at Catlin Gabel School, all while nationally competing in the steeplechase and marathon, hoping to once again qualify for the Olympic Trails (2024) in both events — and hopefully achieve a never-before-done double.
Passion, peace and helping others is what gets Caroline out of bed in the morning. "I love running and all the sport has provided me with, so I drive to be my best and share my passion with others," she says. "This is essential in making sure that I am doing my part as a member of society." In times of difficulty, running has helped Caroline keep things balanced.
Caroline says that the challenges faced by women in the run world include a lack of representation — and most especially for women of color.
"Often, in a male-dominated space there is sometimes a need for women to prove themselves credible even if their qualifications speak for themselves," she points out, adding that in order for the industry to affect change it needs to bring communities into the fold that are not already the target audience.
"Women occupy the running space at a higher capacity across the board," she says. "The focus should be on lifting them up, along with people who have not been historically listened to or supported."
Her dream is to see less elitism in the run industry as a whole, more inclusivity. Some of her ideas: Youth programs, adult new runner groups, providing community space for events that bring people together.
"All of this is what will help people, women or other marginalized groups, realize the possibility of their own potential."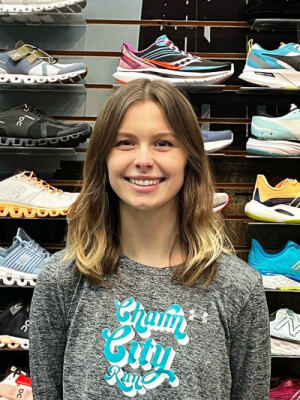 Sydney Seth
Sales Associate
Charm City Run
Annapolis, MD
Pronouns: she/her
Sydney Seth has, quite literally, been connected to run specialty for her entire life. Her family owned the now-closed Annapolis Running Shop, once a competitor of Charm City Run where she currently works. Sydney imagines she'll always be connected to the industry in one way or another, mostly because it offers a daily reward.
"I want to make customers feel better about themselves," she says. "I want to make people happy and this can be done daily in run specialty."
Sydney says a focus on females in the industry has been a long time coming. She spent her younger years under the management tutelage of her mom, so she knows what it feels like to rise up under female leadership. She believes the male-to-female staff ratio ought to at least resemble the customer base.
"Because for a woman," she says, "working for, or walking into a male-centric environment, can feel bombarding."
Females in run specialty should extend across the roster. "We need to grow the female presence across the board and across all brands," she says. "We also ought to be actively identifying and developing female staffers who can grow into all roles, including leadership."
Sydney says this needs more than lip service. It needs a plan of action, one that includes an open dialogue that encourages productive feedback. "One that empowers women to make their voices louder," she adds. "One that provides a safe space for collaboration and includes strategies to put our industry on the maps of people who'd never hear of us otherwise.
"More women on the floor would attract more women on the floor," Sydney says. "It's a win-win."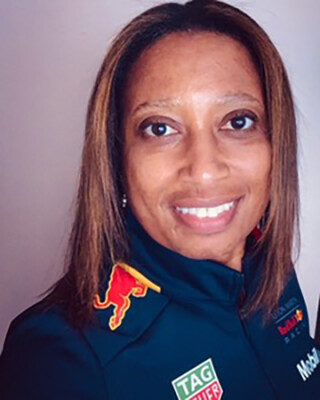 Liza Clark
Store Manager
Pacers Running
Arlington, VA
Pronouns: she/her
Back in 2001, when Liza Clark started working out with Weight Watchers, she could run 17 seconds on a treadmill. Shower facilities at her work made it easy to keep up with her training and one day at lunch, someone asked her if she wanted to train for a marathon.
"In my family, my dad was the runner, not me. But in 2002 I joined the Galloway program and ran the Marine Corps Marathon," she says. Her dad secretly trained to go the distance and surprised her at the start. He ran the first 25 miles with her.
"I grew up under Oprah," Liza says. "Say yes to hard things! Say what you mean! Accept our bodies! I do this work to help women see and hear themselves. To teach women it's okay to be scared and feel hesitant. But also to encourage them to say, 'let's go!'"
Liza believes part of being a strong and empowered woman in any space is to feel empowered enough to allow fear to come along for the ride.
As for the discussion about women in the running industry, Liza says it's an important conversation that will eventually help give women the green light to be who they are and a welcoming place to do so. But such inclusion needs to be harvested and that's going to take some practice.
"Women, if a thing is not thought to be for us, may refrain from stepping in," she says. "And since the run industry is often perceived to be elitist, prolific or exemplary, we need to constantly ask ourselves if this is the image we want to convey." Liza says limiting our language or allowing for false narratives will forever keep all folks, including women and other marginalized and less represented people, boxed in.
Liza believes we need to reach out and interface. We, as an industry, need to take the initiative and eliminate the risk of perception — if you don't see someone like you, it's probably not for you. This is avoidable and it's in our collective power to do it.
Liza says it's our passion to help, care, listen and support that will always keep people engaged.
"We've got to be proactive and physically go to where people are," she says. "If those we want to connect with are out of our demographic scope, we may miss them. Yet these are exactly the people we should be talking about and speaking with. To show them that our industry exists for them. And more than that, to prove that we need them."
Challenge Accepted?
Our challenge, as an industry, is to hold ourselves accountable to the regular creation of safe spaces where we amplify the stories of under-represented people within our ranks. Whether it's the voices of women, people of color, the LGBTQ community or any other group historically outnumbered, we need to do more than simply promote our good intentions.
Instead, we need to activate, with abandon, a blazing path towards a more diverse and inclusive run industry. And above all else, as we hear each others' stories, like those of the women above, we revise our own.
Stories connect us. Let's make sure they are being told more often.