The Elevator Pitch: FootBalance is a Nordic, health-driven brand that recently launched MyFootBalance, a 3D foot scanning solution, in the U.S. last month. It is described by global sales director David Sleigh as "a next-generation, unified 3D foot scanning service that offers runners an all-in-one fitting experience, from 3D foot scan and biomechanical foot analysis to custom product recommendations and a personalized fitting service."
The Company Philosophy: FootBalance's approach to fit is holistic and health-based, combining an understanding of the foot with advanced technology and custom products. Based on the runner's preferences, their physiological needs and some clever tech, MyFootBalance recommends footwear, insoles, technical socks and injury prevention products personalized to custom create the best fit.
The Process: An intuitive technology, MyFootBalance combines computer vision and artificial intelligence with cloud analytics and a 15-second multi-scanning process. "MyFootBalance is a game-changing advancement, helping retailers engage runners on a more personal level, making the fit between healthy feet and healthy sales even more profitable, with guaranteed conversion rates, higher transaction values and better customer retention," says Sleigh.
More on the Tech: In addition to capturing all possible measurements of the foot, the MyFootBalance service considers a runner's foot type and his or her foot function, as well as preferred activities and pain points. The service goes beyond the measurement of the foot, with custom product recommendations for footwear, insoles, technical socks and injury prevention products.
Why Use Fitting Tech: "FootBalance understands the importance of fit to retailers and the fitting service can provide a real competitive advantage, go a long way in guaranteeing customer satisfaction and can help build loyalty over the long run," Sleigh adds. "It builds on the great service retailers already provide to their customers, but at the same time helps transform the shopping experience while resetting the operating and business model of the retailer. We know retailers dislike juggling systems which create work and inefficiency, so MyFootBalance offers a single, unified service that is easy to install and operate."
The Running Customer Experience: The MyFootBalance 3D scanner is designed to be the focal point of the footwear fitting area. The scanner creates retail theater with its suite of consumer-led features.
The Consumer Benefit: In-keeping with its holistic approach to foot health, MyFootBalance captures a comprehensive set of foot scan data — all possible measurements of the foot, including a biomechanical analysis, as well as the customer's preferred activities and pain points. The technology uses this data to ensure the best possible advice, custom recommendation and personalized fit. "With no two feet the same, MyFootBalance gives the runner an unrivalled all-in-one personalized fitting service," explains Sleigh. "The 3D foot scanner is designed and engineered to match each customer with their own personalized fit, helping them to stay active, fit and pain-free."
The COVID Impact: "COVID-19 has accelerated the need for retailers to embrace technology," Sleigh says. "As consumers we can see how our changing behaviors and preferences are reshaping the entire retail landscape, with technology becoming a strategic imperative for retailers if they are to stay relevant and profitable."
A New Health-based Mentality: Sleigh points out that COVID has forced many consumers to consider, perhaps for the first time, their own health and well-being, which is leading to spend increases across the run sector on those products and services that deliver tangible benefits. "Run specialty retailers that offer a personalized product discovery are likely to perform better than those that do not offer such tailored experiences," he adds.
The Retail Benefit: This increased awareness of health and well-being brings the opportunity for retailers to target new consumer groups, while recommendation engine technology can help customers to find products they may have never known they needed. "Technology offering custom product recommendations will generate strong connections and satisfaction with consumers," Sleigh says. "As a result, retailers will benefit from improved conversion rates, higher basket values and better retention."
Online and Omnichannel: COVID has also accelerated the trend towards online shopping and successful retailers will need to ensure a seamless integration between their in-store and online experiences, supported by relevant technology and detailed analytics. Such technology will provide the bridge between customers and stores, with personalization becoming increasingly important.
What's Next: Following a successful pilot period, the MyFootBalance 3D foot scanning service was released in the U.S. in July 2021, with software upgrades already scheduled to support the service. Run specialty partners can look forward to self-service scanning applications, as well as a mobile scanning.
A FOOT BALANCE CASE HISTORY
The Intersport Experience
Intersport International (IIC) is one of the world's leading sporting goods retailers, with more than 5500 affiliated stores in 43 countries. FootBalance partners with Intersport across a number of European markets, including the Nordics and Scandinavia, UK and Ireland and Southern Europe. The MyFootBalance 3D foot scanning service has already been rolled out to Intersport doors in Finland and Norway.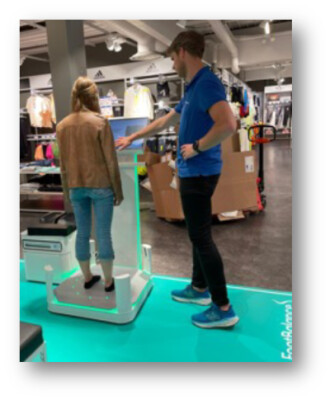 The MyFootBalance scanner is the focal point of the Intersport footwear fitting area and its presence on the retail floor extends beyond its footprint. The scanner features LED surround lights on the base and upright that can be programmed to match the corporate colors of the retailer. The scanner screen is oversized to enhance the customer's experience.
At Intersport stores customers looking to purchase running footwear are guided towards the MyFootBalance service and offered a 3D foot scan and biomechanical foot analysis to ensure the best advice and correct product recommendations are offered. The service takes less than five minutes to complete and provides the customer with an understanding of their own foot type, foot function and overall foot health.
MyFootBalance has proven to support Intersport's service proposition, making it easier and quicker for staff to offer fitting and advice while providing a more engaging shopping experience.
Algorithms based on the customer's preferences and pain identifier, as well as the 3D foot scan and biomechanical analysis, drive custom product recommendations. In keeping with FootBalance's holistic approach to foot health, these go beyond footwear and include insoles, technical socks and injury prevention products.
The MyFootBalance service negates the need for Intersport staff to sell products individually. Instead, it allows them to offer advice, custom recommendations and a personalized fitting experience.
Since the launch of the MyFootBalance service, Intersport Finland has seen like-for-like sales increase by 48 percent versus the previous year, with 71 percent of customers taking the service going on to purchase a technical sock or injury prevention product. In addition, 91 percent who are fitted with custom insoles