Although it is 6:30 a.m. on a Tuesday morning in Hong Kong, Junus Khan is wide awake and entertaining a series of questions with an unexpected enthusiasm, even a wonderfully philosophical bent.
A decade ago, after two years of tinkering with carbon fiber in the garage of his Kennewick, WA, home, Khan launched Carbitex, a fast-emerging player in the footwear space given its pioneering work in flexible carbon fiber composites. The company's handiwork is present in a variety of partnerships across the run specialty channel these days, including last fall's release of the $375 Speedland SL:PDX as well as the recent debut of the Altra Vanish Carbon.
But Khan and Carbitex are just getting started.
"If this were a baseball game, we'd be at the top of the second inning right now," Khan says. "And I think this is going to be a long game with extra innings."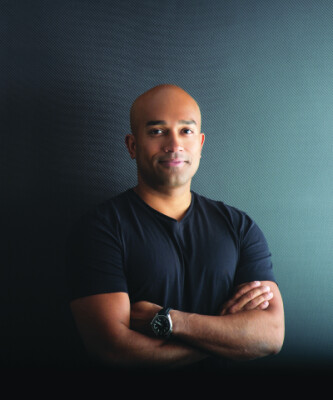 Finding a Place In Performance Run
Khan is an unlikely pioneer in the carbon fiber world. He graduated from Rutgers University with a degree in Environmental and Business Economics, yet ditched a potential career in finance for a turn in the automotive industry —specifically, the supercar realm. It was there Khan learned about materials and discovered an opportunity to leverage carbon fiber's benefits – namely, incredible strength at a low weight – in different consumer formats.
Though carbon fiber as we know it today is a decades-old concoction, it is a relative baby in the materials world, Khan notes. Early on, the military utilized carbon fiber for items like missiles, helmets and drones, while aerospace and automotive naturally embraced the sturdy, lightweight material for aircraft and race cars as well. Over recent years, however, the material has increasingly filtered into mainstream consumer use in bicycle frames, tennis rackets and, yes, performance running shoes.
When Khan founded Carbitex in February 2012 after two years of mad scientist-like study, he initially crafted partnerships with companies in the luggage and consumer electronics space before deciding to focus his upstart company on footwear, where he saw a relevant market fit and robust opportunity for technologies capable of heightening performance.
"Running is like the Formula 1 of footwear," Khan says. "It's an industry invested in pushing barriers that much further."
When Nike's Breaking 2 project introduced the carbon fiber-plated ZoomX Vaporfly 4% to the world in May 2017, Khan says "the cat came out of the bag." It catalyzed many across the industry to launch – or intensify, in some cases – similar projects and Carbitex fielded many inquiries. Quickly, Khan noted two camps: those who wanted to replicate Nike and those who saw what the Swoosh did and thought they could do something different. Carbitex partnered with the latter.
"I was excited by the opportunity to offer new dimensions of performance," Khan says.
Khan threw his fledgling company into the performance run waters, carefully analyzing how carbon fiber could play a role in helping "the body be a better version of itself." Bolstered by an existing partnership with Adidas on soccer footwear, a Carbitex plate found its way into Adidas' 2020 release of the Adizero Pro.
Carbitex Evolves
Over recent years, Carbitex's efforts in the performance run space have only intensified.
The 100-employee company works with partners early to understand the ethos of a proposed product. Is it for training or the marathon? The road or trail? Who's the target customer? What's the stack height and density of the foam?
While careful not to get in the way of its partners, Carbitex provides input on trade-offs, noting, for example, that the feel of the shoe will vary based on where the plate is placed in the midsole or the shoe's stack height. The typical development process runs 18-24 months and Khan says it's a wholly collaborative process in which Carbitex is the "best supporting actor, not the marquee star."
While Khan calls carbon fiber the "obvious choice" for performance run footwear these days – "It matters in a noticeable way," he assures. – he is also quick to acknowledge that it is only one component in a much larger system. The carbon fiber plate provides structural elements in the lightest way possible, working in conjunction with the innovative foams and uppers running brands are developing to increase efficiency and create a product that will deliver for athletes.
"There's never one material that overcomes poor design," he says. "Take the carbon plate out of many super shoes and it would be a marshmallow – and not in a good way."
Carbitex, meanwhile, continues doing aggressive exploration around the concept of gearing. While the AFX is the company's original plate for footwear, Carbitex has also debuted the DFX, a next-generation plate based on orientation and angles that creates a more dynamic experience for users, and the AFX (Formed), which is stiff in one direction yet bends in the other. The novel construction of the AFX (Formed) generates a responsive landing while allowing a natural toe-off.
"With our technology, you can have something with range of motion and different stiffness at different points to align with the natural biomechanics of the body," Khan says.
Promising More Innovation
Over the years, Khan says Carbitex has gotten better at dialing in the right solution given each project's specific parameters. In its earliest days, Carbitex might create 50 different iterations of samples. These days, Khan says the company can produce unique versions within a day or two and often only needs two or three iterations to get close to a target and proof of concept.
In the advanced composite age, carbon fiber now sits at the tip of the spear and among the most readily available advanced materials. For the foreseeable future, Khan says it will remain just so, adding that no existing material can match the structure, weight and scalability of carbon fiber.
Which isn't to suggest Carbitex is done innovating.
"Think about it, we're still developing ways to use wood," he says.
Kahn assures Carbitex has more innovation in the pipeline, propelled by its own internal curiosity and biomechanics testing as well as third-party analysis and the ambitions of its footwear partners. He promises developments related to sustainability, unique geometries and different zones on the plates to further tunability.
"We're dialing things in better, but the brands are also getting a crisper understanding of their needs as well," he says.
In a general sense, Khan says the basic formula for carbon-plated super shoes has been established – a responsive foam combined with a plate for structure. There is, however, substantial runway to harness the stiffness of the plate only when needed and to define the right Carbitex solution in tandem with other components in a shoe's overall system. And that's what excites Khan these days.
"It brings me back to a decade ago and the exploration that launched Carbitex in the first place," he says. "Collectively, we know there's so much more to be discovered."