As its name suggests, Fartleks Running Shop Smoothie Stop is part running specialty store and part smoothie shop.
And now Fartlek's, a not-yet-one-year-old, 2500-square-foot retail operation in Wichita, KS, has added something else to the fray under its Douglas Avenue roof: a consignment shop peddling previously loved fitness apparel.
Realizing the area he had devoted to guest seating near his smoothie bar was rarely utilized, Fartleks owner Andrew Schinstock began considering alternative uses for the space. When the idea of creating a "fitness thrift store" came to mind, Schinstock jumped on the idea.
A novel idea becomes reality
On Nov. 8, Schinstock took to the store's Facebook page and urged the public to let their "old athletic items catch their second wind." He said Fartleks would begin to buy and sell new and gently used fitness clothing, shoes and fitness-related items and encouraged people to bring items into Fartleks for potential purchase. The Facebook post turned out to be the most successful post in Fartleks' young history, generating more than 120 likes, 17 overwhelmingly positive comments and 10 shares.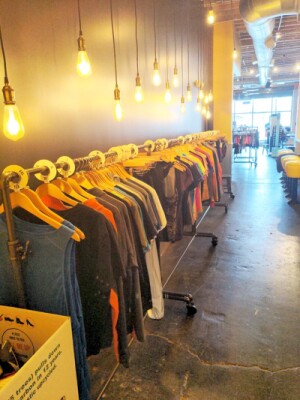 While Schinstock presumed it would take a month or two to gather the necessary inventory for a well-stocked consignment shop, he had enough goods within two days to announce the debut of Fartleks Fitness Consignment. He removed the smoothie shop's tables and chairs and inserted in their place a stretch of rolling racks featuring men's and women's fitness apparel.
"It definitely caught me by surprise. I thought I'd have a couple of people bringing in items a week. Instead, it was multiple people each day bringing stuff into the store, including items with tags still attached," says Schinstock, who opened Fartleks last April to fill a run specialty void in central Wichita following the closure of First Gear Running Company after more than 30 years in business.
When someone brings in gear to sell, Schinstock evaluates it on various factors, including the quality and condition of the items. He might, for instance, purchase a quarter-zip running top for $3-8 and then sell it for $10-20. Customers receive an additional 15 percent bump if they take a store credit for their goods rather than cash, a savvy move designed to drive sales at Fartleks.
"This not only offers an economical option for some of our customers who can't handle the prices of new running apparel, but it also gives a second life to apparel items and pushes them back into circulation," says Schinstock, who devotes 10 percent of consignment proceeds to purchasing socks for local shelters.
While Schinstock initially feared his consignment push might cannibalize sales of his running shop's new apparel, he says the consignment area attracts an entirely different set of customers.
"We have people interested in tip-top gear, so they're shopping our new inventory, while those hunting for a deal check out the consignment area," Schinstock says. "We actually don't find much crossover between the two."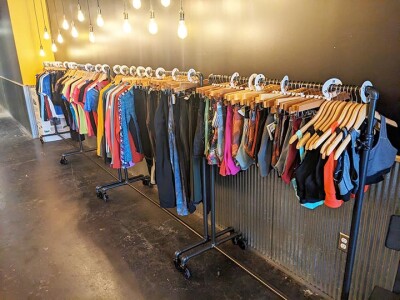 Schinstock's biggest challenge over the first three months of running Fartleks Fitness Consignment has been maintaining a diverse inventory mix across genders and sizes. After his initial call for inventory on Nov. 8 brought a rush of goods into the store, Schinstock has continued penning social media posts soliciting more items.
That complication aside, Schinstock calls the consignment shop "one of the smartest decisions" he's made during Fartleks' opening year. Easy enough to manage, the consignment shop has brought Fartleks an added revenue stream, heightened visibility, increased traffic and generated community goodwill.
"It's been a huge hit for us and I plan to keep it going so long as the demand is there," Schinstock says.