It can seem trite to call children our future, but it's an undeniable reality – and something run specialty shops across the country readily recognize.
From youth running groups to charitable initiatives, creative events to educational programming, running shops continue investing time, energy and resources into unique efforts designed to serve the nation's youth and inspire their commitment to healthy, active living.
"Children are the future. They are the future teachers, the lawyers, and leaders of the community. They are the future runners and walkers who may work for us one day. They are our future customers who trust us to keep them healthy and fit," says Chris Hughes, director or retail operations and special events for Orlando-based Track Shack.
Running Insight highlights 10 unique youth programs directed by local running stores.
Kids Run Durham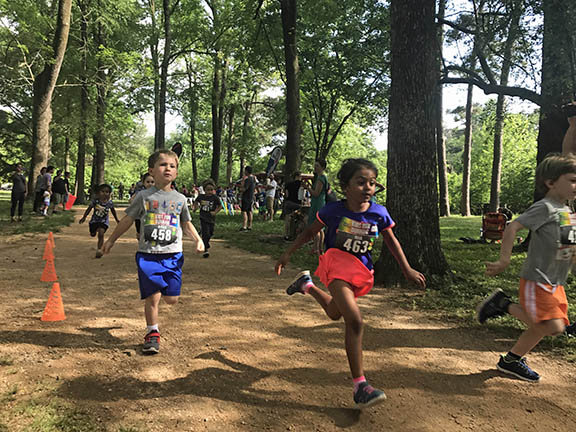 North Carolina's Bull City Running Co. launched its Kids Run Durham program in April 2013. The fun-focused, five-week program for children ages 4-12 includes a spring and fall series on Sunday afternoons. Upwards of 120 kids compete in 100m, 400m, 800m and 1-mile events wearing personalized bibs carrying their names. Each session begins with a group dynamic warm-up and a brief overview of a key topic such as nutrition, hydration, sportsmanship or goal setting.
"Kids Run Durham gets kids outside to play and helps build healthy lifestyle habits, self-esteem, and character development," says Bull City Running Co. owner Kim Chapman. "By keeping this program age-appropriate and fun, we hope to instill a lifelong love of running."
Wee Warrior Dash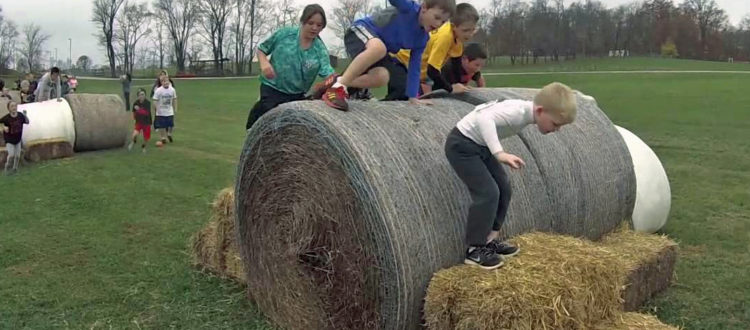 Two Rivers Treads in Ranson, WV, debuted its Wee Warrior Dash, an entry-level obstacle event for kids, eight years ago in partnership with its local parks and recreation department. About 300 kids participate in the free event, navigating obstacles ranging from a pumpkin minefield to large cylindrical hay bales. The event includes race medals and t-shirts donated by Two Rivers Treads and community partners.
"Our store exists as a community spark for public health and it starts with the kids," says Two Rivers Treads owner Dr. Mark Cucuzzella. "Our kids will be the first generation with a shorter life span and health span than their parents and we must reverse this.."
Confluence Kids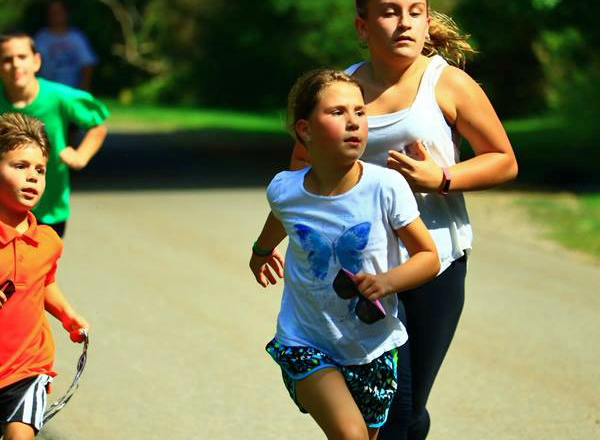 In conjunction with its opening five years ago, Binghamton, NY-based Confluence Running introduced Confluence Kids. Over time, the program has morphed from a basic youth running program into a multi-pronged community effort that includes direct education/fitness programs, free youth entries into the store's Parade Day Mile and partnerships with other youth programming such as Girls Run Our World.
In an area battling high obesity, Confluence Running manager Jenna Jenks says the Confluence Kids program takes an extra step by encouraging parents to participate with their children in the exercise program.
"Most of the parents are non-runners themselves and generally overweight which encourages entire 'village' exercise and fitness along with building a better sense of community," Jenks says.
Space Coast Countdown to Fitness and Final Mile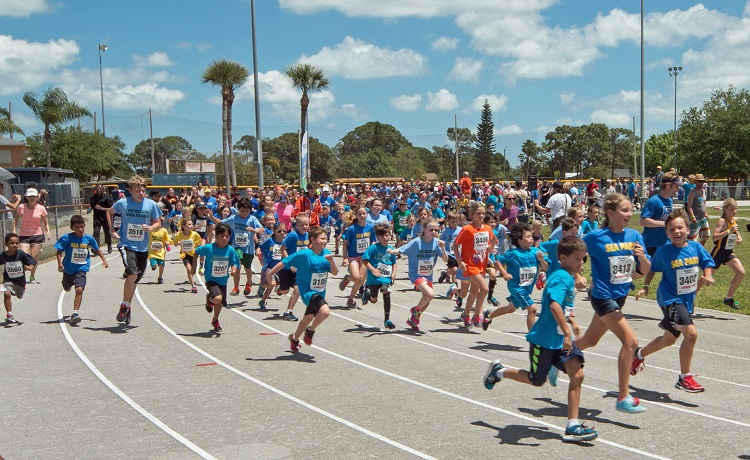 Florida-based Running Zone launched its Space Coast Countdown to Fitness and Final Mile in February 2016, a free program open to all Brevard County elementary and middle school students.
Over the course of 10 weeks, about 2,500 children ages 4-14 run a marathon and receive a prize for every five miles they complete en route to a "Final Mile" event at a local high school. To keep it fun, the program ties into Florida's Space Coast with a space theme: the program logo includes a rocket ship, volunteer coaches are called "Commanders" and Running Zone staff wear space suits at the Final Mile.
High Performance Distance Academy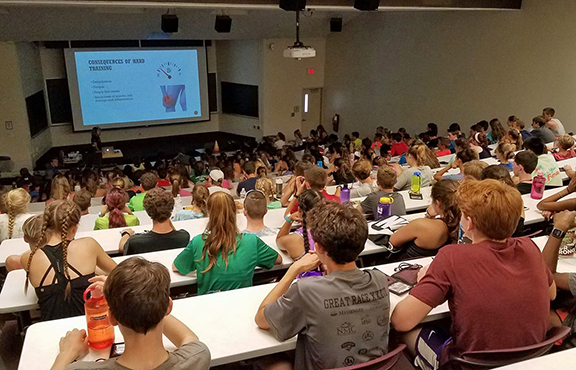 Since 2003, RunAbout Sports in Blacksburg, VA, has been hosting 200 young runners each July at its High Performance Distance Academy. Held at Virginia Tech, the overnight camp for middle school and high school runners features daily runs, professional speakers on topics such as nutrition and sports psychology and exposure to cross-training activities such as yoga, Pilates and spin. Amid the hustle, there's also plenty of play, including archery tag, a massive water slide and a run up Mountain Lake, the setting of the hit film "Dirty Dancing." RunAbout Sports offers two scholarships each year to runners who can't afford to attend and also grants local coaches free access to the lectures.
The Ice Cream Run and Sundae Sprint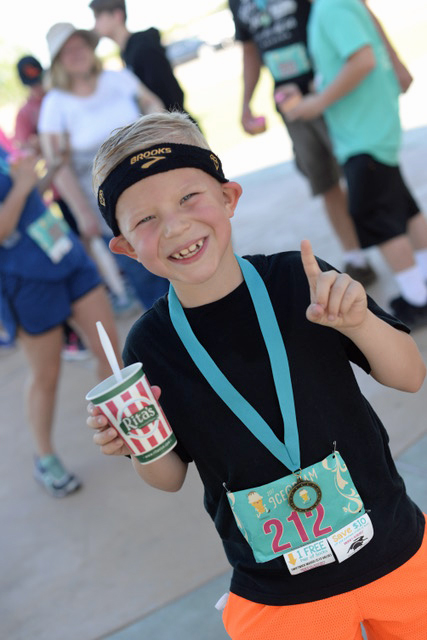 Arizona's Tortoise & Hare Sports created its family-centric Ice Cream Run 5k and Sundae Sprint in 2013. During the Sundae Sprint for kids 18 months to 8-years-old, 5k participants and other spectators line the course to cheer on the young runners in advance of the 5k. The finish line includes music, medals and, of course, ice cream as well as other shenanigans, including oversized versions of Connect 4 and Jenga.
"It's important to us to keep families active and healthy together to live stronger and happier lives," says Tortoise & Hare owner Rebecca Hohenstein. "When kids see their parents running or working out, especially from an early age, it's so much easier to get them motivated to run, walk, play and be active."
Team Playmakers at the Boys & Girls Club of Lansing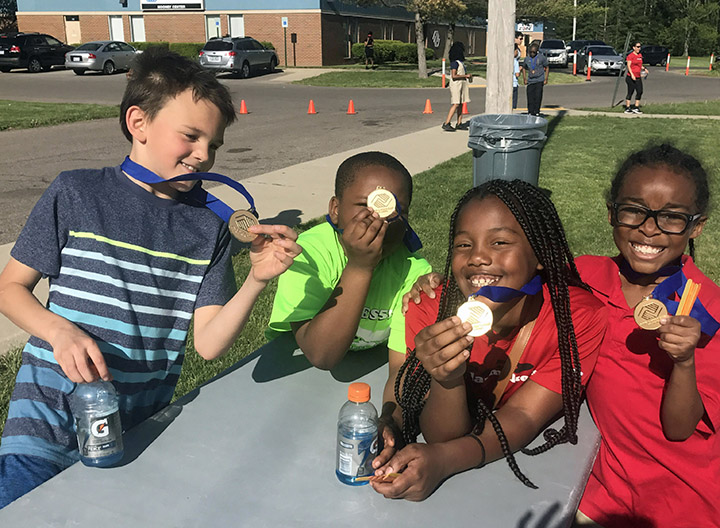 Team Playmakers at the Boys & Girls Club of Lansing (MI) started in March 2016 as a way to bring fitness to local at-risk youth. The eight-week spring program and 10-week fall program follow the same general format: twice each week, Team Playmakers volunteers meet participants for one hour at the Boys and Girls Club in south Lansing. The children run or walk a quarter-mile loop and receive a Popsicle stick for each lap they complete. Their mileage is recorded each week and they earn prizes for hitting mileage milestones. More than 500 kids ages 7-12 have participated in the program since its inception, which Playmakers Fitness Foundation executive director Marcy Kinzer says provides at-risk youth a healthy outlet, a goal-focused team experience, and positive adult coaches.
Run Moore's Shoe Scholarship program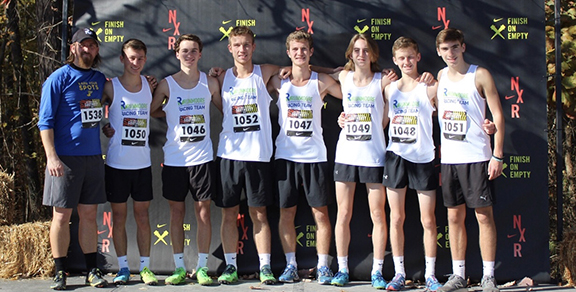 Since 2016, Run Moore in Westminster, MD, has been dedicating profits from the local Burk/Case 5k race to a special fund providing kids in need a free pair of running shoes from Run Moore. A portion of each race entry feeds the shoe scholarship program and Run Moore cuts a check to match the event's proceeds and further bolster the fund. Coaches identify specific athletes in need and Run Moore handles the rest.
"One of the nice things about the scholarship is the simplicity of it," Run Moore owner Steve Moore says. "If a coach thinks [the program] is appropriate for a family, they can come in without being singled out or made to feel different for needing some help getting set up with new gear."
Track Shack Youth Foundation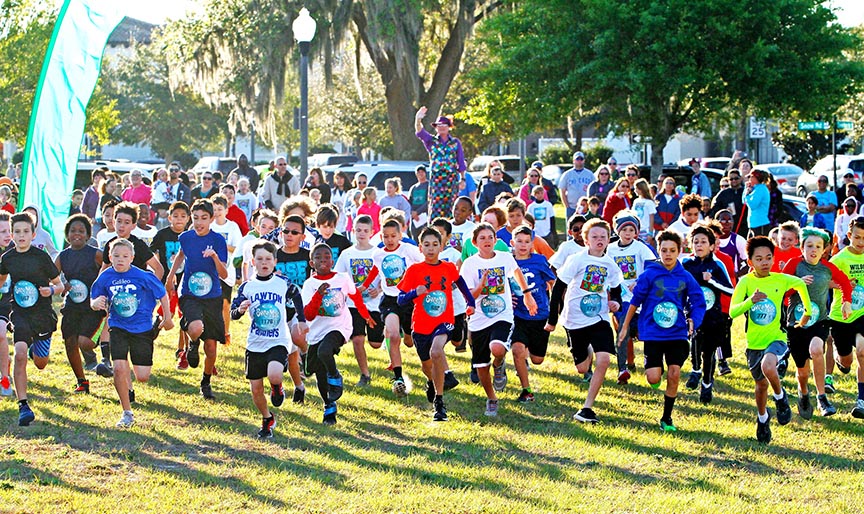 Orlando-based running retailers Jon and Betsy Hughes established the Track Shack Youth Foundation (TSYF) in 1994 as a gateway to fund local youth organizations promoting health and fitness. Last year, TSYF granted $102,931 to 107 local school and club organizations serving some 38,000 youth.
The Smile Mile is among TSYF's most popular and longest-running events. Children ages 5-11 run a mile course with peers from the same age group and gender before receiving a unique designer medal at the finish line. Schools from five counties participate in the annual event, which once included future U.S. Olympian and world champion Jenny Barringer Simpson.
Boca Raton Kids Running Program
Learning that elementary school children in and around Boca Raton, FL, might not have physical education classes or recess on a daily basis, Runner's Edge took it upon itself to encourage outside physical activity. Twice each week during an eight-week fall or spring session, participants meet at a local park. There, Runner's Edge coaches use running as a tool to teach primary grade children about goal setting and race strategies en route to completing a local one-mile or 5k race.
"The program helps not only to build [the participants'] athletic ability but their confidence as well," Runner's Edge co-owner Tom Vladimir says, adding that the now-annual effort has fed Runner's Edge retail and racing business.