Inspired by Boston Children's Hospital patients, Saucony has launched a project called Shoes with Soul, a collection that features six limited-edition designs illustrating the personalities and dreams of young patients at the specialty hospital. Proceeds benefit the Boston Children's Cardiac Fitness Program, an exercise program for kids with congenital heart conditions that trains their bodies and minds to help them "find their possible."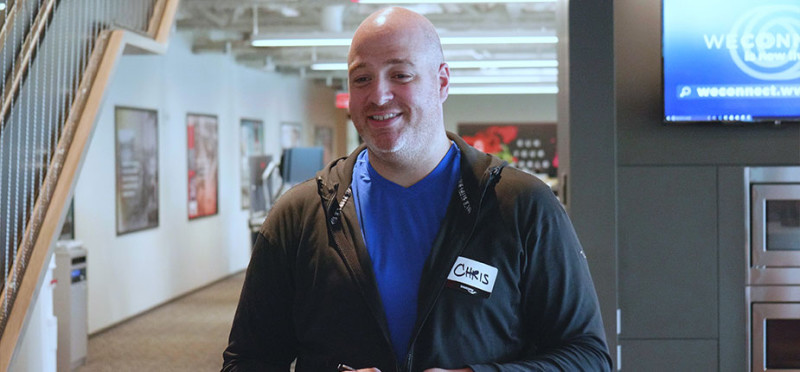 The collaboration grew out of a previous relationship Saucony had with Boston Children's Hospital, an experience that prompted the company to explore the idea of doing more, according to Saucony VP–design Chris Mahoney.
"Rather than just a donation, we wanted to create an experience and a moment that would not only raise money, but also awareness to highlight all the amazing work that's being done at BCH," he explains on the company's website announcing the project. "Specifically, we wanted to give some of the BCH kids an opportunity to share their story and their talents with the world."
Mahoney explains that partners at BCH identified six patient-artists from their programs and, since many were local to the area, Saucony brought them into its headquarters to get to know each other.
"We started by giving them a tour of our facilities and explained to them some of the different processes that each of our products go through before they make it into production and ultimately out to consumers,: he says.
From there, the young artists broke into smaller groups where members of the Saucony team asked some questions so they could identify favorite colors, songs, characters, movies, etc. They also provided material books, markers, paper and color swatches readily available so that every artist could identify elements they liked, and ones they didn't like.
The Saucony team took copious notes so that in the days and weeks after its meetings they could start to formulate all the information into a theme, or an aesthetic, that could be applied to its products.
"In some cases, we were even able to incorporate the patient-artist's own artwork into their gear," Mahoney adds.
After preliminary internal creative sessions, Saucony then designed mood boards that incorporated inspirational imagery related to the kids' favorite things. They also started to identify material swatches, prints, patterns and colors that could be used.
"Once we felt confident that all the details aligned with what was shared during our meetings, we started to tastefully combine all the elements together to create personalized concepts," he says.
It was around that time that Saucony reconvened with the artists and their families in the Saucony showroom to present individual mood boards, swatch cards and designs for each of their projects.
"I know, for the Saucony team, it was a very nervous and exciting evening," Mahoney says. "With each presentation and concept unveiling, we were on edge. We hoped – and prayed – that all our notes, insights and experiences were spot-on, and that they would love their designs.
"Luckily, we saw lots of smiles and excitement when the kids got to see their designs on the screen. It not only made them and their families feel great, but it also allowed the Saucony team to exhale and equally enjoy the moment with them."
Here's are just two stories as told on the Saucony website: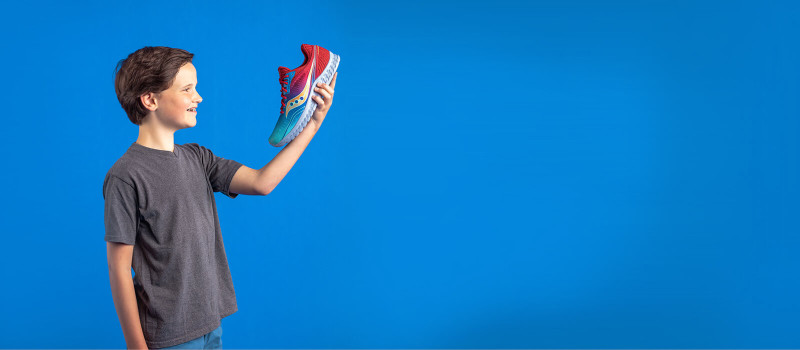 Max, 13: Kinvara 11
Max has been mighty since he came into the world. Before he was born, he was diagnosed with severe heart defects, so his family brought him straight to Boston Children's. Young Max persevered through a series of lifesaving procedures — including surgery on his tiny, walnut-sized heart when he was just a few months old. Today he's a thriving teen with a powerful singing voice. Inspired by his love of stage and screen, and ice cream, his Kinvara 11 design is sure to spread as much joy as he does.
https://www.saucony.com/en/shoeswithsoul/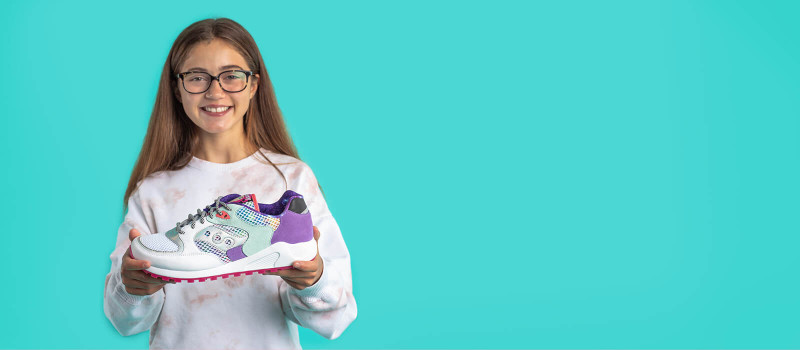 Luna, 12: Jazz 4000
Luna has a habit of shattering expectations. Before she was born, Luna was diagnosed with a complex series of heart defects. Just after birth, Luna was transferred to Boston Children's Hospital for the first of three lifesaving open-heart surgeries. Now Luna is a gifted student with award-winning creativity and leadership skills. Her bright future and optimism are reflected in the striking color palette of the Jazz 4000.