Taking over for a Pacific Northwest retail icon such as Teague Hatfield is never an easy proposition, but add in a pandemic a few weeks after purchasing the store from him and a relocation from the Midwest and you understand the challenge Brian Lord, new owner of FootZone in Bend, OR, faced in 2020.
And the 12-year veteran of the run specialty business would have it no other way. Originally an East Coast native, Lord, along with his wife, Alyssa, and three-year-old daughter Skylar – not to mention a happy black lab named Tyson – moved from St. Louis, MO, where he worked at Big River Running Company, across the country to Oregon, to fulfill his dream of owning a running store.
Running Insight caught up with him as he prepared for the holiday rush to find out how he got there, how 2020 went and what lies ahead for FootZone.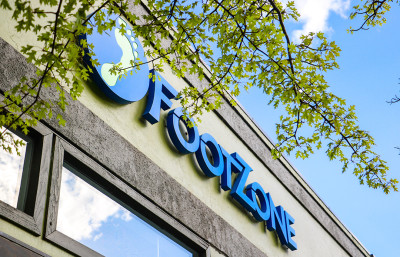 The big question is: Why did you want to own a run retail store?
Lord: I've worked various roles in the running retail industry and desired owning a store for a long time. I enjoy growing retail stores by offering a top-notch customer experience, quality product offering, and strong community involvement.
How did the process of taking over the store from Teague Hatfield take place?
The transition process was pretty serendipitous. While visiting Bend, my family wandered into FootZone and met Teague and Colleen, the manager of FootZone. They're both such happy, genuine people. My family wanted to move to the PNW for a change of pace, the beautiful mountainous scenery and the more relaxed West Coast lifestyle.
What's it been like following in his somewhat-large footsteps?
It's never easy when you're taking over from a person of Teague's incredible caliber. He's simply someone who can't be replaced. But, I'm motivated to carry his torch, honor his past, and help FootZone reach new heights as I continue to grow the business.
What's your typical day at the store like now?
Throughout COVID, each day has been unique from the next. My responsibilities are constantly varying from helping customers, supporting our team, supporting our buying and engaging with the community in a variety of ways. Each day requires wearing many hats and constantly being adaptable.
So what do you like most about being the owner of Foot Zone?
I like the incredible 25-year heritage that I inherited from Teague and all the community aspects that encompasses this role. Teague did a phenomenal job creating a community-oriented business and I look forward to continuing growing our community.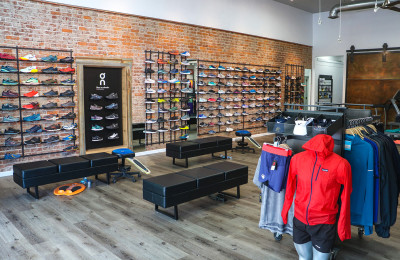 What about your employees?
FootZone is the first store I have owned and I love working with its dynamic team. They're adaptable, work hard and have an all-hands-on-deck approach to helping FootZone remain a strong part of the Central Oregon community during this stressful year.
That leads us to our next question: How has COVID-19 impacted you this past year?
I acquired FootZone two weeks prior to the COVID-19 pandemic beginning in early March. Personally, it was stressful because my family and I had very little time to move in and get stable before needing to adjust to the new pandemic environment.
That's not-so-good timing. How did that translate to your business?
From a business perspective, the COVID-19 pandemic has challenged us to be more adaptable and creative in how we serve our community. It forced us to launch an e-commerce website and learn how to offer our in-store experience to customer in various ways. Whether it's via Zoom, doing shoe fittings on the sidewalk, etc., we're constantly adapting to how we can provide great customer service to our community.
How have you managed to keep the business running and your people involved and safe?
When COVID-19 closed our doors, I kept the majority of my staff employed by doing a big remodel on the store. We installed new floorboards, painted the walls and installed new wall fixtures to give the shop a clean, open layout. Another way I've kept staff involved is through creating a new website and getting e-commerce launched for FootZone. Our previous website looked dated and didn't have e-commerce, so I'm super happy with how crisp and simple our new website is for customers to safely use from home.
How about the safety challenge?
I've ensured the safety of everyone in the shop by adhering to Oregon's CDC Guidelines in the shop: masks mandatory, spacing out our benches for trying shoes on and encouraging customers to social distance, and constantly disinfecting surfaces. We're proud to not be linked to any of the COVID-19 cases in Deschutes County.
How did it impact your ability to hold events and continue to build your community?
The COVID-19 pandemic has greatly hindered my ability to get the community involved with fun events – group runs, special programs, etc. – but I have big plans for when we safely get out of this pandemic.
Have you held any virtual or even in-person events since March?
Yes, we've remained engaged with our community in various ways virtually. We've continued hosting our monthly Good Form Running Clinics with Teague Hatfield via Zoom. And we've hosted other fun Zoom clinics like how to trail run with Max King, how to keep your knees healthy, how to begin running, etc.
Were you able to do any in-person events at all?
We've helped safely host packet pickups for a few Central Oregon races that still occurred in 2020 — the Virtual Bend Marathon & Half, Haulin' Aspen, Happy Girls Half & 5K and Virtual I Like Pie. We also safely hosted a small stretching clinic in the shop that required wearing a mask and safe social distancing, which was received well. But we miss hosting fun events for our community!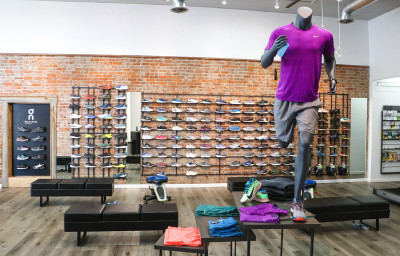 Has any good come out of the pandemic for your store?
It's easy to focus on the negatives of being forced to close our doors back in the spring, but there is still good that has come from the pandemic for FootZone. We now have e-commerce, which is something we never had before, and a great new website. Closing our doors gave us time to remodel the store and have it look really awesome. And our team seems to have stronger chemistry than ever throughout this pandemic.
What do you think the overall picture is these days for run specialty retail?
More than ever, the run specialty retail world is constantly evolving. Retail is still the best method for owners to offer customers the best customer service possible, but that's not enough to stay relevant anymore.
What does it take?
To stay relevant, I need to focus on offering the best customer service, high quality product offering and community aspects of my business. I need to excel in all these aspects to offer customers the best experience when they shop at FootZone and encourage them to keep coming back.
Finally, what are your plans for FootZone in 2021?
The goal is growth. Once we get through the pandemic, which is hopefully in 2021, I can't wait to get FootZone back to doing what it does best. Hosting fun events for our community. Facilitating awesome, iconic running races in Central Oregon. And, hopefully, growing our doors.