UPDATE on 11/19/20:
The ASICS World Ekiden 2020 is currently underway and there are just four days remaining in the race. As the racing community continues to evolve and virtual races become more and more popular, ASICS shared some impressive statistics on participation around the world. To date, the ASICS World Ekiden has had over 52,400 participants representing 40 markets from around the globe compromising the 13,000 registered teams.
Currently the leaderboard features a Men's Wheelchair team from Italy clocking a time of 1:31:43 alongside two men's teams from Japan, a retail partner group with a time of 2:12:06 and an ASICS employee group with a time of 2:19:40.
Participants are using the ASICS World Ekiden to connect with friends from across the country as well as ones based in different countries. It's also not too late to register. Teams can sign up and complete the legs of the race all the way up until the final day on November 22nd.
This original story apepared in Running Insight+ on 10/27/20.
Imagine running teams around the world competing against each other virtually. Then add in a specially crafted virtual race platform and inspiration from a century of Japanese running culture and you have the inaugural ASICS World Ekiden 2020, an event where runners of all abilities are encouraged to work together to complete a combined marathon
ASICS describes the World Ekiden 2020 as "the ultimate team challenge" that will see teams of up to six people from all over the world come together to complete a combined marathon. The race will be split into six legs of varying distances, making it accessible for runners of all abilities and experience.
The ASICS World Ekiden 2020 will also combine real-world and virtual racing thanks to a new race platform using capabilities of both Race Roster and Runkeeper apps that will allow participants to experience the connection and motivation of team competition no matter how far apart they are.
Essentially it is a virtual relay marathon split into six legs, including three legs of 5km, two of 10km and one of 7.2km. Once all the legs have been completed, the team would have finished a full marathon. Teams of up to six people can compete in the ASICS World Ekiden 2020, with a total of six legs to be completed collectively.
Other features of the ASICS World Ekiden 2020 include tracking team progress in real time on an Apple Watch, Garmin or Fitbit device, ranking each racer on the live online leader board and enjoying a customized in-race audio experience. To maintain historic traditions, participants will even have to pass their very own digital tasuki – the narrow band of fabric used in traditional Japanese Ekidens – to each other at the end of every leg.
The launch of the ASICS World Ekiden 2020 comes in direct response to the findings of ASICS' ongoing global research into the changing needs of runners and sports fans around the world. The research, which kicked off immediately after the pandemic began, reveals that 69 percent of active individuals globally (62 percent in the U.S.) miss having a collective goal to work towards at the moment.
Meanwhile, three in four say that exercise is one way they like to meet their goals. Two-thirds admit to missing the chance to compete with others.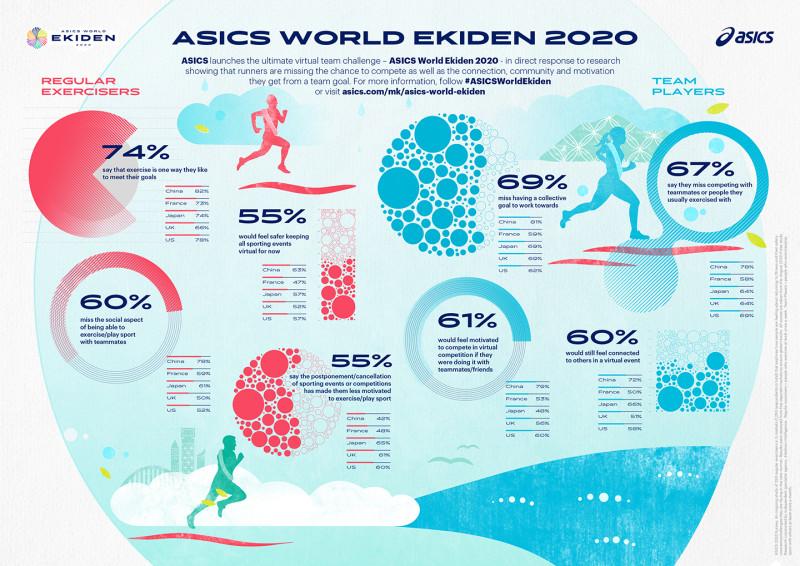 Through the ASICS World Ekiden 2020, ASICS aims to help people renew their connections with each other, enjoy the mental and physical benefits of team competition and re-energize their collective love of sport and exercise with a shared goal.
"We know people are missing the motivation and connection they get from team sport, so we are really excited to bring people together from all over the world to train and compete together in pursuit of a shared goal," says Yasuhito Hirota, ASICS president and COO. "In the true spirit of the Ekiden, anybody can take part, and nobody will be running alone."
The ASICS World Ekiden 2020 is open to all, with distances that attract all levels of runner. Participants can sign up for free using the Runkeeper app or the ASICS hub at www.asics.com/mk/asics-world-ekiden. Teams must complete their relay race between November 11-22.