The Elevator Pitch …
Krono Nutrition's goal is to support athletes by providing high-quality sports nutrition products. The company is dedicated to helping them perform better and recover faster using the best natural ingredients so they can achieve their journey. Its commitment extends to creating the healthiest sports nutrition products possible — its products give genuine energy from real ingredients.
The Krono Unique Message … Krono Nutrition distinguishes itself through its dedication to excellence. "Our products are not only vegan-friendly and gluten free, but also completely free from nuts, peanuts, dairy, and soy," explains Alain Sisler, owner and brand manager. "This means athletes with different dietary preferences and restrictions can enjoy our nutrition, which not only helps them perform better but also supports their overall health.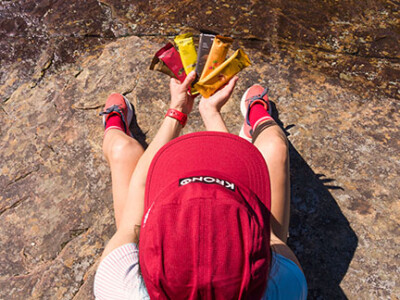 The Krono Nutrition Lineup …
Krono Gel: Featuring a range of energy gels, this category marks the brand's launch into the U.S. market, with a selection of six flavors, including options with or without caffeine.

Krono Bar: Its lineup of energy and protein bars designed to cater to the nutritional needs of athletes prior, during or after training or race day.
Krono Lytes - Comprising electrolyte drink mixes enriched with carbohydrates, this category is tailored to provide essential hydration for athletes.
Run Specialty Focus … In 2023, Krono's main goal is to support endurance athletes in giving their best performance and it has been putting its efforts into creating the best energy gels designed to fuel long-distance runners. To make its products even better, Krono is using ingredients that are certified Non-GMO and is switching out ordinary maple syrup and coffee for high-quality, organic alternatives. "This not only offers athletes a healthier option, but also reflects our dedication to a more sustainable approach to sports nutrition," according to Krono's owner.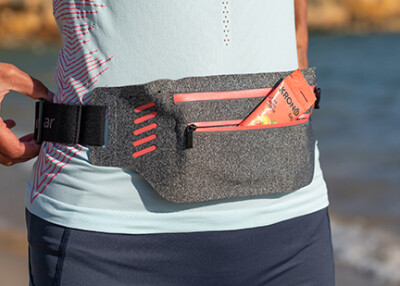 Why Carry Nutrition Products … Alain Sisler points out that sports nutrition gives athletes the energy, vitamins and hydration they need, boosting their endurance and strength, while also helping their muscles heal, lowering the risk of getting hurt and keeping their minds sharp. "Our team gets how important this is. We're proud to do our part by providing athletes effective nutrition solutions."
Merchandising Sports Nutrition … To merchandise sports nutrition products successfully in running shops, Krono advises run specialty retailers to focus on attracting the attention of athletes and runners. Place product displays near the checkout counter to capture impulsive buys or within the nutrition section on shelves or on displays. Use branding and imagery such as POP that explains the brand and its benefits to resonate with the target audience.
The Krono Merchandising Effort ... The new minimalist brand image at Krono Nutrition stands out with vibrant and appetizing colors, reflecting the vitality associated with sports and bringing ingredients and flavors forefront. The company can also help build a strong message through social media, newsletters, brand ambassadors, in-store initiatives and sponsorships.
Selling More Krono Products … It is crucial that store staff are well-trained and informed about Krono's products," explains Sisler, who points out that tasting and using the products themselves can greatly enhance their product knowledge and understanding of the benefits. "This firsthand experience enables them to provide customers with accurate information and personalized recommendations, ultimately ensuring a more satisfying shopping experience and building trust in the brand." Additionally, the Krono team can support in building a strong presence through in-store brand ambassadors, marketing activation, tasting, run clubs and local event sponsorships.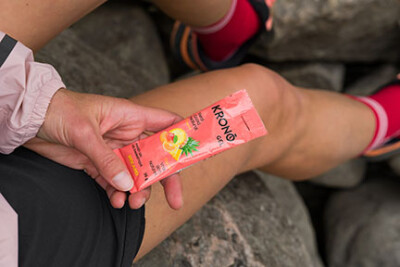 The U.S. Launch … Following its success at The Running Event last year, Krono is set to launch its energy gels in the U.S. market in Spring 2024. The selection of delicious energy gels, made from premium ingredients, is dedicated to offer strong competition to the existing products on the market.
2024 Plans … "We're putting in a lot of effort in R&D to bring the best products to the market," whether it's introducing new product categories, launching new flavors, working with new ingredients or enhancing textures. "Despite the challenges, 2023 marked our second consecutive record year in Canada and this success is a result of our dedicated team and the support from our manufacturing and retail partners who share our vision," he adds. "We're confident that 2024 will be even more promising, with more major retailers coming on board and a range of new products in the pipeline. This ongoing success in Canada is also setting the stage for our expansion into the US market.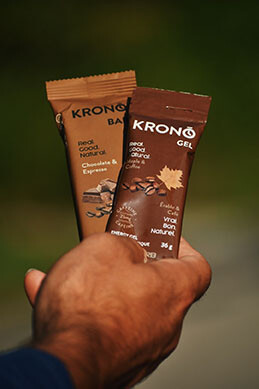 Krono Nutrition
A1sport.ca