Run specialty stores are niche enough in the American retail landscape. But trail running-focused specialty shops slice that niche even further.
Despite that reality, Seattle-based Seven Hills Running Shop, the San Francisco Running Company and the soon-to-open Trailhead Running Supply in Flower Mound, TX, embrace an unapologetic, unabashed focus on trail running above all else.
Seven Hills Running Shop,

Est. 2012
The decade prior to opening Seven Hills, Phil Kochik worked at other run specialty shops in Seattle, including the trail-oriented Seattle Running Company (SRC). When SRC ceased operations in 2010, however, Kochik spent the next two years readying plans to open his own trail-focused running store.
To be fair, Kochik held reservations about leading with trail, which was a growing, albeit still-slim activity with a fraction of the product offerings available on the road side.
"I was nervous," Kochik confesses. "Were there enough customers? Was there even enough product?"
An ambitious Kochik plowed ahead anyway, confident that trail running participation would climb and brands would respond with deeper product assortments. To the latter point, he was intrigued by an advance look at trail footwear from Pearl Izumi about a year before he committed to opening Seven Hills.
"That let me know exciting product was coming," he says.
In Seven Hills' rookie year, Kochik settled into a 70/30 split between trail and road footwear on his shoe wall. A decade later, it remains much the same, though his inventory has swelled thanks to the ascension of trail-first brands like Hoka, Altra and inov-8. Kochik was early to the party carrying all three brands.
"We lucked out because trail product and the store grew together," says Kochik, whose store celebrates its 10th anniversary next month.
Today, Seven Hills features about three dozen trail running models for each gender, many in multiple colors, alongside a diverse collection of hydration vests, trail-oriented apparel, socks and accessories. Though Seven Hills serves locals looking for their "regular running shoes," Kochik says trail runners visit the store from upwards of two hours away to see product firsthand and make in-store purchases.
"I want people to be amazed by all we have, and they are," Kochik says. "I think the trail runner is definitely more enthusiastic about gear and more willing to experiment, including buying multiple pairs of shoes each year."
In addition to the trail-oriented products that fill his shop, Kochik also packs Seven Hills' Instagram page with trail running content, including side-by-side comparisons of trail running shoes past and present to feed his insight-hungry clientele.
"I wanted to be different than the others and it's worked for us," says Kochik, who considers a defined niche more important than ever given brands' increasing prioritization of direct-to-consumer sales. "If you stand pat with the old standbys, you'll just be outdone by the Internet."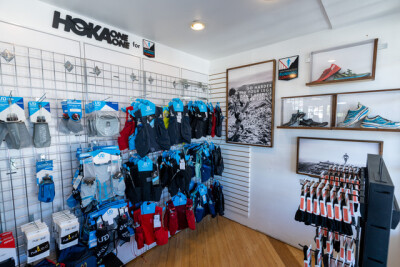 San Francisco

Running Company,

Est. 2013
The San Francisco Running Company's nine-year-old flagship store in Mill Valley, CA, leaves no doubt about its passion for trail running. Between walls adorned with trail running photos and a smattering of trail race trophies and paraphernalia, SFRC general manager Mecque Tucker calls the store "a shrine to trail running in Marin County and northern California."
SFRC's trail focus fits in Mill Valley, a town nestled in the heart of the Marin Headlands. Despite being less than a dozen miles from downtown San Francisco, local runners seek out trail shoes more than road shoes. Yet more, Mill Valley's trail running roots run deep. The city, in fact, hosts the 7.4-mile Dipsea Race, the nation's oldest trail race, which celebrated its 111th running last June.
"We lead with trail because of our location and fully acknowledge this concept would struggle to work as well in the city," says SFRC owner Ted Knudsen, who purchased the business from founder Brett Rivers in 2019 and "tried not to screw up the foundation [Rivers] laid."
SFRC has made itself the destination shop for the area's many trail runners as well as trail running enthusiasts who visit the San Francisco market. Both the Mill Valley store and its six-year-old sibling outpost in San Anselmo feature similar product inventory — about a 70/30 trail/road split on the shoe wall alongside ever-popular SFRC-branded apparel and trail-oriented product like trekking poles and hydration bottles and vests.
"We don't have a hydration section. We have a hydration room," Knudsen says.
At SFRC, a top-down love for trail running flows from Knudsen to Tucker to the 10-member staff, all of whom are armed with informed insights on product, training and trail running routes they enthusiastically share with customers. SFRC's Saturday morning trail runs, meanwhile, consistently attract 40-60 runners to its Mill Valley storefront and SFRC is actively aiming to expand the area's trail race scene, both looking to develop its own races while also sponsoring events such as the inaugural Salomon WMN Trail Half Marathon on September 24.
Other store efforts, such as shoe recycling with the MORE Foundation, nutrition package recycling with TerraCycle and maintaining the Dipsea Stairs, the nearly 700-step climb out of Mill Valley, further resonate with the trail crowd and demonstrate SFRC's commitment to putting action behind its mission.
"We exist to serve the trail community and that's what we'll continue to do," Knudsen says.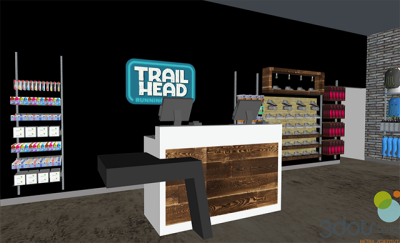 Trailhead Running Supply, Est. 2022
Inspired by the inclusive and swelling Dallas-Fort Worth (DFW) trail running community, Drew Flowers, Todd Hawkins and Darren Beck are looking to inject added trail running energy into the Metroplex with Trailhead Running Supply, their upstart retail store located just north of Dallas.
"People are drawn to trail running for community and inclusiveness, the sense of adventure it brings and being outdoors, and that's what we are looking to celebrate at Trailhead," Flowers says.
Trailhead will open this fall in a 1600-square-foot storefront about 400 meters from the North Shore Trail, a popular 23-mile trail running route alongside Lake Grapevine in north Texas. Flowers, who has both worked as a running store sales associate and managed an REI, says the store is planning a 70/30 split between trail and road footwear, though he admits the market will likely dictate how that ratio evolves.
"There will be a lot to learn and evaluate here," he says, adding that the store will also stock trail-oriented products such as handhelds, hydration packs, hats, gaiters and buffs. "Trail runners, specifically, are gearheads and the traditional running stores don't carry this broad of an assortment, which we hope gives us an edge in taking away the pain points and making trail running more accessible."
Though Flowers acknowledges the risk of opening a trail-focused running store these days and says he received some sideways looks from vendors when introducing Trailhead at The Running Event last year, he believes the DFW area can support a retail operation like Trailhead, especially if the store is successful at "building the community" the way it hopes and plans through runs, in-store programing and events.
"Trail running gives stores an opportunity to connect with people in a different way, even a more genuine way, because the sport is so amazingly inclusive, and we're certainly betting on that," Flowers says.
Trailhead's founding trio also anticipates the continued growth of trail running around the DFW Metroplex. When Flowers started running with his Tuesday night trail running group about three years ago, he says a good night would bring "a handful of runners." Now, the group is 20-30 strong every Tuesday night.
One local race director, meanwhile, has plans for 14 North Texas trail races on his 2023 calendar to further stimulate demand.
"People continue discovering what the DFW trails are like and that only increases our optimism for what Trailhead can become," Flowers says.