Jim Van Dine, director of the athletic and outdoor category at Birkenstock USA, joined the company in 2021 and is on a mission to establish and build Birkenstock's recovery footwear category in the run specialty channel. His involvement in running as an athlete and as an industry professional is extensive and spans more than four decades, making him particularly suited for this latest endeavor.
Van Dine started in run specialty 40 years ago and has since sold millions of pairs of shoes. However, he notes that the first couple thousand pairs that he sold one pair at a time to runners on the fitting stool informed his career as much or more than almost anything else.
His running career trajectory began when he was a high school history teacher and took time away to train for the Olympic Trials in the late 1970s. While training, he took a job at Starting Line Sports, a Mountain View, CA-based running store that was owned by Runner's World Magazine. From there he was hired by Reebok in 1983 –eventually becoming regional VP – and never went back to teaching. He then moved on to Deckers where he served as SVP–sales and marketing, overseeing brand development for Teva, Simple and Ugg. This experience helped him co-found footwear brands Keen and Ahnu, growing each from zero to multi-million-dollar revenue businesses in a short number of years. Van Dine has also held senior leadership roles at Vans and Hoka One One, and he founded Van Dine and Associates, a consultancy that has been involved in sales and marketing for a number of top global footwear brands.
Here, Van Dine sits down with Running Insight to discuss the run specialty market and how Birkenstock plans to lead the pack in the growing the recovery footwear category.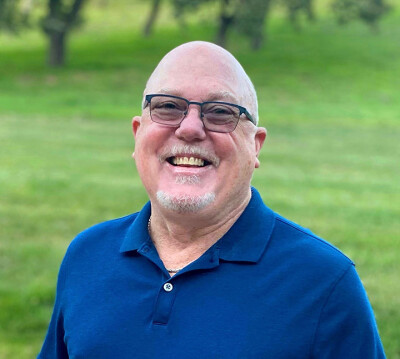 How would you characterize the run specialty market and recovery footwear's place within it?
I would characterize the run specialty market as being very healthy. Somewhat surprisingly to me, if you'd asked me 25 or 30 years ago, 'what's the future of run specialty,' I would've said its practically over and there's not much future left at all because of the cannibalization of all the athletic specialty stores, be it Foot Locker, Finish Line, Athlete's Foot, etc. They started to take over so much of the [running specialty] market. But then, with the continued evolution of the trade channels, athletic specialty, like everything else, started to consolidate, but also started to specialize in more fashion footwear as athletic footwear in general became ubiquitous in the '80s and '90s.
Casual footwear has only increased in the subsequent time, so those channels started to focus on the fashion aspect of the business, which since about the mid- to late-'80s has been much larger than the actual athlete market. Once [athletic specialty stores] started to focus more on fashion, runners had nowhere else to go except back to run specialty if they really wanted input. So run specialty got a rebirth and has flourished in the last 20 years, with no end in sight.
There's really not much competition for run specialty stores — if you go into sporting goods or athletic specialty stores, they don't offer the kind of assortment or service that you'd get from a run specialty. There's been a tremendous resurgence, so I'd say [run specialty] is quite healthy.
To a lot of people's surprise, the pandemic has done nothing but help most run specialty stores [such as] those that were able to figure it out quickly, such as offering curbside service and robust ecommerce offerings, and were agile and adept at change, which is the true benefit of being a small independent specialty store. I can't even tell you the number of run specialty people that I've talked to who said their best year ever was 2021. My overall view, I'm happy to report, is that the run specialty channel is very healthy and offers a significant runway for brands that are either emerging brands or, like Birkenstock, emerging categories.
Where does the recovery category fit into all of this?
Recovery footwear fits in perfectly with all of this. Recovery is a very important part of any training program or even casual jogging program. What I'm talking about, and a distinction that we will continue to make at Birkenstock, is the differentiation between recovery from injury and recovery from exercise. Recovery from exercise is very different — it allows you to prepare for your next exercise workout and to handle the same or increased loads of stress. It's why runners will very gradually build their miles up when they're training, because it allows them time for recovery.
Unfortunately, many people within running and run specialty – and consumers especially – think of recovery as recovery from injury, and that's a whole different thing. Most runners love to run and they don't want to have to stop due to injury, which makes recovery even more important.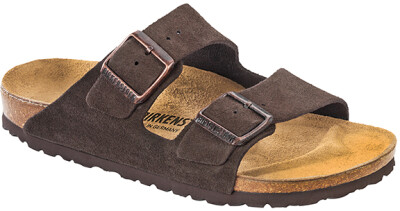 What is your brand's position in this?
This is where Birkenstock really comes in. Recovery isn't just recovery, it's 'pre-covery,' or preparing yourself for recovery and your next workout — we call it active recovery. If you have a running store, you're trying to provide the best service possible so that the runner can experience good results. So you want to provide them with best input and services possible. A big part of that is recovery. It's not just about the shoe that you wear for one hour a day— what about the other 15 or 16 waking hours? What are you wearing then?
Birkenstock offers a contrasting environment to [running shoes]. When you're running, you're looking for shock absorption and cushioning. But on the recovery side, Birkenstock is providing a contoured footbed, which is a different environment that helps recovery. Of course, there's no one solution that works for all runners. We happen to feel that some firm support for the foot is the best option for the most people. A radical change in environment from a soft squishy shoe to a firm footbed helps in re-stimulating proprioception in your feet to rebalance yourself and stand with a better posture, as well as providing a lot of other kinetic triggers.
What was the impetus behind the decision to expand Birkenstock into the run specialty channel?
It's a natural extension because it provides a benefit to runners. And that's been obvious to David Kahan [CEO, Birkenstock Americas], who's felt that way for years. However, you also have to recognize the tremendous success that Birkenstock has enjoyed based on a lot of things, not the least of which is David's firm belief and adherence in staying on the demand side of the supply and demand equation. Always underfeed the market, never overfeed it. He's been very gradual in expanding distribution over the last 10 years.
That has been further affected by the fact that for years, Birkenstock was family-owned and owned its own factories where 90-plus percent of the products were manufactured. There's worldwide demand for Birkenstock and the U.S. only gets allocated a certain amount, so every year David has been somewhat constrained by the amount of product he can have access to for the U.S., limited by manufacturing but also affected somewhat by his careful balancing of supply and demand.
And now the expansion into run specialty?
I've known David for many years and we've always talked on the sidelines about Birkenstock in running. But he didn't feel that we would have the ability to enter that channel in a significant way without compromising his existing commitment to his current retailers. He didn't have the capacity or the inventory to support it. Then, in February 2021, L Catterton [a private equity firm backed by Bernard Arnault's LVMH] purchased Birkenstock and committed a lot of investment toward the global growth of the brand, including funds to expand Birkenstock's factory base in Germany. This means there will be more ability to create more product, and more differentiated product. It now makes sense for us to enter the run specialty market.
Birkenstock is well known for its comfort, health and fashion footwear, and how does this translate into the recovery category for run specialty shops? Is it a hard sell or an easy sell?
Let's remember that Birkenstock started as an orthopedic brand. That's been the core of its DNA for over 200 years. We've become popular and have been introduced to many newer and younger consumers, but [our orthopedic roots] may be overlooked by these newer consumers that are buying Birkenstock footwear because it's cool, fashionable and comfortable, too. The notion of orthopedic benefit is lost when the purchase decision is made largely about fashion. The flip side of that is run specialty, where consumers place the most scrutiny.
How do you change that perception?
Educating consumers is one of our biggest challenges. We need to get them to understand that this is a performance product and could be regarded as equipment for your feet and as part of your exercise routine [recovery]. The great thing is that there are many retailers within the run specialty space who have said, 'Oh, thank God you're finally doing this — I've known this for years and I wear them myself, but I haven't been able to carry them in my store.' There is a group of retailers that have already self-discovered the benefits of our recovery footwear, and for us the challenge is to educate the balance.
Is Birkenstock developing footwear specifically for the run specialty/recovery market, or do existing products already fulfill those needs?
Our existing products certainly fulfill the needs. However, we do see the opportunity to develop further products that expand upon our offerings to benefit athletes and runners of all sorts. But that's a little bit down the line. We're just now expanding our factory base and that will not only expand our ability to make more shoes, it will also expand our ability to create more shoes and different types of product as well.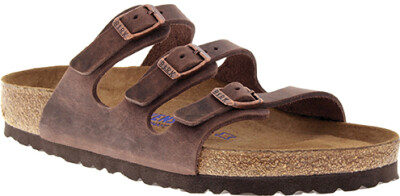 What types and styles of Birkenstock footwear are most suitable for running shops?
Fortunately, most of our sandals feature the cork footbed for which we're famous and virtually any of those products will work well. For our run specialty retailers, we're focusing on our core styles. We know that the run specialty market relies on fill-ins. Many retailers have small backrooms and they're big on inventory turn. Because of that, we need to ensure that we have product available for their fill-in needs, so we've isolated the top styles that we can commit to an inventory position to make sure that those retailers have the product when they need it. The assortment will be focused around easy on, easy off, post-run styles such as the Birkenstock Arizona, Florida and Franca.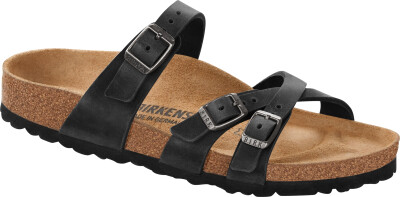 And how do price points fit into the equation?
Price is not much of an issue, but we do have three offerings between $100 and $140 that all offer our cork footbed and feature our Birkibuc synthetic upper. Our full-grain leathers and suedes are priced between $130 and $140. Many of our retailers are also picking up our EVA product, although we don't position that as part of our high-performance, active recovery footwear. It's more aquatic-friendly, casual footwear that still offers pretty good support for a softer EVA sandal, and they're not as soft as many of the other EVA type of products out there.
What are Birkenstock's growth projections for the run specialty channel, for 2022 as well as extending over the next three to five years?
The goals are pretty low —it's more about quality distribution. If we have that, the revenue will come. Down the line I think run specialty is going to be a very significant channel of revenue. By the end of 2021, we were active with about 55 run specialty retailers and we've probably added 20 to 25 in the past month. We're now up to 80 or 85 and they're coming in all the time and our goal for 2022 is to land somewhere between 150 and 200 new run specialty accounts. There are over 800 run specialty retailers in total, so that still puts us only in the top 20 or 25 percent of run specialty retailers and that's what we're looking to capture. The recovery category could be a significant contributor to Birkenstock's overall business in the next decade.
Are the pandemic and supply chain issues having any impact on Birkenstock's plans?
From what I hear, we're far less affected than many other brands. David, in particular for the U.S., specifically went out and front-loaded the pipeline as much as possible very early on in the pandemic and put us in very good position. All of our sandals are made in Germany in our own factories. Of course, the pandemic impacted the overall supply chain, but relative to what I've read about other brands, I'd say we're less affected than most.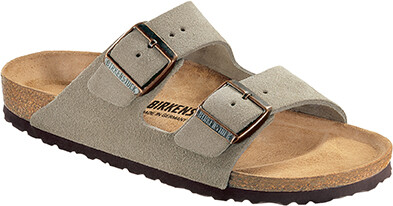 Are there any marketing initiatives in place or planned that target the run specialty channel?
When things finally normalize [regarding the pandemic], we'll be looking at participating in major marathon expos and other grassroots opportunities such as event sponsorships. We'll mostly focus on in-store education through POP, training videos, and collateral materials including printed collateral that we have for the stores. We'll also have some special events where it makes sense, and that will help us expose the brand to serious running consumers and strengthen partnerships with key retailers.
What is the biggest challenge for Birkenstock as it relates to the run specialty market?
Convincing sales associates that this is a viable, beneficial product to provide to consumers and that there should be no hesitation about offering Birkenstock in addition to running shoes. What we would like to see is that for every running shoe sold, a Birkenstock product is also brought out as part of the [consumer's] training program and part of the recovery. This is an obstacle that will be overcome fairly easily because it all comes back to the very real and self-evident benefits of the product.