In Roanoke, VA, a local running shop is playing a pivotal role in introducing kids to running while also building relationships between youth and law enforcement.
Born out of the pandemic and the social unrest following the 2020 death of George Floyd, the three-year-old Badge Buddies program is a collaboration between RunAbout Sports Roanoke, the city's police and sheriff's department and the West End Center for Youth, a nonprofit organization serving the needs of local youth.
"The beautiful thing about the Badge Buddies program is that both groups – the kids and the police – learn to see each other as people first," RunAbout Sports co-owner Ally Bowersock says.
It's an energizing, worthwhile accomplishment achieved through running.
Running as the reason
Over six weeks this past summer, 15 kids ages 8-12 gathered at the West End Center on Wednesday mornings, where they boarded a bus to the Roanoke River Greenway. There, volunteers, including representatives from RunAbout Sports, the Roanoke Police Department and the Roanoke Sherriff's Office, guided the participants through a workout, gradually increasing running time throughout the summer.
After Labor Day, the group reconvened and began another multi-week block of training to prepare for the Spooky Sprint 5K on October 28. The Spooky Sprint is an annual race supporting the West End Center and its programs.
"Before introducing Badge Buddies, no kids participated in the race that benefitted their center, but that's all changed with this program," says Bowersock, adding that Badge Buddies has spurred numerous kids to get involved in cross country and track at their local school.
Bowersock and retired Roanoke Police officer Monti Lee launched Badge Buddies after volunteering at another West End Center program called West End Walks. Those events included a two-mile roundtrip walk to a movie theater. Both Bowersock and Lee had been attending West End Walks and noticed a number of kids eager to move at a faster pace.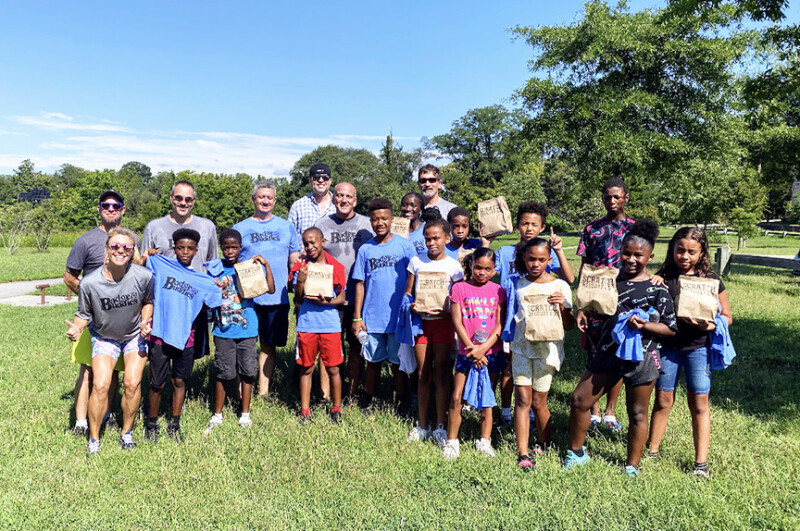 Building connections
Amid the pandemic's shuttered schools and dormant sports programs as well as tension between police and communities of color, Bowersock and Lee saw an opportunity to fill a much-needed community void. After examining youth-oriented running programs like Girls on the Run, they created their own age-appropriate program championing movement, personal growth and perception-changing relationships.
"Really, Badge Buddies is more about the community piece than the running," Bowersock admits. "It's so interesting that few of the kids even identify the adult volunteers encouraging them along each week as police officers. They get to know each other by name and build camaraderie with one another."
A West End Center board member, Bowersock relishes the personal nature of the Badge Buddies program and RunAbout Sports' role in the unique effort. Badge Buddies, she says, continues facilitating interaction between local youth and law enforcement, giving each a reason to move in tandem and broaden their respective worldviews.
"It's not some nebulous donation," Bowersock says on RunAbout Sports' involvement. "We're playing an active role in strengthening our community."