Stats and headlines over the last year have noted rising interest in health and fitness and, specifically, running. That's been an undeniable positive for the running marketplace, as it's spurred sales of running product and helped run specialty shops endure challenging economic times.
An increase in running participation leads many to believe that races – a central element in deepening individual relationships with the sport and further elevating the profile of run specialty shops – will enjoy a post-pandemic rebirth.
And it's up to run shops to be ready.
Races working to rebound
Throughout 2020 and even into the present day, racing has, by and large, struggled to find its pre-pandemic groove. Races have been cancelled or postponed – and sometimes postponed again. Even as U.S. vaccination rates rise and races across the country demonstrate it's possible to operate safe in-person events, many athletes still hesitate to participate in larger gatherings.
"From our perspective, things have been very slow to pick back up on the racing side," says Leone Rusher of Shu's Idaho Running Company in Boise. "We're still seeing races getting cancelled or going virtual."
At some of the nation's most notable races, the numbers are indeed sluggish.
Both the ASICS Falmouth Road Race in Massachusetts and HAP Crim 10-Mile race in Michigan, two notable non-marathon events in the U.S. accustomed to drawing 5,000-plus runners, reported about 50 percent fewer finishers than 2019. The Credit Union Cherry Blossom Ten Mile Run in Washington, D.C., similarly saw about half its typical number of finishers.
Still, there are bright spots: smaller races, particularly those of 500 or fewer participants, as well as trail races are faring better. Road Race Management reports the Bobby Doyle Summer Classic 5 Mile in Narragansett, RI, jumped from 304 finishers in 2019 to 512 finishers this past Aug. 8; in Mapleton, UT, meanwhile, the Hobble Creek Half Marathon climbed from 322 finishers in 2019 to 464 in 2021.
The running shop-race relationship
To be certain, races have long played an important role in driving customers into run specialty shops, feeding purchases, enlivening training groups and creating diverse revenue streams for businesses such as timing and coaching services. A lively race scene often helps fuel a healthy marketplace.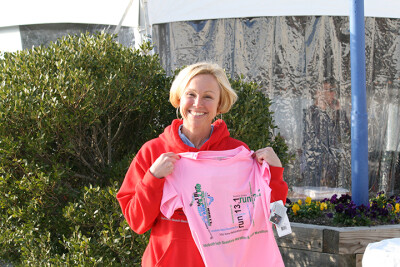 Mary Beth Evans, owner of the Rehoboth Beach Running Company in Delaware, is optimistic that the surge in running and fitness during the pandemic will translate into positive developments for races and running stores. Photo: Debbi Page
"Once some people started running, they seemed to enjoy it and want to do it more," Mary Beth Evans, owner of the Rehoboth Beach Running Company in Delaware. "That leads to getting good shoes and seeing improvement. Participating in races is the next logical step, which is good for running stores and the community."
At Peak Running, which has three outlets in suburban Chicago and another in Breckenridge, CO, owner Tiffany Cruickshank is trying to tap into this energy. Her team is currently assembling "comeback stories" in which people share their personal tales of how running helped them navigate the pandemic. Peak will soon begin sharing these stories on social media.
"Racing is a huge piece of this and a central focus of the comeback stories we are collecting," Cruickshank says. "It's a way for people to share their journey and have it end in something they're proud of."
While Cruickshank says runners might seem more focused on "enjoying the journey right now and exploring what they're capable of," she expects more and more will enter races to have that experience of running alongside others and crossing the finish line.
"Racing brings community and accomplishment," Cruickshank says. "There's a finish line for everyone and that generates such a sense of pride."
Retailers encouraged
While race participation numbers are largely – though not entirely – struggling to rebound, many run retailers remain optimistic, if not all-out bullish on racing's long-term potential. In time, many believe the pandemic's push to get people active or to re-evaluate personal priorities will stimulate race participation and compel visits to run shops.
In her quaint seaside community located about 120 miles south of Philadelphia, Evans notes already strong demand for live, in-person races.
"There's a fair amount of people around here ready for full back-to-normal races with after parties," Evans says. "Our summer 5Ks had 200-plus participants, which is a lot for our small area. Remember that a 5K can be a big-time accomplishment for a lot of people."
Cruickshank senses runners are ready to tackle new goals. She finds newer runners setting their sights on bucket-list items from the 5K to the marathon as well as seasoned athletes interested in tackling longer distances. Though race participation numbers might not be there just yet, she's encouraged and positioning her store to be an ally in individuals' efforts to chase new goals and reconnect with others.
"I really believe that people will flock to races as things open back up," Cruickshank says. "People are setting goals and like the community feel that races as well as training groups bring, so our goal is to be the place they can come for education and support as they pursue their adventures."