You can buy this company's apparel if you want — or not. That's because the company's name is, in fact, Ornot, and they take a decidedly offbeat approach to their product and marketing.
Founded and based in San Francisco since 2013, Ornot makes high-performance, technical cycling apparel and accessories designed to work well for the changing temperatures and micro climates in the Bay Area and its gear is designed for wearing on a bike, Ornot. In fact, it can also make a pretty good shirt to run in. But more on that later.
The brand's calling card is minimal branding. Its founder, Matt Quann, disliked big logos on all his race team kits so he wanted to make apparel with minimal branding (he's a graphic designer by trade). This was pretty novel back in 2013, but has gotten more popular since. The company's founding slogan was "You could be a rolling billboard, Ornot." That may just now morph into "You could be a running billboard, Ornot."
Most of its product – almost 70 percent – is made in the United States and the majority of that in in the San Francisco Bay Area (its UV trail shirts are sublimated, cut and sewn and in Los Angeles).
The brand is also hyper-focused on sustainability and almost every product it produces is made from recycled materials. They also do a lot with deadstock fabrics — fabric that was overproduced and instead of it ending up in a landfill they buy it and figure out what they can make with it. Ornot also lays claim as the first cycling apparel brand to be Climate Neutral Certified and the company is a member of 1% for the Planet.
But that's not the whole story. What makes Ornot an interesting cycling and accidental running brand is its unique approach to marketing.
"We don't take ourselves too seriously," explains Quann. "Lots of cycling and running apparel brands make it seem like you have to be riding or running to win Olympic gold every time you go out. While we create high-performance products, we are pretty playful."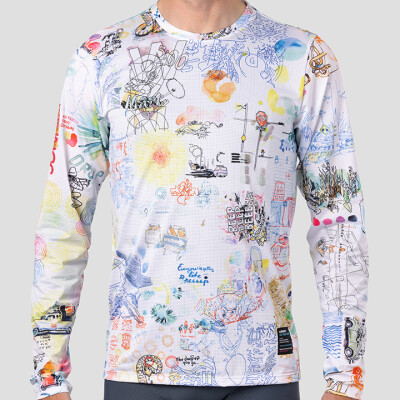 Hence the brand name, Ornot:
• You could train to death, Ornot.
• You could limit yourself to one cookie, Ornot.
• You could be a rolling billboard, Ornot.
As for the brand's new product – the McNally UV Trail Shirt – it was designed in collaboration with Chris McNally, an illustrator, designer and printmaker from Colorado, currently living and working in San Francisco. His watercolors and ink drawings take influence from urban culture and the natural world and his work mixes the textures and tactile qualities of analog, hand-rendered mediums with that of digital, providing a unique look.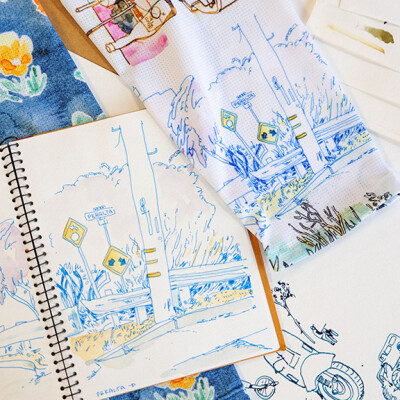 The new Sketchy design combines 10 year's worth of sketches and brings them to life, showcasing scenes from San Francisco, taco stops, airport doodles and maybe even a few misspellings.
In the second design, "Poison Poppies", Chris pays homage to California's most iconic plants - Poison Oak and Poppies - minus the pesky itchiness. Both shirts capture Chris's unique watercolor vibes.
"These shirts are perfect for anything, whether you're lounging on the beach, stuffing your face with tacos, running or riding bikes," says Quann. "Not only do they make you look super rad, but they also offer UPF 30 sun protection, are made right here in California and keep you cool and dry.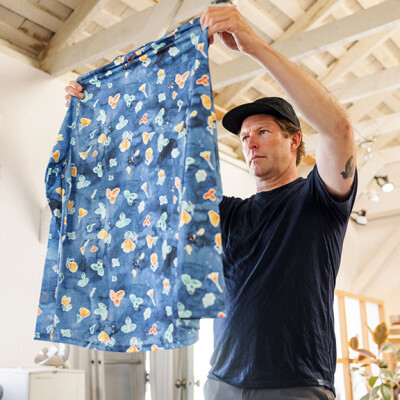 Among the other attributes that make this bicycling shirt also appropriate as a running shirt:

• Lightweight, breathable, technical shirt with UPF 30 sun protection.

• It is cut slightly on the large side to allow airflow across the skin, making it appropriate for hot days, and UPF 30.

• Bluesign-approved recycled fabric – 85 percent polyester/15 percent Lycra spandex.
· Paracord on the back of the neck for hang drying.
· Sewn by hand in California.