On Mother's Day, 2019, Alysia Montaño shared her pregnancy story in a New York Times op-ed, "Nike Told Me to Dream Crazy, Until I Wanted a Baby," that went viral. Days after the two-time world bronze medalist came forward, seven-time Olympic champion Allyson Felix published a similar op-ed. Both editorials highlighted the lack of sponsor support for female athletes choosing to become mothers during their athletic careers.
While Alysia and Allyson spoke from the perspective of professional athletes, the #DreamMaternity message of their stories hit close to home for women in all professions.
One year later, on Mother's Day 2020, Montaño founded &Mother. Felix was her first board member. Since then, the non-profit organization has worked tirelessly to break down the barriers that limit a woman's choice to pursue and thrive in both career and motherhood. Leveraging professional athletics as the test ground for their initiatives, &Mother is transitioning a movement to impact and enabling women to become the driving force to change a working world that has historically discriminated against, dismissed and undervalued motherhood.
So how are they doing that?
● By consulting with brands, organizations and athletes to help provide model contract language that includes provisions for pregnancy and parental leave.
● By partnering with race organizers and companies, including New York Road Runners and Salomon, to facilitate on-course lactation support at races, with a standard playbook and expert consulting.
● By offering Changemaker grants to professional athletes for childcare, directly supporting women who want to remain competitive after becoming a mother.
● By changing the narrative around motherhood through research and advocacy work in partnership with organizations, including Carleton University's Health and Wellness Equity Research Group.
The organization is young and growing and hopes to provide more grant opportunities in the coming year. They recognize the need to center the challenges faced by women of color at the heart of their work.
In 2021, the Centers for Disease Control and Prevention (CDC) published their report on maternal mortality rates in the United States. In the report, the CDC states:
In 2021, the maternal mortality rate for non-Hispanic Black (subsequently, Black) women was 69.9 deaths per 100,000 live births, 2.6 times the rate for non-Hispanic White (subsequently, White) women (26.2). Rates for Black women were significantly higher than rates for White and Hispanic women. The increases from 2020 to 2021 for all race and Hispanic-origin groups were significant.
Montaño understands these statistics from personal experience.
"As a Black woman, I knew going into each of my three pregnancies that I was at a higher risk of complications and death. I knew it, even though it didn't make sense," Montaño says. "I'm a professional athlete, I am completely in tune with my body and all its inner workings, but that doesn't matter. The structural racism built into our country's healthcare system doesn't care if you've set a world record or won multiple championships. If you are a Black woman, the odds are against you."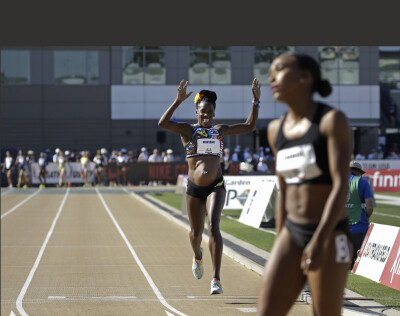 This year, Montaño plans to launch &Mother's Black Maternal Health Grant. Offered to any BIPOC athlete, at any level of competition (novice to professional), the grant will help offset the out-of-pocket costs known to improve patient outcomes in the prenatal and postpartum period, such as using a midwife and/or doula; lactation consultant; therapist; pelvic floor specialist, and/or items such as breast pumps or jogging strollers.
"The system is not set up to support birthing people, and that is even more true for women of color," Montaño explains. "There are things we can do now, in addition to working for long-term policy change, that will help women survive and thrive as they become mothers."
As &Mother expands their partnerships with race organizers and brands, they welcome all interested parties to reach out to them about ways to build more supportive infrastructure for female-bodied athletes who become mothers.
&Mother is a 501(c)(3) nonprofit organization dedicated to breaking the barriers that limit a woman's choice to pursue and thrive in both career and motherhood. If you are interested in learning more about partnership opportunities with &Mother, including sponsoring one of their grant programs, please visit https://andmother.org/ or email [email protected] to learn more.