For almost half of Americans, running is a way to exercise, reenergize, or even de-stress, so Arris, a composite manufacturing technology company headquartered in Berkeley, CA, recently took the time to analyze several factors to discover the best cities for running in America for 2023. The winner: San Francisco. Coming in at the bottom of the list: Memphis, TN.
It is San Francisco's good air quality, access to parks, and low pedestrian fatality rate that all contributed to its number one ranking.

Coming in second is Boston, followed by Mesa, San Diego, and Denver. California is home to the most running cities with three Golden State cities ranking in the top 10 (San Francisco, San Diego, and San Jose).
In addition to Memphis' low ranking, the bottom of the list includes Louisville, KY, in second. Jacksonville, FL, and Indianapolis, IN, tied for the third least-friendly running city in the U.S.
In order to find the best-running cities in the U.S., Arris analyzed cities with a population of more than 500,000. They then conducted a weighted ranking using the following factors: pedestrian fatality rates, average air quality index, percent of residents living within a 10-minute walk of a park, and average annual rainfall.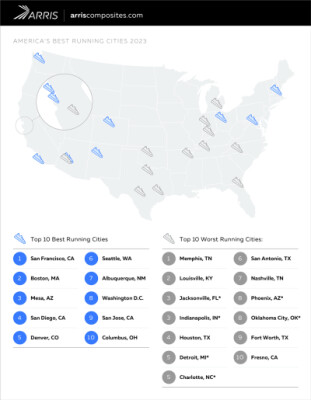 San Francisco earned a top score with 100 percent of the population living within a 10-minute walk of a park. Several other West Coast cities also made the top 10, including Mesa, San Diego, Denver, Seattle and Albuquerque. While many of the best-running cities are located in the West, several other cities in the Midwest and East Coast made the top 15, including Boston, Washington D.C., Columbus, Ohio, Baltimore, New York City, Milwaukee, Chicago, and Philadelphia.
As for the least runner-friendly cities, Texas is home to three of the top 10. Memphis' high pedestrian fatality rate and low percentage of residents living close to a park contributed to the city earning the title of worst-running city in the U.S.
What Motivates Americans to Run?
The survey also sought to understand the top reasons Americans run and found out it is primarily to improve cardiovascular fitness, because it's inexpensive, to strengthen muscles, de-stress and maintain weight. One in three Americans like to run in parks, 27 percent prefer neighborhoods, 17 percent like running on treadmills, and 12 percent prefer running on paths.
Many runners say they'll brave the elements in order to run outside: One in three will run even if it's raining, and one in five will run if it's snowing. The ideal outdoor temperature among runners is 63 degrees. While 46 percent of runners prefer exercising outside, nearly half (48 percent) worry about their safety while running outside.
As far as running habits go, the survey found that in an average week, 38 percent of runners in America run 0-3 miles, 29 percent run 4-6 miles, seven percent clock 7-9 miles, and 26 percent run more than 10 miles. Nearly three-in-four of runners track the length and time of their workouts. While some people find strength in numbers, 82 percent of Americans prefer to run alone.
When it comes to equipment, 92 percent believe quality running shoes make a difference in performance. Twenty-eight percent track how many miles they run in their shoes. Despite this, 37 percent only replace their running shoes once they start to feel less supportive. A quarter of Americans currently own a treadmill, and 1 in 10 plan to buy one this year.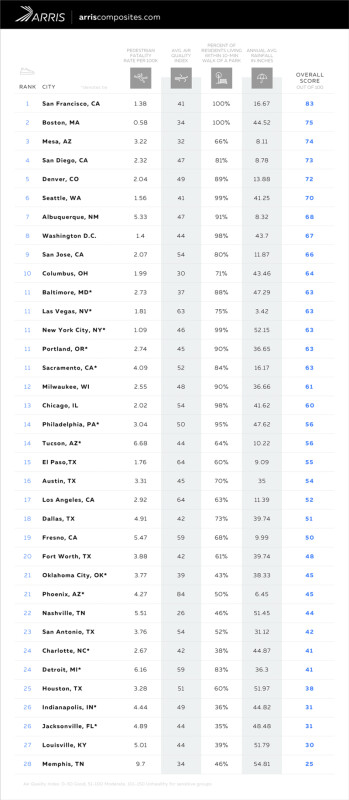 For more: https://arriscomposites.com/americas-10-best-cities-for-runners-in-2023/