The Elevator Pitch: Aetrex launched two foot scanners this past year that capture 3D measurements and utilize AI fit technology software to help customers find the right fitting footwear and orthotics on the first try. The scanners are highly accurate, quick, easy to use and integrate footwear and orthotic recommendations, making manual tools such as the Brannock device a way of the past.
The Albert 2 Pro: This is Aetrex's ultimate all-in-one foot scanning solution that allows retailers a quick, 20-second, two-feet-at-once scanning process. The Albert 2 Pro captures comprehensive 3D measurements from a customer's feet such as length, width, girth and in-step height, with accuracy up to one mm. The scanner also collects pressure data underfoot from static and dynamic pressure tests, indicating where the customer would be prone to discomfort or pain. The software recommends Aetrex Orthotics as part of the scanning process. It also features Aetrex's AI footwear recommendation platform called FitGenius, which matches customers' foot profiles with their ideal footwear styles and sizes, offering footwear recommendations that can be accessed across a retailer's digital shopping platforms after leaving the store.
The Albert 3Dfit: Just announced to the trade in June, this scanner was created to make 3D Fit technology affordable to stores of all sizes. The Albert 3DFit scanner can calculate customers' 3D foot measurements in less than 10 seconds and features Aetrex's FitGenius AI platform.
The Retailer Advantage: "Today's shoppers are challenged with finding the right fit when there are so many options available to them that vary by brand, style and size," points out Aetrex CEO Larry Schwartz. "And with consumers buying more frequently online, footwear and apparel return rates are at an all-time high." Indeed, nearly half of U.S. shoppers are buying multiple sizes of a product online with the intention of returning some of them. The Albert 2 Pro foot scanner can help solve the retail challenge of high-volume returns by helping customers find the right fitting footwear and orthotics on the first try, no matter where they shop. "Retailers also benefit from smarter inventory planning, an increase in customer service, satisfaction and loyalty," he adds.
The Consumer Benefit: The Albert 2 Pro takes the guessing game out of the equation so customers can shop for footwear and orthotics more confidently and efficiently knowing they will find the right fit on the first try, Schwartz points out. The system provides orthotic recommendations as part of the scanning process, making it easy to find the right support for their unique feet and needs. Plus, FitGenius provides the customer's unique footwear recommendations across all channels – retail, website, email and social media channels –making it easy to find the right fit no matter where they shop.
The COVID-19 Impact: "During the pandemic with gyms temporarily closed, more people took to the outdoors to walk, run, or hike and even now, more than a year later, with gyms open or re-opening, people are still enjoying activities like running and walking, whether outside or indoors," Schwartz points out, adding that with an increase in both the running category and online shopping retailers can benefit from tools that are more efficient in helping their customers find the right fitting products. "The Albert 2 Pro foot scanner will help specialty run retailers assist their customers in finding the right fitting orthotics and footwear, faster and easier no matter where they shop," he says.
What's Next: In 2017 Aetrex acquired SOLS Systems, a pioneer of 3D modeling and imaging software, the first-ever available on a Smartphone. "We have the software and patents for this technology and have good mobile technology since acquiring SOLS, and we have an accurate sizing app available now," according to Schwartz. Aetrex will be adding applications to the app that will tie in with its FitGenius AI platform available in the second half of 2021.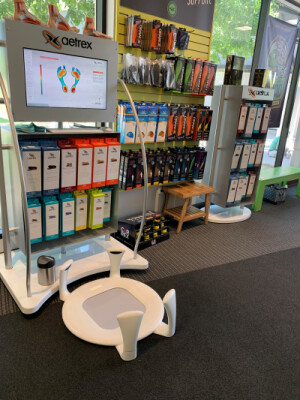 AN AETREX CASE HISTORY
Tortoise and Hare uses scanning as a vital fitting tool
Tortoise and Hare has been using Aetrex Technology foot scanners for several years. Since Aetrex's first generation of the Albert foot scanner, Tortoise and Hare has been incorporating foot scanning technology into their fitting process in-store. Today they scan every customer who comes through the door with Aetrex's Albert 2 Pro to get them into the correct footwear size and style and to find the right orthotics for their unique feet.
The retailer has experienced success with the foot scanning program. Tortoise and Hare sees scanning every customer as a vital element to their philosophy.
"It's a non-negotiable part of our fitting process," says GM Christine Pederson. "With the Albert 2 Pro technology, we can see things you normally wouldn't be able to see and show the customer specifically what's going on" regarding their orthopedic needs.
"We feel the technology provides an authentic level of service that our customer can't do without," she adds
The Albert 2 Pro scanner has improved Tortoise and Hare's customer service by helping store associates better understand their customers' needs. And, the increased speed and ease of use of the device is welcomed by the entire staff, making it easier to convert customers. As a result, Tortoise and Hare has generated a substantial amount of orthotic sales, including Aetrex's 3D Printed Custom Orthotics.
The retailer also benefits from the scanner's ability to process QR code information that allows customers to receive a "take home" snapshot of their individual foot scan to share with their friends, family or even a medical professional.
The scanner also collects customer email addresses and provides Tortoise and Hare with customer data to help the retailer monitor and direct message their customers based on their unique needs.