Please take us back to the beginning. People want to know what shaped Jeff Gray's future passion for making feet comfortable.
I grew up in San Rafael, CA, and as a young kid I was a bus ride away from some of the nation's most well-known ski resorts. My parents owned and operated one of the areas' largest ski clubs bussing kids to and from the Alpine Meadows, Lake Tahoe mountains on weekends. At a young age I joined the Alpine Meadows and later the Squaw Valley race teams and I just became obsessed with the sport. By high school I had season passes at both Alpine Meadows and Squaw Valley.
Sounds like you liked the snow.
Well, the day after graduation I moved all of my belongings to Truckee, CA, and was dreaming about my next powder day. I was certain of one thing: I wanted to work in the ski industry.

Where did that take you in the early days?
My passion led me to working for ski shops fitting boots. I helped start a custom ski boot fitting shop called Footloose in Mammoth Lakes — a small ski and boot shop with a big vision. The owners of Footloose were working closely with a startup company that would soon be called Superfeet. They believed ski boots didn't have to hurt.
How did that fit in with the ski business?
By upgrading the fit of people's ski boots, we could change someone's experience on the hill. A more comfortable boot meant that everyone from beginners to experts would be more likely to enjoy their day skiing. In a way, I was doing exactly what I wanted, sharing my passion for skiing with others, pain free.
What were you doing 43 years ago when Superfeet first took shape?
During my time at Footloose, I worked alongside original Superfeet founders Dennis Brown, Chris Smith and Sven Coomer to develop and test the shape, fit and function of Superfeet products. Dennis Brown, of Northwest Podiatric Lab, a custom orthotics lab in Washington state, knew that a ski boot was the hardest piece of footwear to fit. They started to consult for ski boot companies who were looking for an orthotic they could put in their boot. Dennis pointed out before they could put an orthotic in the boot, they first needed to be able to change the shape of the shell that went around the foot.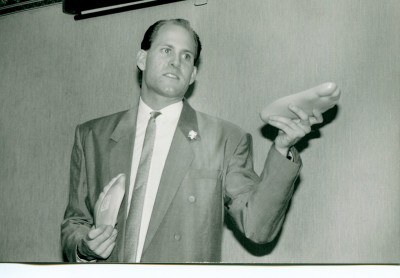 Did that lead to Superfeet's first product?
Yes, the first product that Superfeet designed and produced was a hydraulic ski boot stretcher, still used in ski shops around the world today. After the stretcher was complete the team went to work on the KORK Skithotic, our first custom orthotic.
Was that the business plan all along?
The business plan was to offer state-of-the-art, biomechanically correct insoles and custom ski boot fitting at the consumer level. Not a corrective orthotic, but a personalized accommodative orthotic that would offer performance comfort and unparalleled satisfaction. No sacrifices will be made for quality — it simply had to be the best.
And what was the plan for selling it to the ski industry?
At the time we wanted to show the ski industry that they could offer the same ski boot fitting that was done at the World Cup and Olympic levels. We started with the philosophy that people deserve better. From beginners to elite athletes we just wanted to make people more comfortable so they could do more of what they love. This effort to make a positive difference in people's lives is what Superfeet is about to this day.
Did the business plan change much in those early days?
This plan did not change as much as I would say it expanded. From ski boots to running shoes our goal was always to provide people with the best possible fit so they could live more comfortable, pain-free lives,
In the early '80s we started the development of a trim-to-fit program to complement our custom program. In the '90's we shifted the business from custom orthotics to trim-to-fit Superfeet.
How did this expansion into other markets go initially?
At first the idea to sell a biomechanically correct trim-to-fit insole to the sports and recreation market was met with some resistance. We had die-hard believers in our custom product and some thought the addition of a trim-to-fit program would kill the company. It was a risk we were willing to take. We knew a trim-to-fit line would offer a cheaper price point and easier access to the perfect fit.
And it worked?
In the mid-to-late 1990s, with the custom and trim-to-fit programs in the market, Superfeet experienced consistent growth for the first time. Everything started to work together.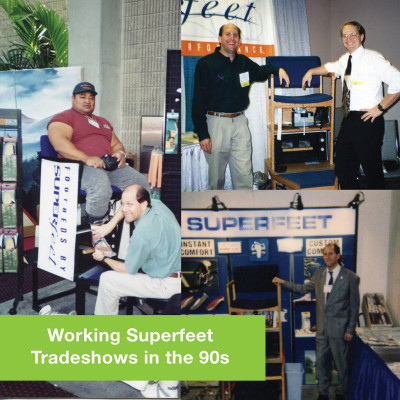 How about your role in all of this?
When Superfeet shifted its primary focus from custom to trim-to-fit, I also shifted roles a bit by taking over our education and training programs. I had been behind the scenes from the start, so I was the perfect candidate for educating people about biomechanics and the benefits of the products.
Did you consider yourself an entrepreneur at the time, or just a guy with an idea trying to make some money and spread the word about feet?
I considered myself fortunate to work under some of the best people in the field. Dennis Brown, founder of Northwest Podiatric Laboratory and Superfeet, Chris Smith, Prof. emeritus of podiatric biomechanics at California College of podiatric medicine and Sven Coomer, an unmatched designer and inventor in the ski industry. I hoped that if I worked under these individuals maybe some of their life teachings would rub off on me.
How did all of you work together on this?
What all four of us had in common was a passion for helping people live pain-free lives. It really was never about the money. In these early days, profits were scarce, only my expenses were covered sometimes. I basically worked two jobs at the same time — Superfeet and Footloose, with the Footloose work paying the bills. I had a lot of faith in Superfeet, I really believed that this sacrifice would one day lead to a bigger opportunity.
Can you take us through some of the important moments for Superfeet?
We had a number of big successes. First, the boot stretching tools that we provided changed the way that ski boots, hockey skates and hiking boots were fit. Our first product, the SuperFit boot stretcher revolutionized how those footwear products fit and performed. The Skithotic and Skatethotic changed ski boot fitting and hockey skate fitting forever. It allowed retail employees to bring unparalleled comfort and performance to skiers, snowboarders, hockey, and figure skaters. These first custom products helped us lay a foundation of expertise in the sport and active lifestyle industries. Because of our in-depth knowledge of biomechanics and footwear fit we were able to make a product that worked really well. Confidence in our sales reps and retailers had in our custom line serves us well as we expanded to over-the-counter insoles.
And then came the trim-to-fit breakthrough?
The trim-to-fit premium insole program followed the custom program, providing over-the-counter trim-to-fit products designed to work in all footwear applications. Once we established a firm foothold in the ski industry and the hockey industry our next move was the outdoor industry. I was fortunate enough to write the very first order with REI and we grew from there in the hiking industry.
And then came running.
Next, we tackled the running industry. I was fortunate enough to collaborate with Fleet Feet as we helped create their original fit philosophy. That is a partnership that I have had the pleasure of watching grow throughout my time in the industry.
Any things that went wrong along the way?
Yes of course, we certainly had some failures along the way. We tried to source thermal cork here in the U.S. and after many years of working hard to create a quality product we ended up going back to working with our supplier out of Germany. Not that the U.S. cork product failed, it just could not meet our standard of quality.
Any others?
We always tried to align ourselves with companies of similar core values. There were a number of partners that did not align with our core values, we realized this and parted ways. Looking back, the one thing we always did right was learn from our mistakes. No matter how small. If something didn't work, we took our lesson and moved on. That is an important lesson to learn in business.
Were runners always part of the plan?
From the very beginning, when we created the trim-to-fit product the running market was on our radar. Along the way it was very important that we did not spread ourselves too thin. We would pick a market, create the fit process and marketing for that particular market and then we moved on to the next opportunity
So how did Superfeet get into the run business?
We approached the run market like we did all of the others. We just wanted to provide a solution that would allow people to run more comfortable, pain free miles. Although the market was on our radar, we really began our focus on it around 2000. The running market gave us another opportunity to change how fit was perceived at the consumer and store owner level. We took our years of experience in fitting ski boots and crafting custom orthotics and applied our knowledge to the run marketing.
How did that process go?
We knew that footwear fit and feel could make or break a runner's experience. We started by taking a number of our existing trim-to-fit products and offered different components within those products to accommodate the needs of the running market. One of those adaptions was offering a specific woman's product and offering products with different forefoot accommodations.
It turned out to be a success story for Superfeet?
Today, the run market is among Superfeet's largest. Creating the evolution of the fit process in the run category has been one of the highlights of my career. In the beginning I had no idea where it would lead to, creating a fit and education program that would become a highly respected cornerstone of Superfeet's success and a lifelong career of helping people live more comfortable, pain free lives.
So how has the run specialty business changed in your 43 years with Superfeet and has that change been for the better or worse?
Not only has specialty running changed on how they fit footwear, but all categories have also changed. You look at run specialty specifically and it started out with just checking where the big toe was, or the longest toe and how the shoe is laced. Then it moved to in-store treadmills and biomechanics and now it is moving into pressure mapping and 3D printing of personalized products.
What was Superfeet's role in all of this?
What Superfeet did was create a category within all footwear businesses. — an insole category. I can remember the days when a consumer did not know what the foot orthotic was — now they come into stores looking for them, often possibly because their doctor, coach or friend recommended it. I am proud to say that Superfeet is the number one prescribed over-the-counter orthotic for the medical profession, something that I did not even think possible in the early days. We were just trying to make the feet perform more efficiently with reduced injury and greater comfort. We weren't sure where that would lead us but it led us down the right path with stable feet.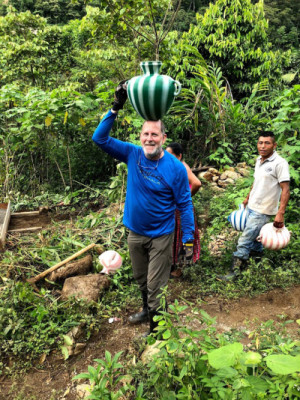 You have done a lot of philanthropic work in addition to what you do at Superfeet. What is your motivation for that effort and what does it all mean to you?
My motivation comes from my early days of helping develop Superfeet as a company and brand. Initially I got to work at Northwest Podiatric, our sister company and custom orthotic lab. I was on the production line creating corrective orthotics from casts that the doctors sent to the lab. I can remember Dennis, our founder, telling me one day "It's not about money! It's about the patient! If you don't take the patient's pain away, if you don't make the patient better, You Have Not Done Your Job!" I realized that in the back of my head, however it was never spoken to me by another individual in that manner. To this day, I have never forgotten him saying that. My goal early on was to always improve the quality of the lives I come in contact with.
Any examples that you recall?
Thinking back to my days working in a ski shop, I had spent several hours working on this customer's boots. After the weekend, the customer came back and told me that after 18 years of skiing, this was the first time his feet did not go to sleep. He did not have to deal with trying to adjust the buckles to solve the fit problem and for once he didn't end the day early due to foot pain. I never forgot that experience of giving someone their best day ever. This is what drives my philanthropy of giving back and realizing the small things can have the biggest impact on anyone's life. Sometimes just showing up to help with whatever is needed is what counts.
Can you name some people who were important to you along the way?
If I named them all the list would be to long to publish! I guess first my parents, Suzanne and Ernest Gray, for teaching me the importance of core values at a young age, for introducing me to skiing and for raising me with a passion for all things outdoors. Challenged with learning disabilities and athletic coordination, my parents supported me with a never give up attitude. And, of course, my wife of 31 years, Rita. Thank you Rita.
And …
Sven Coomer a mentor and ski boot designer extraordinaire. Randy Curran Superfeet, VP–marketing was a mentor with an amazing talent for helping people and getting them in the right seat on the bus. Scott Dohner, Superfeet CEO was also a mentor who taught me and everybody at Superfeet that we could do business differently.
We have room for a few more.
There is a group of people that don't always get the credit they deserve, so I would like to thank the entire Superfeet sales force over the years. The sales reps that spend their lives on the road away from their families making Superfeet happen. It was once said that "nothing happens till somebody sells something!" Superfeet would not be where it is today without the sacrifices and the efforts of the entire team. The people who are most important to me is the entire Superfeet family. The entire team at the corporate headquarters and production facility, to our worldwide employees on the road every day trying to improve the quality of people's lives with a simple insole. I am grateful to have spent the last 43 years in the company of excellent people, who have always put their best foot forward.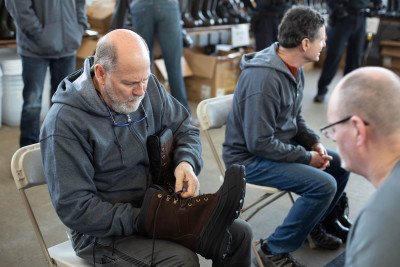 So, what does Jeff Gray, C. Ped, do once he is retired? Golf, fish, ski, more philanthropy, sleep late?
I have never been one to sleep late. However, I might sleep in if I am exhausted from making more powder turns than usual. I will definitely continue my philanthropy efforts. I will continue my work with a local wound care clinic treating patients with foot injuries. I look forward to my involvement with "Hearts to Soles" making sure homeless people across the nation have adequate footwear and insoles. The way I see it, if you sit down too long, you rust — at least you do here in the Northwest. I'm not ready to rust quite yet. I am looking forward to the new opportunities that come my way.
Sounds like quite a journey as you hang up your Brannock device.
I have been able to have this amazing journey with Superfeet because of the incredible support of the people around me. That includes all the remarkable retailers, manufacturers and industry colleagues that supported me through the many years. The running industry has a bright future. It continues to lead with innovation in product materials, designs, product integration, and performance. All of this provides support at the retail level allowing consumers to reach their goals more efficiently and pain free. I will be keeping a close watch to see where the industry goes from here.
That's it?
Well, one more thing. Thank you to Running Insight for providing content that allows us to continue to improve on our impact in the running community and in life in general.
Thank you. Any parting thoughts?
I will leave you with these final words: Run fast and take lots of chances!
Ed. note: Jeff Gray can still be reached at: [email protected]