After originally running for the Whirlaway racing team and being coached by Dave Kazanjian, the owner of Whirlaway Sports, Maggi Murray has worked at Whirlaway Sports for the past 21 years — her previous experience in retail and her love of running made this job a perfect fit.
She started as a sales associate on the floor and "with an abundance of perseverance and hard work" she became a manager, eventually a buyer and GM. In addition, having coached track and cross-country at a local high school for 17 years made it seamless for her to work with local colleges and on team sales. "I am very fortunate to be someone who wakes up each day – okay, most days – looking forward to my workday," she says. "I'm still enjoying it after all these years."
How have the past 18 months been for you personally?
The last year has been a challenge, to say the least. Personally, I try to focus on getting through one day at a time. Admittedly I am somewhat of a news junkie, so I must restrict myself at times so that I don't become overwhelmed by everything that is going on in the world.
How do you deal with it all?
Working out and going to work each day help to ground me. I also have a wonderful husband and two grown children, and a yellow lab named Tucker, for whom I am truly grateful. They are my world!
How about professionally?
My job has been altered by the pandemic. I work the floor now more than previously, which gives me the opportunity to enjoy working alongside our awesome staff. They have been amazing in adapting to all the changes in the last year. And the owner now buys with me.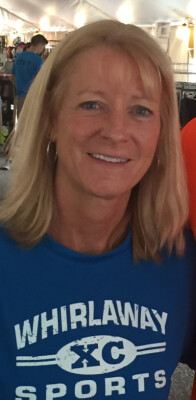 How's that working out?
It was a huge adjustment, having been used to doing things my own way. Despite our differences and head butting, I believe we are better and stronger as a result. I can honestly say I have learned a great deal about buying and running a business from Dave in the last year-plus. He can still impress me with his incredible capacity to work and get things accomplished.
So what is your typical day like?
My typical day starts between 5:00 and 5:30 am. I start my day working out, which makes me feel energetic and inspired from the get-go. I get to work between 8:00 and 8:30, the quiet time at work before opening help me prepare and get organized. The shop opens at 10:00 and closes at 5:00.
What fills up your work day?
As I previously mentioned, I work the floor when needed. Most days I collaborate with the owner — writing orders, revisions, restocking inventory, team sales, invoicing, among other administrative tasks.
How about after work?
When I go home at the end of the day I walk Tucker, have dinner with my husband and daughter, and usually watch Netflix or read. I am a creature of habit, so this familiar routine works well for me. Retail work is ever-evolving and having a daily routine helps me get through some of the fast-paced multi-tasking days.
Here's a question that gets various responses: Do you view yourself as a woman in the run specialty business or simply a professional in the run specialty business?
It depends on the day. Having been in the business for so long, I would say I originally viewed myself as a woman in the run specialty business. However, I now find myself not focusing on the woman aspect as much and more on being a professional in the business.
Many people feel that run specialty is actually more equal in gender participation than many other businesses. Just look around The Running Event (when we have it again back in Austin in a few weeks!) and see how many women are walking the aisles and working in the booths. Do you agree with this? If so, why do you think that is?
Yes, I agree. You are right there are far more women at TRE than ever before — women owners, buyers, managers, etc. I believe that women are now taught at a young age that they can be whatever they want to be and excel in any career they choose. As a young runner I was often just a JV runner on the boys' team, but the times are changing and for most young women today that is no longer the case. Whether it be through athletics, or any other activities young women may choose to participate in, they have more opportunities to strive to become their best selves regardless of gender.
What makes your local running community unique?
Again, having been a competitive local runner and a coach, I really love and identify with the local running community. Runners have an incredible standard of work ethic and accountability and I am truly privileged to be a part of that community. The running world can be a small world.
How does that translate to your success at Whirlaway?
At work I can often engage with other runners I competed with in high school as well as members of the Whirlaway racing team. It's awesome to see kids I had coached in high school working their way through college and life while maintaining their connection to running. The coaches in our community are a selfless and a rare breed, they are amazing individuals who go above and beyond when it comes to mentoring young athletes and growing the sport. We as a community owe a lot to them for all they do.
What do you think you bring to your business with a woman's perspective as compared to your male colleagues?
As a woman, I can connect more to women customers. With a women's perspective my female colleagues and I know what women want to see in the store, as well being sensitive to their needs. Also, as woman, it is easier to speak with and advise women customers on training, consistency and over all well-being.
Do you think having a woman running the business has helped your store reach more female customers?
By working closely with Adriana, our apparel buyer, I feel that through our collaboration we have reached more female customers. As a team we can communicate with more female customers and make them feel that this is their store. We can give them a truly personalized experience because we truly care.
What advice would you give to other run specialty retailers about reaching out and merchandising to female runners?
I would advise them to do special events for women. Our Ladies' Nights have been a huge success — hopefully we can do them again soon. Also, it is important to reach out to women's running clubs. Moms have a huge influence on where the family shops, so always be good to moms.
Finally, give women an ample number of choices in your store and have a unique selection of apparel.
Also, what advice would you give to any young (or older) women considering following a similar career path in the run business?
Any person considering working in this industry should realize the importance of your staff. Surround yourself with competent and hard-working individuals who have the same work ethic and priorities as you have. Once you have that staff it is important to trust them and have confidence in their abilities. Never take them for granted.
Sound advice. Anything else?
You will also need to learn to be very patient, because retail can be very taxing, and you need to be able to adapt to unexpected situations quickly.
The best advice I could give would be to enjoy the process and don't just look at the outcome.
Finally, what are you expecting for you and your store going into 2022?
Honestly, I'm not sure what to expect for 2022, given the current the supply chain issues and ongoing world issues. Having said that, I would like to continue expanding my knowledge in business and to become an even stronger and more confident manager. I hope that we can continue to grow our business and continue to be an irreplaceable asset to our community. We would all love to reinstate our store events Spike Nights, Captain's Night, Ladies' Nights, maybe even our annual tent sale.
What is it going to take to achieve that?
All of us at Whirlaway need to continue to work hard and strive to give the ultimate in customer service. If we continue to have unified goals and aspirations, we are sure to have a successful and fun 2022.