Kiera Smalls was born and raised in Philadelphia and she is passionate about connecting resources to the people who need them most. She has done this work in industries ranging from technology and entrepreneurship to health and fitness and, in the running space, is the co-founder of Strides (formerly City Fit Girls), a running and fitness community for everyone, and now as the first executive director of the Running Industry Diversity Coalition (RIDC). "RIDC envisions a running industry committed to racial justice where Black, Indigenous and people of color are welcomed, valued and amplified," Smalls says simply.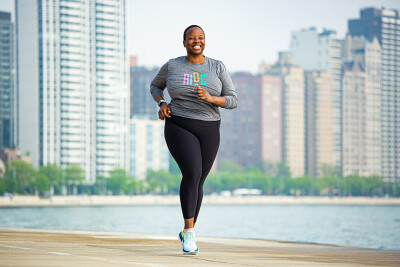 Tell us a little bit about your road to where you are today?
As part of the launch team for Philadelphia's successful equitable bike-share program, I was responsible for leading the marketing efforts. We began by building trust with communities that were underrepresented in the cycling industry. Eventually, this led to community buy-in to build bike stations, allowed us to reach more diverse candidates for job openings and built a membership that reflected the city's diversity. This was huge for a mostly white and male-dominated industry like cycling.
And what next?
In 2018 I was hired as the executive director of Philly Startup Leaders (PSL), an organization helping grow early-stage startups. My work included rebranding the organization, launching pilot programs to reach overlooked founders and facilitating hard conversations and accountability with investors, top CEOs, and other key stakeholders.
How did this relate to your current position at RIDC?
This work resulted in us rebuilding trust in the startup community from a DEI perspective, launching idea-stage accelerators to get more Black and brown entrepreneurs to the start line of building a business, and creating an unconventional grant fund for entrepreneurs who didn't have access to family and friends that could help fund their business idea. This was also huge for a mostly white and male-dominated industry like tech. The running industry can work together to make these sorts of milestones, too.
So what is your "typical" day like these days?
The day starts at 5 a.m. during the weekday to meditate, move my body, journal and read. Then I revisit my weekly goals and note any progress, changes or things to consider. Finally, I pack a bag and head to my co-working space or Uncle Bobby's bookstore to work.
What's your focus on the work side?
At work, I'm asking to meet with as many people as possible to continue learning the running industry, connecting with current and future donors, reviewing the DEI work of partners and making progress on one of the several projects we have going on, including a website redesign, a new membership model and trail and road research projects. I may go for a run in the middle of the day or after work.
How do you wind down after all of that?
In the evening, I spend time with family and friends, call and exchange jokes with my 92-year-old grandmother and process any wins or challenges from the day. Finally, I ask myself, "Did I lead with empathy today?"
Are you a serious runner?
Running has been part of my life for close to 10 years. I've done a handful of 5Ks, 10Ks, half-marathons, one marathon and one sprint triathlon.
What's your running routine like?
I run about three days a week – I run more if I'm training for a race and I aim for three to five races a year. The Charm City Run's Baltimore Women's Classic 5K and Philadelphia Runner's Philly 10K are my next races.
What is your favorite part of your job?
I used to dream about doing this work full-time. I tried to fit initiatives like the ones RIDC does into my previous roles. Now, it's what I get to do every day without question.
What is your focus at RIDC?
I work with – and learn from – a very engaged Board of Directors that cares deeply about this work, industry and organization's success. I also help staff at retailers, clubs, events and brands progress their knowledge and efforts in this area.
Has your message been received?
Some conversations are hard, but every conversation is worth it. I'm constantly shown that many people in this industry want to do more and do better to advance racial justice.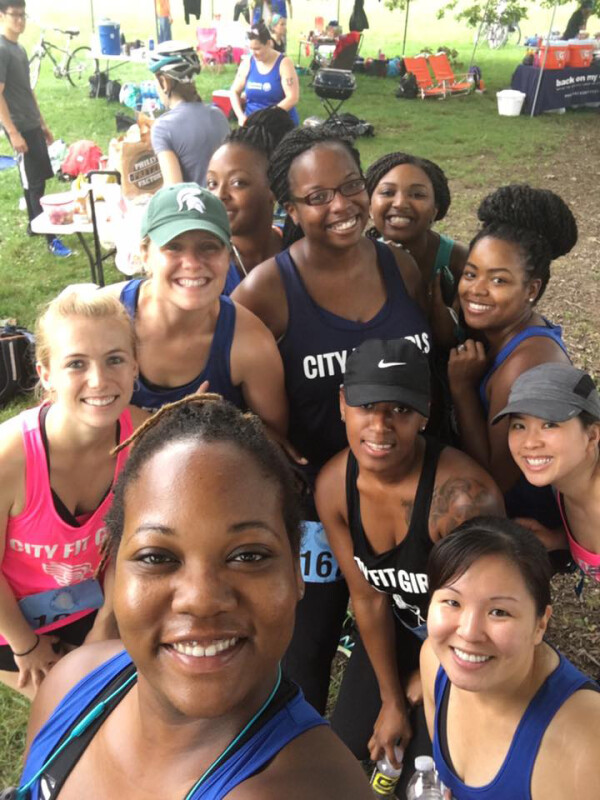 What gets you going in the morning?
That's what gets me going in the morning because we are talking about positively impacting – and saving – lives for years to come.
So what keeps you up at night?
We have a long way to go. This work is not a nice thing to do, but it's the right thing to do. We can't afford to waste time and you don't need to understand it all clearly to start making changes. Making this industry more accessible and welcoming for everyone doesn't have to be complicated and doesn't have to compete with the bottom line.
Who is your personal inspiration?
My grandmother, Genevia Josey, is my personal inspiration. At 92-years old, she has always reminded me that you can't look for strength outside of yourself and never lose sight of making life better for someone else — especially the next generation.
How has the past year been for you, personally and professionally, in dealing with the pandemic?
At the start of the pandemic, my first question was, "How can I help?" I started hosting daily meditation sessions on social media for anyone who needed it. A session on 'processing trauma' is still the most viewed meditation today. I also finished my yoga teacher certification, allowing me to better care for myself while hosting yoga and mindfulness classes.
How did these experiences impact you?
They led me to practice using a more trauma-informed approach to advancing racial justice.
What else did you do during the pandemic months?
Separately, I took a six-month sabbatical from working full-time to slow down and focus on my health. I consulted on a few projects, including Johnson and Johnson's $1 Million Health Equity Innovation Challenge for solutions advancing Black and Hispanic communities. Then I was hired as a consultant to advise the Trail Running Film Fest on their first-ever DEI grant to fund diverse filmmakers focused on telling the stories of women, LGBTQA+ and BIPOC communities on the trails. This was the first-of-its-kind project for a leadership team of three white men.
What grade would you give to the running industry for its DEI efforts, and why?
Three months in I've seen efforts building fast from retailers like Playmakers and Pacers and newcomers like The Exchange in Tennessee, but we know some retailers haven't scratched the surface with DEI and racial justice.
What is RIDC's plan to get beyond that surface?
At RIDC, we've launched two research projects to help guide these efforts. One focuses on the current state of diversity with regard to road running participation and employment in the running industry. The other focuses on access, inclusion and belonging in trail and road running and unmet product needs.
Why is this research important to the running business?
We need to know where we are as an industry to know where we are going. We must move from realizing this work is important to making actionable, transformative changes to diversify every part of it.
So how would you grade the industry's performance?
Ask me about a grade for the industry's DEI efforts in a year or so after we share our findings and actionable steps and measure progress.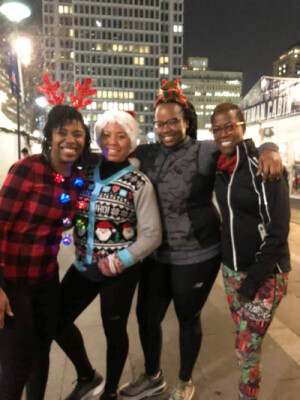 We certainly will. Now, what advice would you give to our readers – the run specialty retailers – about reaching out to the RIDC audience?
RIDC reaches runners who buy shoes, clothes and accessories to enjoy the sport of running. Our audience is your audience. So, you can start with RIDC to reach more diverse groups and work with RIDC to ensure your leadership team, staff and marketing are inviting to all and reflective of the industry we want to see.
What's the first step for retailers?
We are working to make it easier for them to find resources and collaborate with others to make this happen. They can visit our website and join our email list to stay tuned for updates.
So that's the the business reason for focusing on inclusivity in run specialty?
If run specialty is in the business of serving communities, it is your duty to ensure that your stores are truly inclusive and accessible to everyone so they can shop, consider working with you and return to shop again — with their friends.
What would you like to see take place at The Running Event in Austin in November for RIDC in particular and DEI efforts in general?
The future of running is diverse and RIDC will show why, how and what the industry needs to do based on our research findings. We'd like to see conversations during The Running Event center this reality to get everyone on the same page.
Any specific ideas?
What would it look like if every panel discussion included questions about how we can make the industry more accessible, diverse and welcoming? From sales to CEO talks and group runs, DEI must be a normal part of our discussions to keep this work top of mind. RIDC will be creating a few ways to help make this happen during the event, including the return of our community-run with Saucony.
That's good to hear. Finally, what are you expecting for you as 2022 takes shape and what is it going to take to achieve that?
For Global Running Day this year we launched a social media campaign to help show that this industry is filled with racially diverse people. We had dozens of retailers, clubs, events and brands amplify RIDC's vision and their commitment to making it happen.
What was the response to that initiative?
A Black executive in Philadelphia sent me this message on LinkedIn after the campaign: "...I completed two 10-mile runs in recent weeks for the first time since running a marathon 18 years ago. This is the first time I've seen real images and a focus on runners that look like me. It makes me wonder if there would have been such a gap if running diversity was more the norm."
What does that inspire you to accomplish?
Together, we can create real change to make running diversity the norm. It will take collaboration, willingness to learn and take responsibility, hard conversations in private and public, resources, unconventional ideas and empathy — just to name a few.
Any closing thoughts to this conversation?
Yes. James Baldwin said, "We've got to be as clear-headed about human beings as possible, because we are still each other's only hope." This quote – and the opportunities ahead – should carry us all through 2022 and beyond.