Jenny Broad didn't grow up playing sports, but as an adult started playing roller derby. (Yes, it's a contact sport played on roller skates, but she insists her version doesn't throw elbows.) When Broad started to get more serious about it, she began cross-training, which led to running and the discovery that she enjoyed it. Having just quit an administrative state job to go back to college—and looking for a part-time job—Broad joined the Red Coyote staff in 2012 when the store was only two years old. She was able to grow with the store and, discovering her analytical strengths, now serves as the Product Line Manager of Accessories.
So what is your "typical" day like these days?
A typical day in the store is split between fitting customers, receiving inventory, fulfilling e-commerce orders, ordering accessories and transferring product between the stores to keep inventory levels in line. I'm also known as the inventory detective who loves to figure out discrepancies and fix them.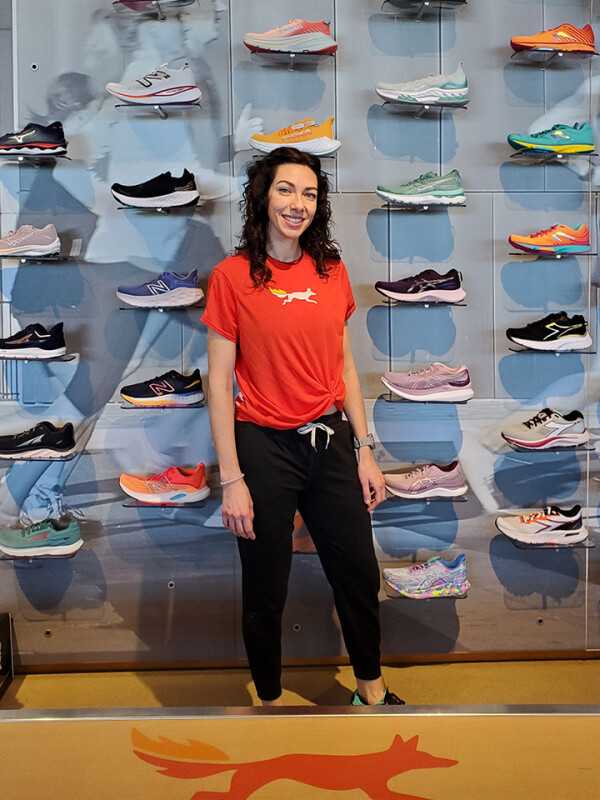 That sounds fun. So what is your favorite part of your job?
My favorite part of the job is that in a small business every member of the staff has an impact on our success.
What gets you going in the morning?
What gets me going in the morning – besides coffee – is that I haven't been limited by a corporate structure that says "this title comes with these responsibilities" and instead my job has been more tailored to my strengths.
On the flip side, what about your job sometimes keeps you awake at night?
What keeps me up at night is when we fail a customer. Maybe it was dropping the ball on a special order, maybe we didn't read the customer correctly to provide the proper service for their situation.
What is your running routine like these days?
These days I'm not actually running much, but l'll go out for a solo 5K when I need some time to clear my head and feel the sun on my skin. My current routine is mostly on roller skates learning tricks at the skatepark!
Do you have a music playlist when you run?
Definitely! It consists of a lot '90s stuff. Missy Elliott, Beastie Boys, Nine Inch Nails, Rage Against the Machine, Ol' Dirty Bastard. Also early 2000s dance rock like LCD Soundsystem, The Rapture, and Hot Chip.
Is there a person who has been your mentor or inspiration?
One of my biggest inspirations is someone who is not in the industry, but rather the person that got me to sign up for my first race. We were roller derby teammates and when she said, "Let's do a 5K on Thanksgiving," I hesitantly agreed. She kept encouraging me to sign up for more races and helped to turn a former non-athletic kid into a marathoner.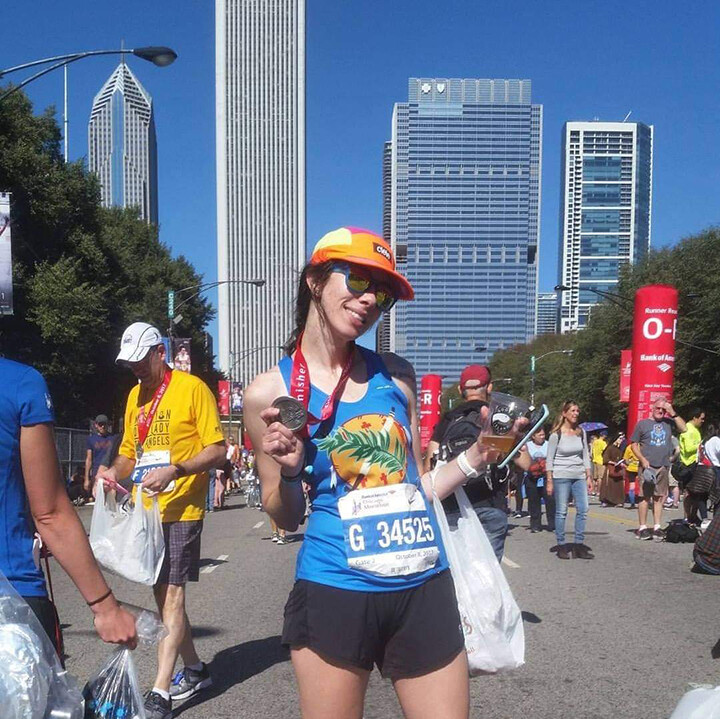 What makes your local running community unique?
Running in Oklahoma City is hard. In the spring we're fighting storms with hail, lightening, potential tornados, or at the very least "Ohhhh-klahoma, where the wind comes sweeping down the plains!" Our summers are disgustingly hot and humid without enough shade. Fall only lasts about three days then bounces back to summer. Then it's on to winter, where most of the precipitation comes in the form of ice. But we get it done.
Here's a question that gets various responses: Do you view yourself as a woman in the run specialty business or simply a professional in the run specialty business?
Before COVID I mostly saw myself as a professional in the run specialty business. My perspective changed when I saw what COVID did to the workforce, and especially for women with school-aged children at home. For about two months I was basically the only woman working at our flagship store. I found myself needing to use a stronger woman-oriented voice out of necessity. I have worked to keep that stronger voice ever since even though it's often a struggle.
Many people feel that run specialty is actually more equal in gender participation than many other businesses. Just look around The Running Event and see how many women walk the aisles and work in the booths. Do you agree with this? If so, why do you think that is?
There are definitely a lot of women working in run specialty. Given that a larger percentage of our customers are women it makes sense that women are drawn to the industry. But run specialty does struggle with a lack of diversity in terms of both race and body type not reflecting our customers. I'm glad more conversations are being brought to the table (thank you RIDC) but we have a lot of work to do.
What do you think you bring to your business with a woman's perspective as compared to your male colleagues?
I think I've been in more situations where I had to walk in either feeling like I didn't belong or lacked confidence, but having to do it anyway. I try to remember that when interviewing potential new hires. My male colleagues tend to be drawn to applicants exuding confidence, but we've learned that confidence doesn't always match work ethic.
Do you think having a woman in the business has helped your store reach more female customers?
Of course! I'm sure many readers know that Red Coyote is co-owned by Burke Beck, who is also a co-founder of empowerun. That means a woman that cares about the experience of other women has been making decisions in marketing, hiring, product selection and merchandising since Day 1.
What advice would you give to other run specialty retailers about reaching out and merchandising to female runners?
Host events like Ladies' Night, bra fittings, runner safety clinics and 5K newbie training programs. Carry inclusive sizes in apparel and bras. Re-merchandise your apparel regularly to keep it looking fresh. Have a comfortable fitting room.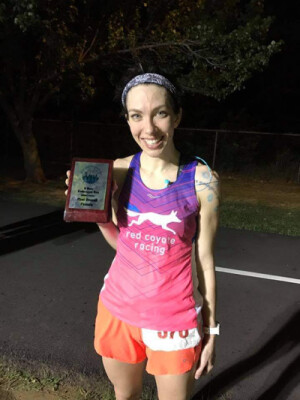 Also, what advice would you give to any young (or older) women considering following a similar career path in the run business?
Every day will present new experiences and that's a key part of gaining knowledge and professional growth. Identify your strengths and then be proud of them. Don't get hung up on your weaknesses because everybody has them. Identify your stressors and ask for help. Be adaptable to change as business grows and markets change. Never forget that run specialty can change the lives of your customers.
Finally, what are you expecting for you and your store as 2022 nears the finish line and what is it going to take to achieve that?
We're getting our ducks in a row on training new staff to ensure we're prepared for a strong holiday season as well as being ready for growth opportunities going into 2023.