Gazelle Sports has been part of Jen Brummitt's life since she was in the third grade, when she would often walk to its Kalamazoo Store after school and do her homework while her mother, co-owner Jean Sequite, finished up her workday. She officially joined the Gazelle Sports team when she was a senior at Hope College in Holland, MI, a time when she was student teaching and sure her next step was a career in education. "However much to my surprise, I fell in love with retail and the business and have been here ever since," she tells Running Insight.
Her Role At Gazelle Sports … Over the years, Brummitt has held many different roles within the company, from sales floor leader to club soccer sales representative, from shipping and receiving to e-commerce manager, from director of brand strategy and now CEO. Her current areas of responsibility include oversight of Gazelle's executive team, strategic direction and liaison to its Partner Team.
So, how has the past year been for you, personally and professionally, in dealing with the pandemic?
The pandemic really put my adaptability to the test both personally and professionally. It also provided many moments to reflect and really dial in and focus on the things that are most important in my life and in our business.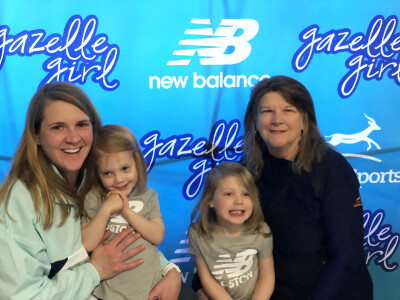 What is your "typical" day like these days?
A typical day for me includes an early workout, a few morning snuggles and breakfast with my two girls, Caroline, (seven years old) and Kate (five), then it's off to the office.
What happens then?
Once at the office, I can often be found meeting with our executive team and managers about what's ahead for our business and helping to execute our strategic priorities. Most recently I have had the privilege of interviewing potential new team members. Building great teams is one of my favorite things to do.
Here's a question that gets various responses: Do you view yourself as a woman in the run specialty business or simply a professional in the run specialty business?
I see myself as a professional in the running industry who happens to be a woman. Being a woman in this industry certainly helps me bring a different perspective and approach to how I build relationships, connect and build trust with my peers, team and community but each person in the industry has their own set of skills and talents regardless of their gender or background.
Many people feel that run specialty is actually more equal in gender participation than many other businesses. Just look around The Running Event (when we have it again back in Austin in November!) and see how many women are walking the aisles and working in the booths. Do you agree with this? If so, why do you think that is?
I disagree. There are definitely more women walking the aisles at The Running Event each year, but there is still a disparity between the number of women in leadership/ownership roles in our industry. While the total number of men and women in the industry might be equal, there is still unbalance in the decision making within the industry.
What do you think you bring to your business with a woman's perspective as compared to your male colleagues?
Women lead differently than men. It is not that one style is better than the other, they are just often different. I believe my style and my personal values leads to a collaborative, encouraging and inspiring place to work and shop. I also work hard to build a culture where people feel valued, understood and cared for, while at the same time setting a strategic vision for our company and motivating our team to succeed.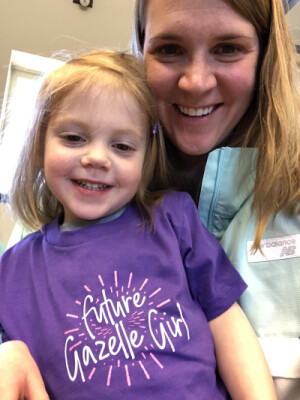 Do you think having a woman running the business has helped your store reach more female customers?
I don't think me being a woman impacts the female customer's choice to shop with us in most cases. I think what makes our store reach more female customers is the care, knowledge and encouragement from our sales floor team and the intentional work we do in our communities to lower barriers and the feeling of intimidation that might prevent a customer male or female, from walking through our doors.
What advice would you give to other run specialty retailers about reaching out and merchandising to female runners?
Be authentic, relatable and work hard to build a true connection with your customers, groups and community partners. Do the little things that make a shopping experience unforgettable.
What makes that local running community unique?
In the last 18 months, we've shifted away from the traditional paid training program to what we call our Run Community. We are now offering at least one free weekly run in each of our locations. The goal with our Run Community is to help build a space where all runners and walkers feel welcome and that they belong. This takes intentional work and outreach to connect with different groups and communities to learn how we can best support the goals of individuals and groups in our local communities.
What other differences do you see?
The other thing that makes our local running community unique is that we use our events as a force for good in each of our communities giving a significant amount of funds to local charity organizations in each of our communities. When events were all in-person in 2019 we were able to give over $100,000 to local charity partners.
So what advice would you give to any young (or older) women considering following a similar career path in the run business?
Surround yourself with other female leaders. There is something powerful and inspiring about building connections and relationships with other females who are experiencing some of the same challenges you are. It is also great to have a group that will help you celebrate your wins no matter how big or small.
Finally, what are you expecting for you and your store for the rest of 2021 and what is it going to take to achieve that?
We are excited to re-engage with in-person events both in our communities and in-store. Our team is also working hard to develop a strong holiday strategy that can be adapted as needed to meet needs and wants of the customers with close watch on the global supply chain.