Born in Long Island, NY, but living in the Rochester, NY, area since 1993, Ellen Brenner and her husband Boots currently own four Fleet Feet stores – three in the Rochester region and one over in Buffalo, in addition to owning an event production company called YellowJacket Racing that produces the majority of events in Rochester region.
They opened their first store in 2004 and the newest store opened September, 2019. She currently wears many hats and says her titles range from owner and CFO to apparel buyer, event director and announcer to coach and marketing coordinator. "Frankly, I am a 'do whatever it takes to get things done' person," Brenner tells Running insight+. "I'm one who prefers to be in the trenches with our team."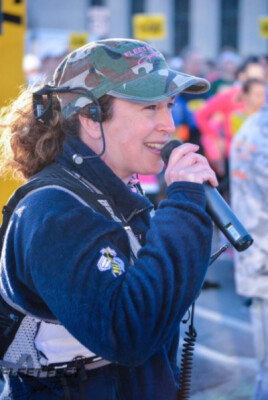 So, what has the past year-and-a-half been like for you?
This question is quite vast and I will summarize as best as possible. This past year – and it seems to keep going beyond a year – has been one of the most challenging in my professional career to the point that I had to focus on myself personally because that is what I could control.
That's certainly understood. How did it impact you professionally?
Professionally I could not control that we were shut down for three months, then it seems again in the winter with more lockdowns in our state. And the event industry was devastated on top of that.
How have you and your team faced this challenge?
Our staff had incredible challenges working under strict COVID guidelines, new methods of working with customers, staff shortages and supply challenges. We have done everything we can to help our staff and customers feel safe and still provide the service and knowledge we expect to provide.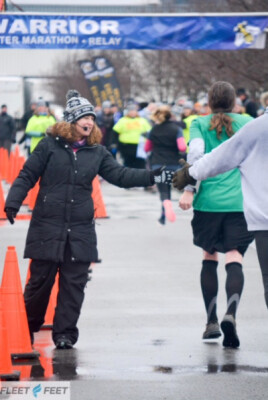 How about from a personal perspective?
From a personal perspective to remedy the professional life I actually became a streaker. It was supposed to be just 30 days, which I started April 2020, but have kept going. Mine is simple — walk or run at least 20 minutes a day. By doing this I have done various virtual challenges and half marathons and knew that this was the 20 minutes (at least) I could control each day. Heck, I'm in the running industry and know and preach this, but until you have challenges it becomes so clear how much this exercise and time dedicated to yourself helps.
That is sound advice for anyone. So what is your "typical" day like these days?
It's funny but we even tell new employees when they ask this question that no day is the same. And that is true. The to-do list rarely is blank, so at a high level every day I always try to do one thing that is bucketed into three categories.
What are those three?
First, communicating to current customers by writing a newsletter, attending training group or our race, writing on social media and working the floor. Second, acquiring new customers by determining new marketing and event concepts and new product offerings. And then, third, seeking opportunities for new revenue, such as working on finances, invoicing, reviewing billing, banking or creating new events or offerings.
How do you get all that done?
I find that I can usually accomplish up to three solid tasks a day and if I bucket them into these categories it allows me to be broad in what those tasks are.
Here's a question that gets various responses: Do you view yourself as a woman in the run specialty business or simply a professional in the run specialty business?
I definitely see myself as a person in the run specialty business. I grew up in a more male-dominated household and I was a math major in the '80s-90s, then IT in the '90s, which both are heavily male dominated. I just saw myself as one who blended in regardless of gender. What was important was, could problems be solved either solo or with others and how fast and accurately could it be done. This went for everyone
Many people feel that run specialty is actually more equal in gender participation than many other businesses. Just look around The Running Event and see how many women are walking the aisles and working in the booths. Do you agree with this?
In our environment we tend to have more women than men. Our current leadership team is pretty evenly mixed. It's tough for me to comment on the vendor community or other store breakdowns because I'm not there and frankly this past year has seen a great amount of change that it is still working itself out.
What about on the retail side of the business?
For store ownership, there are many male/female partners, but my understanding was that it is still predominantly a male-dominated ownership skewing. I guess we will see what this year's Running Event aisles bring.
Yes, we are all looking forward to that.
What is interesting is that women still outnumber our customer base for the store and races — especially this past year in events. Our male race entry number has dropped at least five percent.
What makes your local running community unique?
First, our stores are in the snowiest areas in the United States and we are always in the Top 10 if not Top 5 snowiest. Interestingly, our group workout numbers are highest in participation during those months. It's how you survive in Rochester and Buffalo, NY. This also allows us to have the best and hardiest winter apparel, accessories and footwear options.
Yes, we are certainly aware of upstate New York winter weather. How does that impact your racing business?
It helps that with our YellowJacket Racing company because our region, albeit not the most populated in the U.S., has a tremendous amount of year-round race offerings and on various terrains.
Anything else unique about your running community?
We have an incredibly diverse landscape to run on — from mountains to trails, to lakeshore, urban to rural to suburban to a wide range of parks and rail trail systems.
What do you think you bring to your business with a woman's perspective as compared to your male colleagues?
Here's a potentially unpopular response, but I don't think me being a woman alters my perspective on what I bring to the business. Everyone in our environment has a special talent and asset they contribute regardless of gender.
But do you think having a woman running the business has helped your store reach more female customers?
Given that the majority of our customers are women, having female staff can assist in specific conversations. However, as a whole it is important that each employee can relate and empathize with each customer, no matter if the setting is a on the floor, at a race or at a training program. Treating everyone equally, not passing judgement and being inclusive in a space that is athletics oriented specific to running is what helps. Often our customers consider themselves novices (whether they are or not) and our role is to lift them up and recognize their successes.
What advice would you give to other run specialty retailers about reaching out and merchandising to female runners?
For us we prefer a store look that is tailored, clean, organized and looks spacious even if the floor is a smaller footprint. We believe this is what helps with merchandising. In addition, change it around a lot — mix things up, move apparel and accessories around. Mix footwear in if needed. And, of course, provide a welcoming shoppable environment.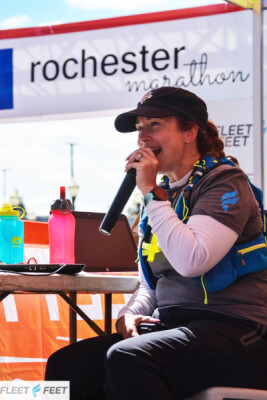 Also, what advice would you give to any young (or older) women considering following a similar career path in the run business?
Learn and be present as much as you can with all activities inside a store. But also know your strengths, because if you make that leap into leadership or ownership you need to know what you are good at and find the people who can do the areas that you are not as strong with. This does not mean to not work your weakness because you definitely should always work to improve. But understand your strengths and weaknesses. And always be learning and willing to grow. What you know today will often change in the future. Never become complacent.
Finally, what are you expecting for you and your store for the rest of 2021 and what is it going to take to achieve that?
Fall tends to be our quiet time. We need to take this opportunity to revisit where we are because so much has changed. It's time to move forward, refocus on what new things we could bring to our teams and customers. In addition, re-evaluate where we should be spending our time personally and professionally.