Running Insight: Tell us about your company and the work it has done in the running space?
Aydemir: Volumental is headquartered in Stockholm, Sweden, and our employees come from all over the world with experiences from places like NASA, Google and other computer vision and AI hotbeds. We launched in 2016 and already have over 2000 3D foot scanners in retail stores in 40-plus countries. That number will be closer to 3500 by the end of 2021. We've captured robust foot measurement data from over 10 million retail shoppers, including millions of runners, making ours the world's largest footwear database for running shoes and other categories.
How does your technology impact runners?
Every runner knows that there is no industry standard for how running shoes fit. Heck, there's not even a standard within each brand or their individual styles as they update. This reality exists in running shoes and virtually every other footwear category around the world, regardless of the measuring system.
So how do you address that?
Volumental uses 3D scanning and AI to help the world's top footwear retailers and brands solve fit, improve customer experiences and fuel growth and profitability. In the US, shoppers who've recently visited a Fleet Feet or Road Runner Sports store most likely experienced our technology to get great fit recommendations.
What about the Superfeet connection?
We've also partnered with Superfeet to develop a solution that enables retailers to fit customers for personalized insoles based on combined measurements from our 3D scanner and their in-store pressure plate that collects dynamic gait analysis data. It's a complicated integration made retail-friendly because the whole experience can be delivered quickly, even on the busiest days, and provides real value to runners, walkers and others who just need more comfort.
How does your technology work and how is it different than what has been used in the market thus far?
It's what's under the hood that separates us from others in this space. In three to five seconds our 3D scanner collects measurements and compares them with millions of others in our database to power AI-driven recommendations.
And what happens next?
In matching the individual scan to real footwear purchase data, the individualized recommendations go beyond just length and width to truly understand the whole dimension of a foot and how it fits into a shoe. This means understanding arch height, instep height, ball width, ball girth, heel width and much more. The value in scale is amazing and our fit algorithm becomes smarter each time someone walks out the door with a new pair of shoes.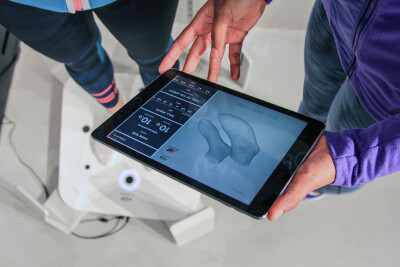 Is the process very complicated?
On the contrary, it's as simple as stepping onto a scale – don't worry we don't measure weight – and then seconds later we deliver recommendations that can be tied to each store location's real-time inventory. In brick-and-mortar retail, a key goal is to sell what's available today and the recommendation engine helps every staff member do just that, even without perfect knowledge of everything that's in the back room.
How do you use the data you gather from the scans?
The primary use of the data is making more accurate recommendations based on purchases made by people with similar feet. But there's much more we can do with the data.
Such as?
Imagine the targeted email campaigns you can do with such deep understanding of each customer's unique foot characteristics matched to new styles as they come in. Or the level of personalization you could achieve on your e-commerce site, delivering each customer an individualized browsing experience based on their own foot profile and preferences. This data unlocks the type of personalization that helps deliver on the promise of omnichannel retail like few things can.
Is this technology already being used for this?
Several clients rely on our data to turn their most vivid ideas into next generation footwear. For example, Fleet Feet recently partnered with the Finnish running brand, Karhu and used 100,000 Volumental foot scans to build the Ikoni running shoe. They used their 100 years of footwear-making know-how and mixed it with the most current Volumental data in order to change the shape of their long-standing lasts.
That is quite a step forward.
This was a first-of-its-kind effort and the result was great performance running shoes that fit better and sold better. Knowing who the customers are, and having their fit data at scale, is the foundation of thought-leading, data-driven footwear design. More and more brands are taking notice and thinking about ways to leverage this kind of demographic and regional information to make better-fitting products.
What are your plans for the U.S. market?
Our roots are in Stockholm, but we've flourished as a result of our presence in the U.S. Over the past year we've nearly doubled our team, including key leadership appointments, to build our full suite of products that solve for in-store, digital and mobile shoe shopping.
Where does this fit in with your vision of the future of running retail?
The use of our scanners and software services are cornerstones of an upgraded and personalized customer journey. Many of our U.S. customers are leading the way in terms of thinking about the omnichannel shopping experience, partly due to the necessities brought about by the pandemic. These new shopping modalities are probably here to stay at some level as things normalize, so the in-store experience needs to continue to evolve in order to keep people coming back. We see "FitTech" continuing to be a major part of that in-store evolution.