After more than four months away, Mark Vescio returned to the starting line on July 13.
The head of Run For It! Productions, a suburban Atlanta full-service event management company involved with approximately 100 races each year, Vescio had not sounded the starting gun at a race since March 8, a mere three days before the World Health Organization labeled COVID-19 a pandemic and silenced the nation's road racing scene.
Vescio's return to racing was an admittedly strange one. Race workers sporting masks and gloves scanned participants' temperatures. Runners started in "socially distanced" waves and the finish line area lacked any traditional post-race revelry.
"It was a real sterile environment, almost more of an organized group run than anything else," Vescio says of the 110-person event at Etowah River Park north of Atlanta. Still, Vescio found participants excited for live racing's return despite the COVID-era oddities.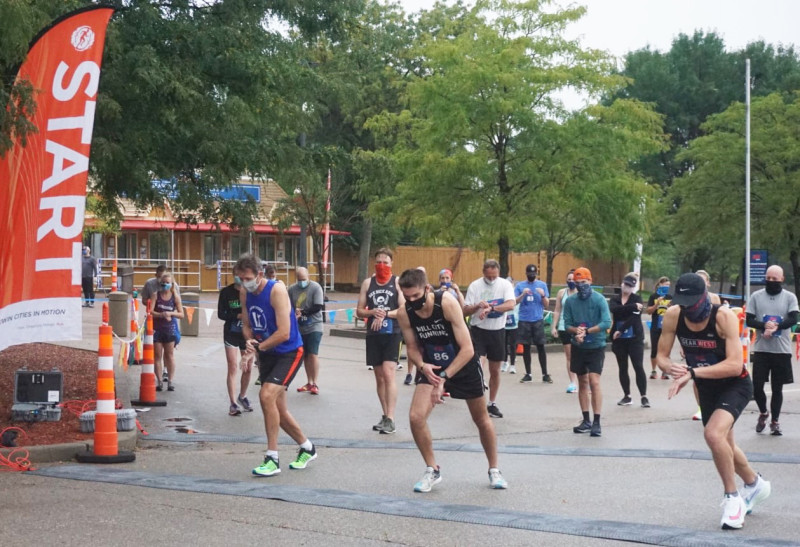 "But how long will this last?" he wonders. "We've got a ways to go to get people comfortable with live racing again and what that's going to look like moving forward."
COVID-19 has unquestionably shifted the thinking of race organizers like Vescio, whose foremost pre-pandemic concern was creating lively events that stood out from the flood of competition in the marketplace.
"Now," he begins, "it's how do we survive? How do we ensure people are following protocols? It's a completely different way of thinking."
As race operations and the race experience will be quite different for the foreseeable future, event organizers and their run retail partners must be more flexible, inventive and detail-oriented than ever before.
"Will this be 12 months? Eighteen months? No one knows, so we have to take it day by day, build best practices and think about things creatively," says Virginia Brophy Achman, executive director of Twin Cities in Motion (TCM), the force behind Minnesota's Twin Cities Marathon.
Expect Smaller Races
One immediately notable change for those areas now permitting in-person racing: smaller events.
With this fall's Twin Cities Marathon weekend cancelled, an annual event attracting some 30,000 runners, Achman and her team responded by creating MNy 250s. A series of no-frills, timed 5Ks designed for up to 250 runners, TCM hosted its first MNy 250 on Aug. 26 at the Minnesota Landscape Arboretum, providing runners a safe environment, an accurate course and the opportunity to cross a finish line.
"On our end, we were looking to find our groove with guidelines and safety aspects," says Achman, noting that the first three MNy 250s attracted about 100 participants each. "That just goes to show the unease that persists out there."
Ed Hartwell of Nova Timing Systems, a Delaware-based company that typically times about 200 events each year, including the heralded Cherry Blossom Ten Mile in Washington, D.C., oversaw timing operations for seven events this July and August, all of them in the 100-150 participant range.
"It was great to get people out there who wanted to be there, but the day of the massive races is far off," he says. "Smaller events are going to be the norm for a while."
Achman agrees.
"Large-scale anything is going to be the last on the dial to come back at full capacity," she says.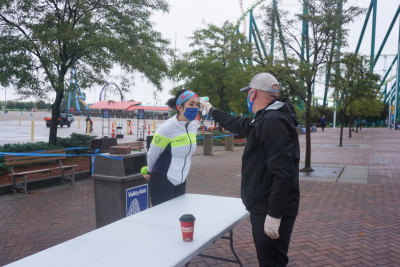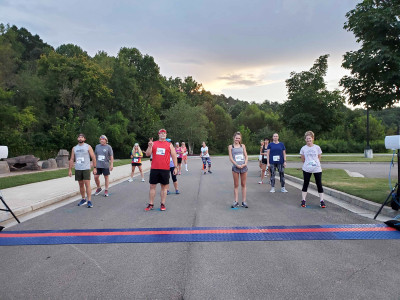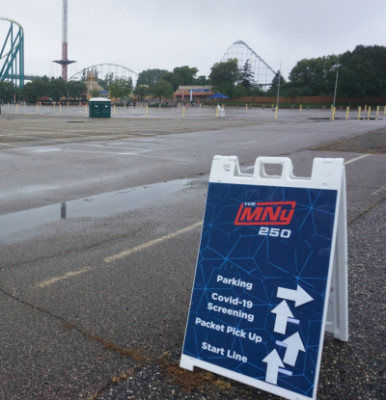 Altered Race Operations
From pre-event packet pickups – the most frequent way running stores benefitted from race partnerships – until the final runner departs the event, today's races discard yesterday's template.
Vescio, whose Run For It! Productions works exclusively with Big Peach Running Co., assembled a lengthy list of protocols for packet pickup at Big Peach stores. Among them: staff must pass COVID-screening protocols such as temperature scans, while also completing a COVID questionnaire and signing a waiver; participants pick up their goods outside to avoid impacting the retail stores' capacity limits; and an extended seven-to-eight hour pick-up window as opposed to the typical three-to-four hour stretch.
On race day, runners are greeted by hand sanitizing stations and, in some cases, race staff conducting pre-race COVID screenings. At Run For It! events, a bright red sticker on runner bibs indicates that they have passed the necessary health screenings. And masks are a given for everyone involved, though runners can remove their masks while on the course.
Carefully coordinated staggered starts are now the norm as well. At the Park City Trail Series 10K on July 11, the Salt Lake Running Company crew assigned runners a start time based on their expected pace – fastest first, slowest last – and set one runner off every 20 seconds. Hartwell has started races in waves of 30-50 people, positioning three across in a grid-like arrangement, while TCM set off socially distanced waves off 25 runners every five minutes at its MNy 250s.
In most cases, particularly 5K-distance events, race organizers have eliminated water stops. TCM, in fact, specifically chose the 5K distance for its MNy 250s to bypass water stops. Many other races, including longer distance events or races facing heat and humidity concerns, are either requesting runners carry their own hydration or dispensing individual bottles rather than cups.
After runners cross the finish line, no vendors, live bands or food keep participants around. In fact, runners are encouraged to leave, perhaps sent away with a bottled water or a goodie bag as a parting gift.
"It's very simple and basic: Come, run and go home," Achman says.
While Hartwell previously positioned touchscreens around the post-race area for runners to access their results, staff now walk around with iPads, enter a runner's bib number and turn the iPad toward the participant to display results. Others, including the Park City Trail Series 10K, have simply announced race results and raffle winners online. Notably, Salt Lake Running Company utilized Instagram Live for its raffles, while it also awarded participants a $1 per kilometer store credit to feed its retail store business.
Virtual Races Here To Stay?
Though in-person races have returned in spots across the country, few expect virtual races, which surged amid the pandemic, to dissipate. In fact, many predict in-person events will offer a virtual race option.
"There are still so many people who aren't ready for in-person racing, so I think we'll be looking at this dual option for quite some time," Vescio says.
Of late, a hybrid model has emerged with events combining virtual racing with a set course. To wit, Connecticut's Ridgefield Running Company recently hosted its Where the Pavement Ends Trail Race. Participants had three days to complete the marked course at the Hemlock Hills/Pine Mountain trail system and upload their results with a file or screenshot. All runners received a "finisher cupcake" from a local bakery as well as entry into a post-race raffle.
Philadelphia-based creative agency Runhouse, meanwhile, has been partnering with run specialty retailers across the U.S. to offer semi-virtual events. So-called Rundiscover events allow participants multiple days to complete a pre-determined course heavy in local flair, but not necessarily people.
"We created Rundiscover because we wanted to provide a compelling virtual option that was still rooted in the local community and offered more value than the generic virtual run model," Runhouse president Ryan Callahan says.
Hartwell has been investigating apps like Charge Running and RaceJoy to inject some live, interactive elements into virtual runs. Charge Running offers live virtual races with real-time feedback, allowing race directors to define a date, time and distance for their virtual race, install a live leaderboard and employ a real-time DJ to create custom playlists.
Comparatively, RaceJoy enables event directors to actively engage with virtual racers through custom audio messages as well as virtual scored results, live phone tracking, progress alerts and, for those at a defined race course, access to an interactive course map and off-course alerts.
"The bottom line is we can't approach things the way we did pre-COVID," Hartwell says. "We have to be open to new ways of doing business."