The Running Spirit rolls on as run shops across the U.S. spent recent weeks readying for track and field, celebrating spring's arrival, broadcasting the return of group runs, touting fresh product and turning an April Fools' Day trick or two. Numerous stores also encouraged customers to submit their Best Running Stores nominations, while quite a few invited job applicants, a welcome sign of run specialty's strength and resiliency.
Boulder Running Company offers support
Following the recent mass shooting at a Boulder, CO, supermarket that left 10 dead, the Boulder Running Company teamed with Altra and the BOLDERBoulder 10K to release the limited-edition BOLDERBoulder Escalante Racer. All net proceeds from sales of the $140 shoes went to the Colorado Healing Fund, an initiative to support the families of those who lost loved ones in the March 22 tragedy. Within two weeks, the Boulder Running Company had sold more than 600 pairs of the Colorado-themed shoe.
But the Boulder Running Company's community-minded efforts did not end there as the running shop also spearheaded the #BoulderStrong Relief Run. The virtual running challenge corralled nearly 400 participants and raised more than $40,000 for the Colorado Healing Fund thanks to donations from JackRabbit, vendor partners and individual runners.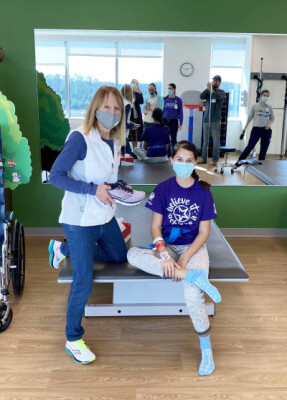 Varsity Sports sparks kids in recovery
Long invested in championing physical activity among youth, Varsity Sports owner Jenni Peters wondered how she might reach those kids who really needed to move and stay active.
Last September, Varsity Sports teamed with Saucony and GMFS Mortgage to launch the "Believe It. Achieve It." program at Our Lady of the Lake (OLOL) Children's Health in Baton Rouge, LA. The program incentives pediatric patients to stay active and engaged in their recovery with milestone prizes – shirts, caps, bags and Saucony footwear – for mobility achievements.
On Feb. 19, Peters visited OLOL to award Mallory (pictured) a new pair of Saucony Rides. To date, the program has awarded more than 20 pairs of Saucony sneakers to patients.
"The enthusiasm of these often seriously ill kids is infectious," Peters says.
Notably, the program also encourages nurses to get involved with their own milestone progress sheets. Each month, Varsity Sports awards one nurse a pair of shoes and features that individual on a local billboard.
Charm City Run drops a mixtape
Soliciting help from its army of fans, Charm City Run recently dropped its "Charm City Run Hype Songs 2021" mixtape on Spotify. "60 songs, 3.5 hours, 100% HYPE," the Baltimore-based running store chain blared on Instagram March 19.
Fans had no shortage of suggestions for the playlist, suggesting favorites such as "Lose Yourself" by Eminem, "Paradise City" from Guns N' Roses and, of course, "Eye of a Tiger."
In a savvy product tie-in, Charm City Run also used the playlist to promote AfterShokz headphones' open-ear design for safer workouts on the road.
Complete Runner underscores the impact of run shops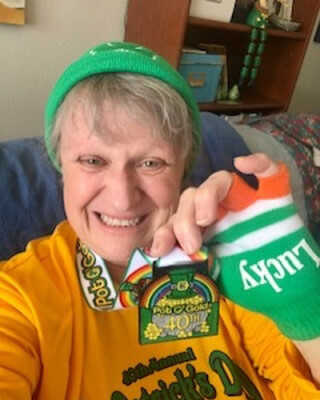 As St. Patrick's Day approached last month, Flint, MI-based Complete Runner shared Lorrie's story on social media.
"It's been almost a year since Lorrie started her journey and it all started with our Pot O' Gold race!" Complete Runner wrote on March 15. "Unable to get off the couch, her son challenged her to sign up for a race. With the news of last year's Pot O' Gold going virtual, she was discouraged, but didn't let that stop her. Now down 105 lbs. and with a few more races behind her, she's excited to celebrate her one-year anniversary where it all began: with another Pot O' Gold race!"
For Complete Runner owner Brad Brown and his run specialty peers, Lorrie's story serves a reminder that the efforts of America's run shops – not just peddling goods, but providing encouragement, education, community and events – has a real and profound impact on individual's lives.
JackRabbit Greenwood unveils Arch Madness
Leave it to a running store in basketball-crazed Indiana – site of the entire NCAA men's basketball tournament – to embrace a bracket-styled challenge to identify a champion running shoe. Dividing shoes into four different "regions" – Lightweight, Stability, Moderate Cushion and Hight Cushion – JackRabbit in Greenwood, IN, invited fans to vote for their favorite running shoe. The final four consisted of the Saucony Kinvara and a trio of New Balance models – the 860, 880 and 1080. In the end, the New Balance 1080 claimed the crown over the Kinvara.
Brooklyn Running Company conducted a similar bracket-styled "Sneaker Madness" as well. In that tournament, the Hoka One One Carbon X 2 claimed the crown from a final four consisting of the Hoka Clifton 7 and a pair of Nike models, the Vaporfly Next % and Pegasus 37.
Ridgefield Running Company launches a 12-route challenge
In Connecticut, the Ridgefield Running Company and its sister store in Darien introduced the 5K Passport Challenge, which tasked participants to run, walk or hike twelve unique 5K courses across Fairfield and Westchester counties. Individuals as well as households could register with participants earning a personalized wood medallion for their efforts.
Hilton Head Running Company goes on a retreat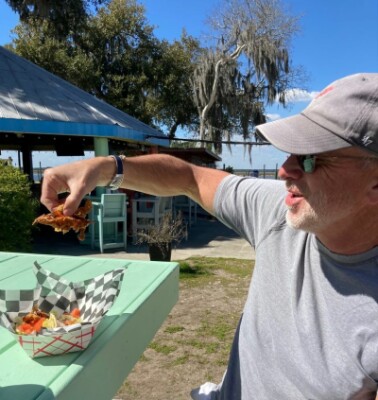 On March 11, Hilton Head Running Company owner Alfred Olivetti closed his shop, albeit for sound reason: a company retreat to Daufuskie Island, a small paradise set off South Carolina's coast.
"Daufuskie is a place where you can just feel the relaxation smother you when you arrive," Olivetti says.
In addition to measuring the Scrap Iron 5K course for the April 10 race, Olivetti instructed his team to relax, have fun and talk about anything other than retail and running shoes – a directive aimed at deepening ties to the store and one another.
"The team gets stronger because these opportunities serve to build bonds between the individual members, who also feel appreciated when we get away and treat them to an experience they might not have had before," Olivetti says, adding that the retreat also reinforced the store's foremost value: fun trumps everything else.
Ultra Running Company takes shoe reviews live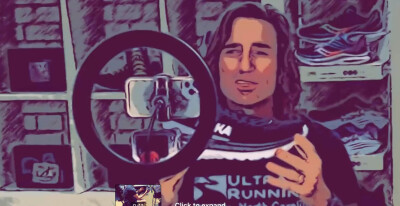 While Charlotte-based Ultra Running Company has been providing shoe reviews on YouTube for the last three years – and to the tune of some 700,000 views – it took the practice live on March 11 in introducing the Hoka One One Mach 4.
Ultra Running Company staff and a select group of guests gathered at the store to test the Mach 4 against other models. The goal, Ultra Running Company owner Nathan Leehman says, was "to independently and consistently compare various aspects" of different footwear.
"This seemed like a great opportunity to open our formerly solo efforts to a small group," Leehman says. "Our guests appreciate the attention to detail and the excitement, and generally found themselves to be more informed when they left than when they arrived."
Leehman hopes to conduct live shoe reviews on a near-monthly basis moving forward and promises to continue "tinkering" to drive customer engagement.
"Resting on our laurels makes it easier for new and existing customers to choose another resource for their running needs," he says. "If specialty running retail is to exist long term, we must provide experiences that appeal to potential customers more than available alternatives."
KC Running Company invites a gamble
On March 23, the KC Running Company in Missouri released six large paper bags filled with assorted, though hidden, goodies for $25. Though customers gamble that the goods inside will be worth the $25 cost, KC Running Company manager Seth Teague says the combined retail price of the grab bag goodies – items like sunglasses, nutrition, apparel, masks and race entries – frequently tops $75.
"And that's why they're gone quick," Teague says, adding that the store produces grab bags a few times each year, most often in conjunction with race events and in-store packet pickups. "For us, this is a fun, different way to connect with our customers."