Although the coronavirus scourge of 2020 was still gripping the U.S. as of late September, the running race industry was slowly starting to find its way back after a devastating spring and summer. But even with the return of some smaller races, there is a long way to go until the new normal sets in. And whenever it does, it figures to be more expensive.
On Sept. 26, the New York Road Runners organized its first road race of the COVID-19 era, debuting the NYRR Return to Racing Pilot 4M in Central Park with stringent social distancing practices in place to offset COVID-19 risks. The race was open only to 200 runners, all of whom had to wear masks and start two at a time, every 10 seconds in a time-trial format that allowed only 50 runners every half hour. Race bibs were mailed to runners ahead of time to avoid congestion at a registration table and the temperature of all runners was taken before the race.
"I went to bed with butterflies in my stomach, but once I got here and I saw how organized it was, it felt really good to be back in the park to race," says Denise Ryan, 51, from Jackson Heights, NY, who finished in 104th place wearing a light blue mask.
The New World of Road Racing
Welcome to the new world of road racing. At first glance, the event was a success, though continued feedback from runners to the NYRR will be crucial to help shape additional races this fall — if another spike in the coronavirus spread doesn't put damper on events.
After the vast majority of American running races were postponed or canceled or turned into virtual events in the spring and summer, a handful of races returned in late summer and more could be on the horizon for the early fall. Race directors have been trying to work within tight federal, state and local guidelines since the end of spring and early summer.
Jamie Monroe, race director for the Crown City Classic 12K and 5K runs on July 2 on San Diego's Coronado Island, was one of the first event organizers to bring running back. He formulated a smart plan to mitigate COVID-19 risks in which runners would stop by the race headquarters to pick up their race bibs, run a new chip-timed course on bike paths that would allow for social distancing after starting one at a time and pick up their T-shirts and medals back at the race office. More than 1000 runners signed up and half opted to run in-person.
Now a small race in Colorado could provide the key to more races coming back safely and responsibly. Or at least that's the hope.
Welcome Back Denver
On Saturday, Oct. 10, the organizers of the Colfax Marathon are hosting the Welcome Back Denver 5K, an event for 700 runners at Denver's City Park. Although it's branded as one event, it's actually a series of four separate races of 175 runners with staggered starts held an hour apart starting at 8 a.m. It might not seem like a big deal, but the impact could be huge.
The event was announced in August after organizers Creigh Kelley and Andrea Dowdy worked for months with Denver and Colorado officials to develop guidelines that would allow for the safe return of running and walking events. Those guidelines, which were developed in conjunction with Centers for Disease Control, state and local regulations, as well as input from numerous running industry experts, were accepted and approved by the health departments and special events departments of both the City of Denver and state of Colorado in July.
The Welcome Back Denver 5K in-person races sold out in a matter of days at $45 apiece, but the virtual ($45) and virtual premium ($60) packages were still available leading up to race week.
"We wanted to create those guidelines and make them available to everyone, so if there was a race in another city or state they would be able to follow those," Dowdy says. "And then once the guidelines were approved we wanted to create a race to welcome runners back so, if you're a runner who is ready to do an in-person race, there is a nice way to do it where you can feel safe and not be running in a crowd."
Dowdy says she and Kelley spent long hours meeting with officials and discussing protocols, recommendations and possible new best practices. One of the specific details in the guidelines is that events need to start in socially distanced waves of 175 people per time slot. That number that came specifically from the Colorado governor's office and its statewide guidelines for phased reopening, but the number for public gatherings and events varies from 50 to 500 for other states.
Another key aspect of the guidelines is the inclusion of a social contract with participants that would be signed off upon registration and re-verified when picking up one's final race bib. The contract asks the runner to certify that they are healthy, will wear a mask (in the moments before and after but not while actually running), will bring a personal hydration source, will not invite spectators and will follow social distancing practices at the race, along with other key considerations.
"We were trying to go after this in a way that would make sense to us — but also in a way that would make sense to a runner," Dowdy says.
Hitting the Trail
Dozens of trail running races have been held around the U.S. since early June, initially in states that had lower COVID-19 infection rates like but lately in states that had approved similarly stringent trail-specific regulations crafted by Nancy Hobbs of the American Trail Running Association and several key trail race directors around the U.S.
Using those guidelines, the USATF Half Marathon Trail Championships were successfully held in Cable, WI, on Sept. 26, as part of the Birkie Trail Running Festival. The half marathon drew 207 runners, while additional races and relays drew about 200 more. That event made significant modifications to ensure social distancing practices, including staggered starts and the elimination of the awards ceremony and the post-race party.
But not all trail races have been reaching capacity, a sign that not all runners are eager to engage in public events with COVID-19 numbers still growing in many cities and states.
"I think there's a lot of people that are not ready to come back," says Jessica Griffiths, race director for Colorado Runner Events, which organized the Greenland trail races of four miles to 50K on Aug. 29 near Denver. "There are people saying they're ready, but they're not actually signing up. Demand is very down. But for the people that are wanting to come out, they're very enthusiastic, and they seem very, very grateful that we're even trying to put on an event. It's been a challenge."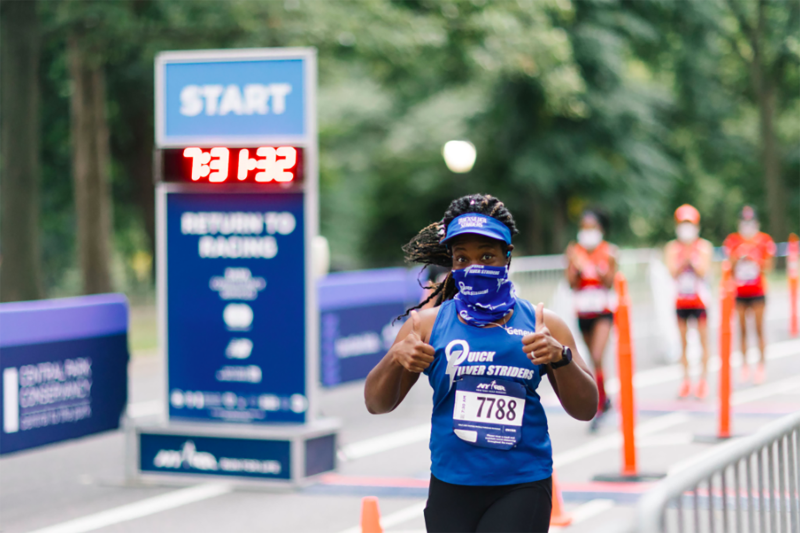 Still A Ways To Run
Even with the small success stories, the running events have a long way to go to fully come back. Just as with a lot of other American industries, the road ahead is long and still unknown. Several race directors said that, just as with the running industry's response to the Boston terrorist bombing incident in 2013, extra infrastructure, organization and money will be required to organize events going forward.
The biggest events of the fall, including the New York City Marathon, Chicago Marathon and Rock 'n' Roll Marathon in Las Vegas, will be held only as virtual events. But others – including an Ironman 70.3 race on Oct. 18 in Tempe, AZ, and a Rock 'n' Roll Marathon multi-race festivals on Nov. 21 in Nashville, TN, and Dec. 5-6 in San Antonio, TX – appear to be going forward based on more favorable state, city and local guidelines.
The London Marathon, postponed from April, will be held as a virtual race and a star-studded elites-only race on Oct. 4. The much-anticipated showdown between Eliud Kipchoge and Kenenisa Bekele should create a lot of excitement, as will the elite-only race on Dec. 20 on the Gila River Indian Reservation in Chandler, AZ.
So what's next? Most industry insiders are hoping the U.S. can finally get the coronavirus under control by early springtime, but that might take a successful vaccination program and a decline in the spread during the winter. And yes, when it comes to the pandemic and healthcare, there's a lot riding on the Nov. 3 elections, too.
In the meantime, most race directors and industry veterans are cautiously optimistic, but most agree that virtual races are a stop-gap trend that will likely dissipate in 2021. No matter what happens, it likely means most races will still be smaller and operated under strict guidelines in the spring.
"It's been a strange year for sure," says Cliff Bosely, race director for the late-May Bolder Boulder 10K and Labor Day Fortitude 10K in Colorado, which were both held as virtual races in 2020.
"It still feels a little bit like it's not real. Here we are in September and we would have just put on our second in-person race of the year," he adds. "Not having done any seems really strange to me. Running will come back and people will want to be a part of it when it comes back. Eventually things will normalize again, but it's going to take a collective effort from the industry to understand best practices and go forward."
If there is any good news for the running industry when it comes to the pandemic and 2020, it's that there's a large but quiet running boom happening throughout the U.S. But as fall weather sets in and marathon season slips by without many 26.2-mile races, there are dozens of questions still facing the running world.
Will the Boston Marathon be able to go on as planned in April?
Will big city races have considerably smaller fields when they return next year?
Will races become markedly more expensive to enter and put on because of the reduced or hard-to-come-by nature of sponsorship deals?
Will big city marathons have to consider spring and fall events?
Will vaccinated runners get preferential treatment when signing up for races?
Will COVID-19 tests become mandatory for runners?
Will a sizable portion of smaller events go out of business before 2021?
"It's definitely been a tough year for everybody," says Candice Burt, a trail running race director who had 15 of her 18 events canceled this year but is able to hold the Moab 240 ultra-distance event on Oct. 9-13 in Utah.
"I think we're going to get through it, but I know there are a lot of race directors struggling. We could see a lot of smaller to medium-sized events just go out of business and go away. That would be unfortunate."