ALLIED FEATHER & DOWN: The company's new Optix iMirror retail experiential tool has the ability to read and verify down insulation inside garments. The innovation, powered by Nobal Technologies, features an embedded scanner that can read an organic taggant signature impregnated on the down insulation inside each Allied-filled garment.
Basically, each cluster of down is treated with a reflective coating that can be read through the shells of the products with a dedicated reader. This allows consumers to have their garment read in real time in front of the Optix iMirror and learn where the down was sourced – tracing it to the region and sometimes the exact farm – as well as its performance characteristics and after-care.
The Optix iMirror can also be tied into a store's or brand's inventory and offer further product suggestions and colorways and even allow on-screen purchases through the iMirror itself. As an added advantage, the device can offer authentication and make material impossible to counterfeit.
ADIDAS: Major sustainability initiatives are in the works for 2020 and beyond. Currently, and for the first time ever, the company is using more than 50 percent recycled polyester from plastic waste in its products, and from 2024 onwards is committed to using only recycled polyester in every product and on every application where a solution exists.
This year, Adidas plans to produce a record 15 to 20 million pairs of shoes with plastic waste collected from beaches and coastal regions — in 2019, the brand produced approximately 11 million pairs of such shoes.
The company's first fully recyclable running shoe, Futurecraft Loop, has been in the test phase since 2019 and the market launch is slated for 2021.
Additionally, Adidas is now working on the development of bio-fabricated materials for sports apparel. (Reebok already uses renewable sources such as cotton, corn, algae and natural rubber to produce the Reebok Cotton + Corn and Reebok Forever Floatride Grow shoes.)
CHECKERSPOT: This Berkeley, CA-based developer of plant-based composites is on a mission to improve sustainability in the materials industry. It is using biotechnology to harness the power of nature, fermenting algae to produce novel bio-based oils, and then taking those fatty acid building blocks to produce high-performance materials that can be fabricated into products such as surfboard foam, ski cores and textile finishes. This technology platform has the potential to enable the design—at the molecular level—of new materials. In November 2019, the company announced a collaboration with W. L. Gore & Associates' Gore Innovation Center that joins Checkerspot's expertise in bio-based polymers and biotechnology with Gore's extensive experience in high-performance apparel. The goal is to deliver high-performance textile coatings with improved environmental profiles. This partnership will also include input from Beyond Surface Technologies (BST), a Swiss company and Checkerspot partner whose goal is to create textile finishes with the lowest environmental impact possible without compromising on performance. BST is currently developing renewable plant-based finishes as alternatives to conventional perfluorinated compounds (PFC).
ECCO: The brand's biggest initiative at present is DriTan Technology, positioned to change the status quo in the leather tanning industry. The process, in development for more than five years, saves approximately 20 liters of water per hide, amounting to annual savings of about 25 million liters of water. DriTan is now being rolled out to all of the company's tanneries across the globe, and the plan is for all Ecco Outdoor products – including the Biom C Trail shoe – to use DriTan leather by Spring/Summer 2021.
HYOSUNG: This solutions supplier to the textile industry approaches sustainability with many options, including recycled fibers, biodegradable polymers and bio-based solutions. Hyosung has offered its 100 percent recycled Mipan regen nylon and polyester for years and is now combining its recycled yarns with its performance technologies to provide a new generation of recycled multi-function fibers.
Highlights include Creora regen spandex (made from 100 percent reclaimed waste), regen askin polyester cooling and UV protective fiber, and regen aerocool polyester sweat-absorbing and quick-drying fiber. Another recent development is Mipan regen robic, the first recycled high-tenacity yarn made from 100 percent reclaimed waste.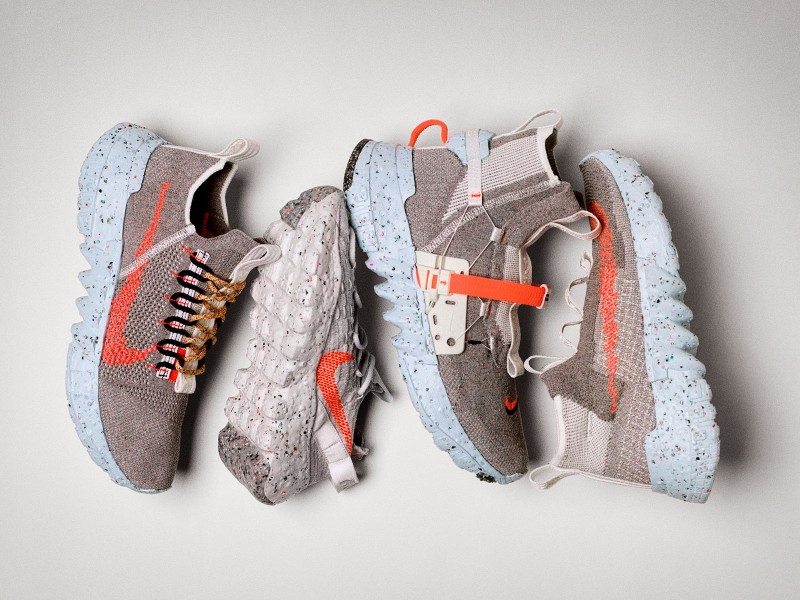 NIKE: The Swoosh has multiple sustainability targets involving products, materials and manufacturing. It recently achieved 100 percent renewable energy across North America in its owned or operated facilities and is increasing the use of more sustainable materials across its products.
Since 2010, Nike has transformed 7.5 billion plastic bottles diverted from waterways and landfills into recycled polyester footwear and apparel. The brand also notes that 99.9 percent of footwear manufacturing waste was recycled or converted into energy in 2019; 76 percent of Nike footwear and apparel includes some recycled materials; and 30 million shoes have been recycled since the launch of the Reuse-A-Shoe program 26 years ago.
Earlier this year, Nike introduced Space Hippie, an exploratory footwear collection made with the brand's own "space junk" waste material taken from factory floors. Each of the four models features a 90 percent recycled upper, recycled ZoomX foam cushioning made from Vaporfly 4% factory scraps, and a Crater Foam midsole made with a blend of standard Nike foams and 15 percent Nike Grind Rubber.
NUUN: All of this hydration specialist's products (tabs and powders) are sustainable in that they're non-GMO verified and vegan. The packaging materials used in product caddies are being upgraded to be made of post-consumer recycled materials and the company is also exploring ways in which it can reduce the use of virgin petroleum-based plastics and begin using either recycled or bio-based plastics in its product tubes.
The brand has worked with the Oakland Running Company to make events free of single-use cups by providing each runner with a reusable hydration cup created by HydraPak.
In 2019, Nuun made a transition to compostable race event cups for events that are still using single-use cups. Nuun has also partnered with the Council for Responsible Sport to create an event reference guide for race directors interested in organizing best-in-class sustainable running events.
ORTHOLITE: The footbed maker was the first to add 5 percent recycled rubber – consisting of rubber re-grind that comes from shoe factories – to all of its formulations, which keeps more than 300 metric tons out of landfills each year. The brand has also developed a range of products that utilize castor oil, which reduces the need for petroleum in the products and requires fewer natural resources to produce.
As a vertically integrated supplier, OrthoLite owns its own factories and controls the entire value chain, allowing it to better manage the pre- and post-production waste created in the factories.
Other initiatives include a dedicated recycling center to capture and repurpose all waste material, which has resulted in the creation of the OrthoLite Recycled and OrthoLite Hybrid product lines.
The company notes that based on an individual brand partner's sustainability goals, the percentage of eco or recycled content can be customized from 5 percent to 98 percent.
SCHOELLER: As the founding developer of the bluesign system in 2001, the first activewear and leisurewear manufacturer to receive Oeko-Tex Standard 100 certification and one of the first companies to sign the United Nation's Paris Agreement for climate change, Schoeller continues to be on the cutting edge of sustainable practices, most recently bringing one of the first collections of biodegradable synthetic fabrics to the market.
Its most recent development is ProEarth, a textile collection comprised of bluesign approved fabrics with biodegradable polyester. The yarn has been optimized for biodegradability by making the fibers more attractive to anaerobic microbes.
UNIFI: This innovator in recycled and synthetic yarns recently introduced Repreve Cationic-Dyeable Polyester as well as an expanded Repreve Our Ocean collection. The Repreve Cationic-Dyeable Polyester provides deeper and brighter colors as well as improved colorfastness and can be used in a variety of constructions and across all market segments, from woven to knit to warp knit.
Repreve Our Ocean, introduced in June 2019, is made with plastics collected within 50km of waterways or coastal areas in developing countries or regions. The company, which has an integrated recycled PET supply (bottles to flake to chip to yarn) in North Carolina, is on track to reach its goal of recycling 20 billion bottles this year and 30 billion by 2022.
Unifi's Champions of Sustainability initiative, now in its third year, recognizes companies that are driving sustainability and this year boasts 79 companies that have achieved key milestones through their use of Repreve recycled performance fiber. Together, the group has recycled more than 19 billion bottles, resulting in energy generation, water savings and improved air quality.
W.L. GORE: By the end of 2020, Gore Fabrics will eliminate PFCs of Environmental Concern from its consumer laminate shipments, corresponding to approximately 85 percent of product units in the market. This includes jackets, shoes, gloves and accessories.
Between 2021 and 2023, Gore Fabrics will remove PFCs of Environmental Concern from the remaining consumer fabrics laminate shipments while continuing to deliver products that meet the performance specifications relevant for the end use.
Gore is also incorporating the use of more recycled textiles; dying methods that have fewer environmental impacts via less water, chemicals or energy; and simplification in the manufacturing process to integrate Gore-Tex into the shoe to reduce water, energy and waste. The company employs the bluesign, HIGG Index, Oeko-Tex certifications on the social and environmental fronts, and these independent, credible, third-party standards help ensure transparency and product integrity.