Let's face it. Most business books are pretty vanilla. Some platitudes, some obvious tidbits that are offered up as wisdom and one or two tales of overcoming obstacles that are passed off as inspiration.
None of this is true in "Running with Purpose," the new book from Brooks CEO Jim Weber. Weber's book, with the subtitle of "How Brooks outpaced Goliath Competitors to Lead the Pack," is equal parts memoir, business book and inspirational tome.
Weber starts out with poignant stories about growing up as one of six children in a working-class family in Minnesota. He dreamed of playing professional hockey or running a major company. Fortunately for Brooks and many run specialty retailers who have made money selling the brand, it was the latter dream that came true.
Indeed, most of the book is about Brooks as much as it is about the author.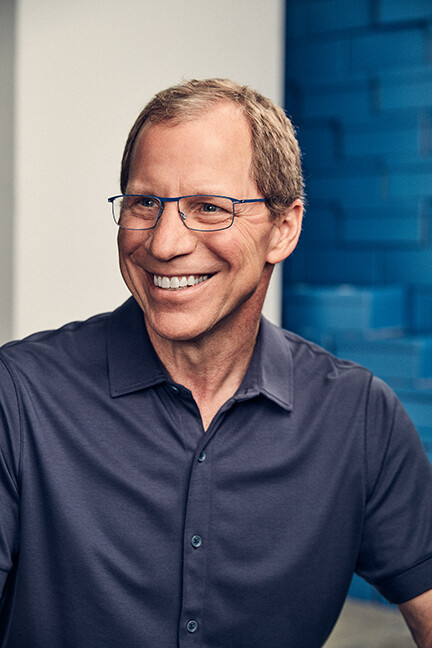 "Brooks is an intriguing story and I wanted to share it," Weber tells Running insight a week before the book's official publication date. "It's a turnaround and a David versus Goliath story and because we are a challenger brand, I thought business people would relate to it because there are more challenger brands than there are platform dominators."
For anyone in the running business, the Brooks story is well known and the book recounts how Weber and his team re-positioned the brand from its struggles selling $20 retail shoes at Big 5 to rise up and become a premium running brand.
Along the way, they created "Run Happy," a marketing slogan that became the Brooks rallying cry as Weber built a relationship with none other than Warren Buffet, who bought Brooks as a gift with purchase when his company Berkshire-Hathaway acquired Russell in 2006. Weber discovered the Oracle of Omaha in business school, reading and taking to heart his annual letters to the shareholders. When Weber shares Buffet stories in "Running with Purpose," the business acumen, which combines common sense and the wisdom of a self-made billionaire, leaps off the page.
Indeed, the best business insights in the book come from Weber telling behind-the-scenes stories of the meetings, discussions and thought processes that led to the results everybody in the running business has seen play out over the past 20 years.
Weber is also not shy about sharing the bumps in the road, including the 2008-2009 double gut punch of the barefoot movement and the recession and, of course, the fiasco of opening a new distribution center in 2019 that was unable to ship shoes.
"That's part of our story," Weber said, wincing on a video call, three years after the fact. "Challenges are a given and disruptions are a given. That was painful because it could have been avoided. I feel bad that we let our customers down, but we recovered and are stronger today because of it."
The closing chapters in the book are especially powerful and human as Weber details his battle with cancer: from his shocking diagnosis to a six-hour surgery to an apparent happy ending despite what he calls a "Frankenstein digestive system."
"The book turned more personal than I thought it would," he admits. "But cancer taught me a lot and I wanted to share that, too."
It sounds like Weber has only one regret. During his sabbatical when he started writing the book, Weber, a lifelong music fan who especially loves Bob Dylan, took guitar lessons in an effort to fulfill his lifelong goal of learning how to play an instrument. "It was too hard," Weber says laughing. "Running is easier."
Running with Purpose can be purchased here.
Profits from the book will be donated to the Brooks Booster Club to provide performance running footwear, apparel and funding to under-resourced high school cross country and track teams.
Jim Weber's Greatest Hits
Weber is a big music fan and suggests the following playlist for your next run or while reading his book.
Bob Dylan "Tangled Up in Blue."
Led Zeppelin "Kashmir"
Led Zeppelin "Ramble on"
Tom Petty & The Heartbreakers "Running Down a Dream
Bob Dylan "My Back Pages"
R.E.M "It's the end of the World as We Know It
Bob Dylan "It's Alright, Ma (I'm Only Bleeding)"
Pink Floyd "Money"
E.M. "Stand"
Talking Heads "Once in a Lifetime"
John Mayer "Say"
Gregory Alan Isakov "Second Chance"
Joni Mitchell "Big Yellow Taxi"
Bob Dylan "The Times They are Changing," "Chimes of Freedom"
Mackelmore and Ryan "Can't Hold Us"
Jakob Dylan "Something Good This Way Comes"