A couple of years ago, when Michael Krajicek was a twenty-something entrepreneur operating a successful gourmet hot dog restaurant in Lake Charles, LA, a mentor continually instilled in him that simplicity is the key to happiness and success in life.
The message came at the right time. After some wild years in the music industry, Krajicek had turned his life around by his mid-20s, gotten himself fully sober, became a self-made restaurant operator and re-discovered running as an essential activity.
"He told me that hundreds of times and it really resounded with me," the 33-year-old Krajicek recalls. "And related to that, I found out how to make a full commitment to the things that were important to me. And every day at the restaurant, I would go out and run for an hour, just to clear my head. Running just became so synonymous with this quality of life and it just parlayed into this wild journey."
The wild journey Krajicek is talking about is the launch of Atreyu Running, his new running shoe brand that expects to deliver its first batch of shoes to runners by early July. He came up with the idea after selling the hot dog restaurant in 2016 and spending his days training for marathons and triathlons and playing music in New Orleans clubs at night. He eventually earned his Boston Marathon qualifier with a 2:52:33 effort at the 2018 California International Marathon.
Not long after that, Krajicek moved to Austin, TX, immersed in the local running community and took a part-time job at a running shop to gain more on-the-ground knowledge about runners and the industry. Along the way, he met shoe reps, hard-core runners and industrial designers, all of whom helped him proceed along his path to launching his own brand.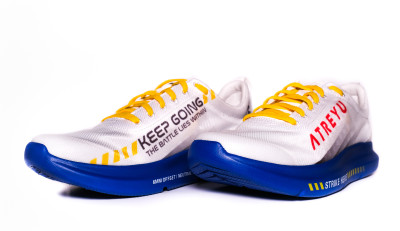 The result is Atreyu, a line built around simplicity, he says, both in shoe design and the supply chain from manufacturing to customer. The initial Atreyu shoe is so simple it doesn't even have a name, although it does come in three colorways with vanity uppers. The shoe is built on a one-piece outsole-grade EVA foam midsole and a durable, one-piece form-fitting upper with a minimal heel counter and a 5mm sock liner. The entire package comes together in a featherweight package that weighs just 5.6 oz. (men's size 9) with a 6mm heel-toe offset (21.5mm in the heel, 15.5mm in the forefoot).
(I've been wear-testing a pair of Atreyu shoes since mid-April and can report that it fits, feels and runs like a dream. The ride is light, smooth, stable and, after 60 miles, there are no durability issues or significant signs of wear.)
"We think it's everything you need and nothing you don't need," he says. "I've been diligent about that in everything we've done so far."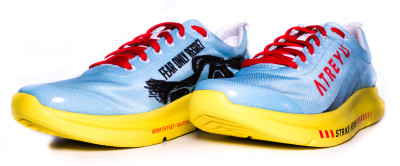 As of late May, Atreyu had sold out much of its first full size run of the pre-sale it offered this spring — about 2500 pairs that sold for $95 each. In July, the company will continue selling online and also offer subscriptions that could lower the price to as low as $55 per pair for customers interested in receiving multiple pairs every year.
Krajicek says the new business model will result in zero waste in back stock, so it will be environmentally friendly with a smaller carbon footprint but also allow Atreyu to expedite orders to customers.
"We don't have to pay the middle man. It just comes straight to us, straight to you, so we can give you the price that I believe the price that everyone is going to enjoy from here on out," Krajicek says. "I think we can expect some changes in the industry coming soon."
Krajicek says he's processed a second order of 2500 shoes in three more colorways that should arrive in the U.S. in August. In the meantime, he's started thinking about designing a marathon racing shoe.
Krajicek says a handful of retailers have shown interest in bringing Atreyu shoes into their stores, but for now he says his business model is focused on developing and cultivating a loyal subscription base without many of the costs or waste that big brands incur.
"It's not a magic bullet, but it helps," he says. "Having a recurring base helps us determine who are die-hard users are and that will help us be very effective with our ordering process."