In the first installment of the article series in January Running Insight+, I questioned how we, as specialty retailers, approach leadership development. Rather than rely on a staffer's time-in-role to build leadership skills, I suggested we take a more proactive approach and ask staffers to reflect on their past influences.
This second installment of Running Insight's Leadership Development Series demonstrates how to launch this self-reflection activity. It explains, in six easy steps, how to use the results to objectively measure subjective traits.
STEP 1: SELF REFLECT
Just like at a race, personal development requires a discernible starting point. You need a handle on the sorts of leadership influencers who have crossed your path. The ripples can come from anywhere — parents, teachers, bosses, neighbors, random strangers, or anyone else who said or did something (good or bad) that's now permanently affixed to your consciousness. Make a list of these people and detail their specific resonant impact.
I'll share some examples from my life:
INFLUENCE #1: In the days before "everyone plays," Mr. Mraz, my 5th-6th grade basketball coach, assured me that hustling at practice, not sinking a fancy layup, is what'll get me playing time. IMPACT: Have a good worth ethic
INFLUENCE #2: My transition to high school included a shifting lunch schedule, causing me to regularly show up late to Mr. Sprague's trigonometry class. Once, as I sheepishly entered class already in session, he smashed a textbook against the chalkboard and told me I'd never amount to anything if I can't get a grip on my schedule. IMPACT: Pay attention to detail
INFLUENCE #3: Maple Combs managed the busy burger joint where I held my first cashier job. She often caught me lollygagging (her word) in the walk-in freezer where I was pretending to be busy to avoid the daunting queue of hungry guests. IMPACT: Face my fears
INFLUENCE #4: Army Sergeant Banks' years of leading troops had come and gone. When he and I met he was counting the days until his retirement while reading magazines in the supply office. Every time I'd stop in for a ream of paper, he'd drop everything and ask me a zillion questions, then listen intently to my answers. IMPACT: Stay curious
INFLUENCE #5: Fresh out of the service, I was Mrs. Peikert's second grade classroom aide. One day she pulled me aside and told me that my main goal as a teacher was to turn the kids I don't like into the kids I like the most. I asked her how to do this. "Easy," she said. "Get to know their story." IMPACT: Practice empathy
INFLUENCE #6: In the early 2000s, Pat Sweeney hired me as a part-time fitter at Fleet Feet Sacramento. Pat often worked the floor on the store's busiest days. He'd joke and jab while helping chip away at the endless line of customers. If it was too busy for staff to stop for a lunch break, he wouldn't eat either. In my memory, Pat's face is locked in an eternal smile. His mere presence always made me want to work harder. IMPACT: Lead by example
Now go make your list of influencers and impacts!
STEP 2: DEFINE WHAT'S MOST IMPORTANT
Identify what you believe are the qualities of a good leader. Your list may include the impacts named in your self-reflection, but it also may also include other traits that don't have an obvious provenance. Your list will likely include attributes you are both proficient and not (yet) proficient in.
If may look something like the photo at the top of this article.
Next, revisit the list and highlight six traits you believe are non-negotiable for a quality leader to possess. If you are being honest, you will probably choose a few you are really good at, and a few you aspire to be good (or better) at. There's no right or wrong assortment as long as it truly reflects you today.
Warning: As you dig into this list, I caution you to avoid any sort of collaboration. Your top six traits ought to resonate strongly with you for reasons you can readily explain. Everyone's list will look a little different, and that's fine.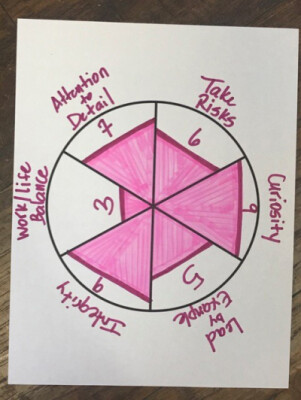 STEP 3: CREATE A LEADERSHIP WHEEL
Now you'll do something with these self-identified traits.
Grab a piece of copy paper and draw a circle partitioned into 6 equally-sized section. Each section represents one of your top 6 leadership attributes. Then, on a scale of 1-10, grade your current level of proficiency. Really give this some thought. An accurate score matters.
Take note of what you're doing here—you are applying a self-graded objective measurement against something often gauged subjectively (or worse, anecdotally).
In our industry we often focus more on things that can be measured. Now that your most desired leadership traits are measurable, they may become a higher priority!
STEP 4: CHOOSE A STARTING POINT
From here on out, this leadership wheel will be the reference point for all ongoing leadership development. It rolls along and is constantly in flux, but all the while it's a tool to prove progress in your self-defined areas of most importance.
But before your wheel can work in your favor, you need to ask yourself this question: To what attribute am I most motivated to give my initial attention?
Don't assume that because a trait's score is low that you should put your attention there. Better to choose one you feel compelled to work on right now. The best thing about the leadership wheel is that awareness given to any of the 6 traits usually elevates the scores of all the other traits, too. Like magic.
STEP 5: CREATE A CHECKLIST
Choosing a trait to focus only matters if there's a plan of action to support it.
Continuing with my wheel example, let's say I've decided to initially work on "Take Risks." Before determining specific behaviors to support my focus I need to question my score in the first place.
I'll ask myself, Why isn't my score lower than 6? Why isn't it higher? Such questions will help me tune into what's going well and where the opportunities are—both of which help clarify the specific things I can do to improve.
I'll also benefit from drilling into precisely what "Take Risks" means.
Maybe:
I'm challenged by delegation or empowering staffers
I'm afraid to stock a new shoe option or an interesting nutrition brand
It's really hard for me to do some old school door-to-door marketing
I'm simply comfortable in my status quo and unwilling to change how I've been doing everything for years.
In order to directly approach this area of importance, I need to nail down the specifics.
At some point I'll have my focus dialed in and can build an action plan to support it. A possible checklist for "Take Risks" may look like this:
Every Monday, I will identify of my weekly tasks that others can do and delegate it.
By the end of this week, I'll email a short survey to my team for suggestions on how to upgrade our fitting process.
Every week I'll email 10 medical professionals to explain who we are and how we can help their patients.
I will walk to work every Wednesday.
(etc.)
Of course this sort of activity requires follow through, but anything worth doing does too! One thing worth noting — since the items on this checklist are driven by the leadership wheel's creator (ie. you), odds are the motivation to get it done will be stronger.
TO WRAP UP:
Follow these steps to brainstorm and make your own leadership wheel. Then walk your leadership team though the same process to get their wheel turning.
Regularly follow up to hear updates on everyone's focus and checklist items, and eventually encourage folks to move onto another trait when their action plan has become a new habit loop.
Every few months ask your team to rescore their entire wheel. And even if they've spent their entire time working on one trait, don't be surprised if all of their scores increase. Why does this happen? Because when we apply focused work on ourselves, everything improves.
*****
Coming Soon…
In our next edition of this leadership series, we'll dig into strategies for keeping leadership development fresh and engaging. Hint: The most memorable moments are the ones we least expect!
CONTRIBUTOR NOTES
Tom Griffen is founder of TG Training & Education, a consulting agency that delivers dynamic training content and coaching services to businesses and individuals looking to raise the bar. His vast knowledge in specialty run comes from more than 15 years in the industry, including a decade at Fleet Feet where his role evolved from a floor staffer to the organization's National Director of Training.
Tom holds an MFA in creative writing and has published two books. One, With a Good Heart: A Walk From LA to Brooklyn, details his epic 2018 walk across America.
Tom is a regular contributor to Running Insight. Though he no longer calls himself a runner, he unabashedly wears his silver Western States buckle to keep his pants up. Tom currently lives in Spokane, WA. Learn more (and buy his books!) at tomgriffen.com.