Starting a new professional running team after the COVID-19 pandemic had locked down the world might seem like a risky move without much immediate chance for success.
Yet, last April, with most of the running industry slowed to a crawl, most major running races canceled and the 2020 Tokyo Olympics postponed, Swiss brand On began assembling the pieces for what it hoped would be a long-term play in the competitive running space and a means to continue its growth on a worldwide basis.
The first move was hiring Steve DeKoker away from Brooks to be its global sports marketing manager based in the U.S. DeKoker then made three-time U.S. Olympian Dathan Ritzenhein an offer he couldn't refuse: retire from your running career and become the founding coach of the On Athletics Club international running team in Boulder, CO. When Ritzenhein jumped at the chance, On's new dynamic duo set about making graduating University of Colorado stalwart Joe Klecker the first athlete on the OAC roster.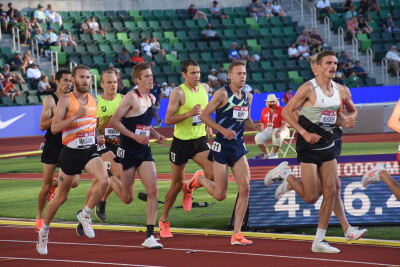 Now just 15 months later, it's all materialized better than they had planned. The Ritzenhein-led OAC had four runners bound for the Tokyo Games, including Klecker, who represented the U.S. in the 10,000-meter run.
Hindsight is 20/20, but the vision DeKoker and Ritzenhein began forging amid the height of the COVID-19 lockdown was crystal clear. Hand-pick great young athletes with strong personalities and give them a platform to excel. Do it right and don't rush it. And then let their success earnestly tell a story about the brand.
The truth is, DeKoker and Ritzenhein started with a focus on getting runners ready for the 2024 Olympics in Paris, not Tokyo. But the pandemic lockdown might have helped forge a stronger sense team chemistry and allow them to focus on training and getting stronger before they had to race.
It's all part of a bigger strategy of the Zurich-based brand that started in 2010 and opened its North American headquarters in Portland, OR, in 2013.
"Having runners achieve Olympic success is kind of the ultimate validation for a brand," DeKoker says. "I would be remiss if I wasn't surprised as well. I think people like to pretend that they think this was the plan all along. We're way ahead of where we thought we'd be, but it was always meant to be built for long-term growth."
Sponsoring an elite team is an expensive proposition for a brand, a seven-figure annual line-item cost. That cost isn't necessarily justified or returned once its athletes make the Olympics. However, having a professional running team that earns success on an international level can be a definitive validation for a brand and a cornerstone of legitimacy for shoe-buying consumers, DeKoker says.
Unlike some pro running teams that are built on one-year contracts that force runners to hit achievement goals to survive, the On Athletics Club model business plan was to give the runners long-term security through at least 2024. And so far, that's been an incredible recipe for success.
Aside from Klecker, who placed third at the U.S. Olympic Trials in Eugene, Oregon, on June 18, other Boulder-based OAC runners who earned the chance to compete in the Tokyo Olympics included American Alicia Monson (10,000m), Australians Olli Hoare (1500m) and Morgan McDonald (5000m) and Polish runner Alicja Konieczek (3000m steeplechase). None came close to earning a medal, but Hoare (11th), Monson (13th) and Klecker (16th) all ran respectable races in the finals of their events.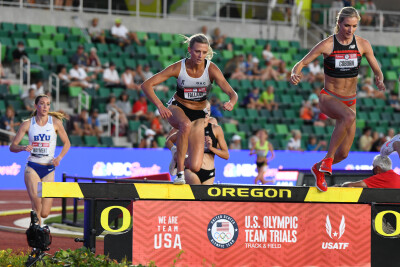 Meanwhile, Americans Leah Falland (3000m steeplechase), Emily Oren (3000m steeplechase), Mexico's Carlos Villareal (1500m) and New Zealand's Geordie Beamish (1500m, 5000m) all showed good improvement over the past year and challenged for Olympic berths as well. In June, DeKoker signed American runner Sage Hurta, the 2021 NCAA indoor mile champion out of the University of Colorado, and Carmela Cardama Baez, the 2021 NCAA 10,000m champion at the University of Oregon, so the team could have even more representation at the 2022 World Championships in Eugene and the 2023 Olympics in Paris.
"Yeah, we came out of the gate strong," says the 38-year-old Ritzenhein, who had started coaching runners on a part-time basis toward the end of his 20-year running career in which he was initially sponsored by Nike and later by Brooks. "We are still focused on the long-term development of our athletes, but we're pretty happy with the success we've had so far. A lot of things kind of came together at the right time with the right people to make it all happen."
In the 24-year-old Klecker, Ritzenhein sees huge potential, even though he already achieved plenty in a successful high school and college career. He comes from running pedigree – his mom, Janis, was a 1992 Olympic marathoner and his dad, Barney, was a world-record-setting ultrarunner – but it's Joe's relentless work ethic and huge aerobic capacity that make Ritzenhein believe the 24-year-old could soon become a world-class marathoner. It will be the ultimate story for the brand to tell, perhaps as soon as this fall.
While the brand is earnestly behind the team – and creating gear specifically for its athletes – the real goal is to get more exposure to runners, especially those who appreciate the high-performance gear for their own running goals. On released its new Cloudboom Echo ($270) carbon-fiber marathon racing shoe on June 22, at a time when there's been a huge participation boom and recreational runners have started training for the return of big-city marathons this fall.
On is also working on its first track spikes for 2022. It developed prototype spikes for its athletes to train in this year, but they weren't quite ready for high-end racing performance – at least compared to what brands like Nike, New Balance and Hoka offered – so it had no choice but to allow its athletes to wear other brand's spikes with the logos removed or painted over.
Under Armour was in the same dilemma and offered its athletes the chance to pause or break their contracts. Rachel Schneider signed with Hoka One One on June 18, while DeKoker scooped up Morgan McDonald and added him to the OAC team on June 22. Even though Under Armour paid those athletes for a combined eight years, each one became an Olympian for their new brand within the first week.
But for On, it's not about the spikes, which are a tiny category that carries a low profit margin. For On, it's about the long-term growth of the brand. Just as companies don't rent out billboard space to sell billboards, On didn't start the OAC to directly sell high-performance spikes. Sure, it's an awkward situation to allow their athletes wear competitor products, but on some level, it's not as important as allowing athletes to run as fast as possible.
"We're still allowing athletes to wear what they need to wear to be their best and most competitive in 2021," DeKoker says. "Our sprinters are wearing our spikes this year, but we're still in development of our distance spikes. We want to get it right and want to have our own point of view when we do. We're moving fast, but there have been a lot of factory delays in the process because of Covid over the past year."
Despite not having its own spikes ready in time for 2021, On has realized its success with the OAC sooner than it expected. Throw in U.S. Olympic marathoner Jake Riley, an On-sponsored runner who trains independently in Boulder, and the brand has emerged as one of the top post-pandemic brands in the sport.
But the biggest challenge, for the short term, was that the brand had a limited window to promote its Olympics and Paralympics athletes before Tokyo. That's because of controversial Rule 40 of the Olympic Charter that prevents athletes who are competing in the Games from allowing their name, image or sporting performance to be used in advertising or marketing during a blackout period two weeks before the start of the Olympics until one week after the final competition without the permission of the International Olympic Committee.
That meant from July 13 to Aug. 10, On – along with New Balance, Hoka One One and other running brands with Tokyo runners that were not Olympic partners – could not mention the Olympics, show the Olympic rings or other Olympic symbols or begin or increase advertising/marketing campaigns. (The individual athletes were limited to a singular post that thanks their sponsors during that time frame, but they still could not show any Olympics materials trademarked by the IOC.)
But those rules didn't apply for U.S. runners sponsored by Nike, which was an Olympic partner and the official footwear and apparel provider for Team USA. It's a tough situation that smaller brands face every four years, but increasingly so as the ever-litigious IOC has put more effort into enforcing the rule.
"It is what it is, and there's not much we can do about it," DeKoker says. "I've kind of learned over my career that we can only control certain things. We can control our own strategy and our athletes' strategy, and that's what we're doing in building our own narrative. But for the more macro sport trends, all I can do is kind of sit back and watch."
As such, On has been promoting the OAC's success in a five-part docuseries with segments titled "Starting," "Building," "Training" and "Racing" that highlight the team's journey through the past year. The final video in the series, "Dreaming," highlights the team's highs and lows at the U.S. Olympic Trials in Eugene, OR. While Klecker made the team in triumphant fashion, Falland had her dreams shattered when she tripped over a barrier in the steeplechase when she was in third place. She tried to surge back to third, but she eventually ran out of gas and faded to ninth.
"The first year of the OAC has been a whirlwind," Ritzenhein says. "We have accomplished so many things and had amazing results, but I think we're still just scratching the surface."
Additional marketing campaigns are launching after the Olympics, but they will be more about the brand's place in the sport and less about specific achievements.
"We'd do a lot more branding around that if there wasn't Rule 40, but in the end of the day people are going to see our success for what it is," DeKoker says. "Is it a bummer? Sure, but until the industry collectively decides to try to snuff out Rule 40, we're all going to have to play the game."